Editor's Note: Whitey Outlaw of Gaston, South Carolina, fishes on Santee Cooper often and also fishes in crappie-fishing tournaments across the U.S. We asked Outlaw to give us a February pattern to help us catch more crappie. Today Outlaw tells us about a pattern in his favorite place to fish in February – Florida.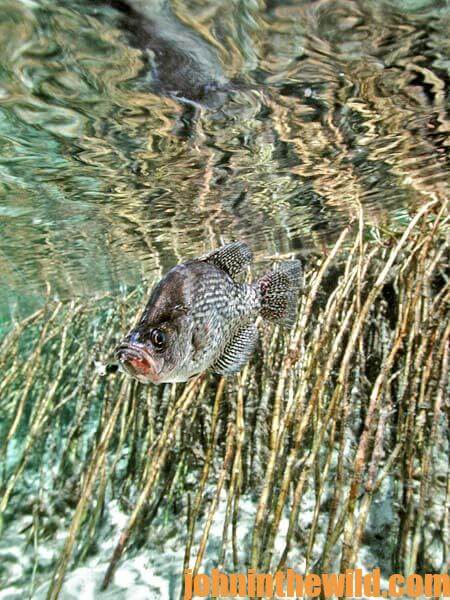 John in the Wild: Where's your favorite place to crappie fish in February?
Outlaw: Without question, it's Florida. Most of the competitive crappie fishermen in the nation will be in central Florida this month, where most of the tournament circuits start, and where the crappie fishing's best this month. My favorite place to fish is the Harris Chain of lakes. These lakes have a lot of grass and cover in them, but the crappie are generally suspended at this time of year. The strange thing is crappie usually will suspend all year. The males will move into the grass during spawning season, and the hens (female crappie) will move in, stay in the grass and then move out. In late February, as well as March, the spawn starts in Florida, but even then, you'll catch crappie suspended. Most of the lakes in central Florida will be about 10-feet deep, and the crappie will be holding in about 5 feet of water.
JITW: How do you find these Florida February crappie, and how do you catch them?
Outlaw: I'll get a map of the lake and look for deep holes because these fish will relate to any structure they can locate. In Florida, you won't find any stumps or brush, so you'll be searching mainly for holes on the bottom and in the channels, the drop-offs and a few ditches. These fish will feed along a ditch that may only be a 6-inch-deep drop-off that's 2- to 3-feet wide, which only may be an old stream bed under the water. We usually spider rig over these ditches, drop-offs and channels. We've found that this is the most-productive way to catch crappie in central Florida during this time of year. You can catch some really-nice fish during February in 70-degree weather in Florida. The crappie will weigh about 1- to 1-3/4-pounds each.
JITW: How do you rig?
Outlaw: We use 10-pound-test line, and the crappie in Florida seem to like any color jig with pink on it. Pink has been highly productive for me in the past in Florida. I prefer pink-and-chartreuse, pink-and-black, pink-on-pink (a dark shade of pink with a lighter shade of pink behind it), pink-and-blue and pink-and-white jigs. This is only a general rule. Sometimes those crazy crappie want black-and-chartreuse or some other color, but pink seems to be the most-productive Florida color. I also use a 14-foot pole when I troll.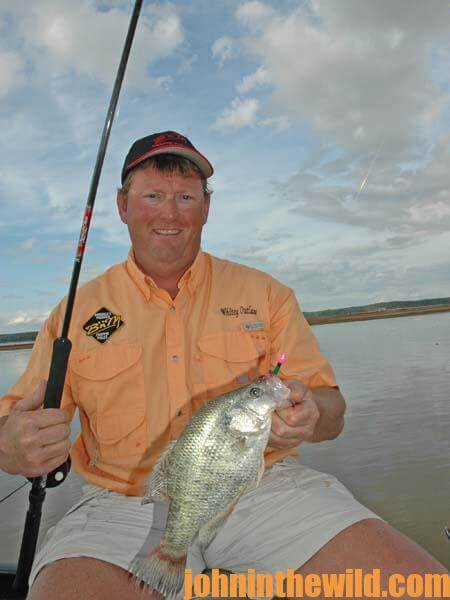 JITW: You said you buy a lake map. Don't you have a Navionics map in your depth finder?
Outlaw: Yes, we do, but we still use regular paper maps. We've learned in the past that if we use a Hotspot map or an old map of the lake, we can compare them with the Navionics map, and often those old maps show different things. For instance, on the big Harris Lake, we found a ditch on the paper map that wasn't on the Navionics map. This ditch was so close to the bank that whatever system Navionics used to create lake maps, the system didn't pick it up. Therefore, the people who only use the Navionics maps won't see or find this ditch. The only way you can locate it is with a paper map. So, I believe in using new technology, but many times there's a lot of good information on those old paper maps. Many old hand maps were created by people who rode the lake with depth finders and pinpointed those little subtle drop-offs that modern technology may not locate. This is the reason we use both types of maps.
JITW: What seems to be the best crappie bait in Florida?
Outlaw: Most of the people we know, and most of the competition anglers we fish with use a combination of jigs and minnows. We've learned that fishing with just a minnow without a jig body won't produce nearly as many crappie as tipping a jig with minnows does.
JITW: What's the air temperature in central Florida when you're fishing there in February?
Outlaw: Unless a bad cold front comes through, the temperature will be around 50 to 55 degrees at night and 70 to 75 degrees during the day. This is beautiful crappie-fishing weather for the month of February, especially if you live in South Carolina like I do. The weather at home is freezing cold with blowing or spitting rain and sleet. Anyone who enjoys crappie fishing and can get the time off should plan a trip to central Florida during the month of February should.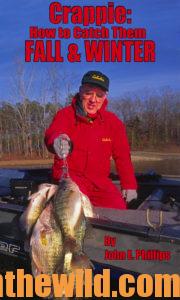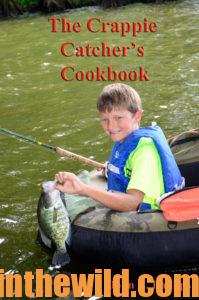 To learn more about crappie fishing, see John E. Phillips's books in Kindle, print and/or Audible forms, including, "Crappie: How to Catch Them Fall & Winter" (http://amzn.to/16AzIZi). To receive and download for free "The Crappie Catchers' Cookbook," by John and Denise Phillips, go to http://johninthewild.com/free-books.
Tomorrow: Start Ledge Fishing for February Crappie