Editor's Note: Depending on where you live in the U.S., the crappie spawn may be occurring or finished now. After the spawn, most crappie fishermen usually shift their attention to other species or seek the comfort of their air-conditioned homes. If they do venture out later to take papermouths, they may fish only after dark when the air and water temperatures are lower, and the slabs can be attracted to light.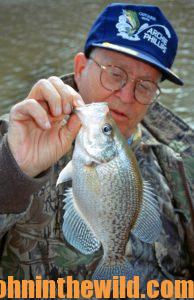 "I use 17-pound-test Stren line https://www.stren.com/ and a baitcasting rod and reel all the time," Charlie Ingram of Eufaula, Alabama, says. "I prefer the heavier line for several reasons. Because I expect to catch big fish, 17-pound-test line is usually what's already spooled on my reel. Most crappie I take with a jigging spoon will weigh from 3/4- to 2-1/2 pounds each, and the bass I catch usually will weigh 4 pounds or more. If I get on a big catfish, a stripe or a hybrid, I won't have a prayer of landing the fish if I'm not using at least 17-pound-test line. The heavier line also can take more abuse than lighter line. My line is always rubbing against cover and structure and being nicked and scraped, all of which would weaken lighter line and cause it to break if a good-sized fish strikes."
During summer months, crappie generally will hold in very tight schools. To catch many, an angler may have to fish 15 or 20 different, deep-water sites throughout the lake during a day's time on the lake. "I often run to 20 spots a day to take a limit of crappie," Ingram explains. "What I like about this jigging spoon technique for crappie fishing is you know instantly whether or not you'll catch any fish in an area. When I locate stumps, brush or downed trees on the edges of creek or river channels, I know the crappie aren't there if I let the jigging spoon down to the bottom, work it back to the top three times and don't catch a fish. Then I quickly pull up my trolling motor and run to another spot. I don't have to waste time fishing where there are no crappie.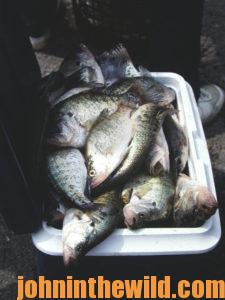 "Usually if the crappie are holding on a particular piece of cover, by the time my jigging spoon reaches the bottom the first time, I'll have on a fish. I've caught and released as many as 50 crappie just as fast as I've let my spoon down and brought it back up to the surface on one spot before. This technique works all year long. Some crappie always are holding on deep-water structure throughout the year, even during the spring. Although crappie do move near the banks to spawn, all the fish don't move to the bank or come off the bank at the same time.
"Another advantage I've found in using this tactic is that just like bass, deep-water crappie are less affected by weather changes than the shallow-water fish. If rain or a flash flood moves onto a lake, most of the time that stained water won't get deep enough to affect my deep-water crappie fishing. If a radical weather change occurs, the crappie still will be in that deeper water. In the hot weather, when I'm guiding people to bass, I can take anglers to some of my summertime crappie hotspots and help them catch a box full of fish to take home for a fish fry when the bass aren't biting."
Ingram believes there is an environmental advantage to fishing for summertime crappie, as well. "Not only can you continue to catch crappie throughout a summer's day with the jigging spoon," he says, "but you can take your catch home and eat it without fear of detrimentally impacting the resource."
Although for years the jigging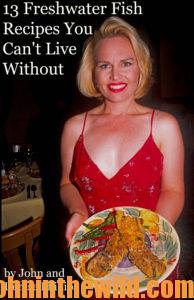 spoon has been considered a bass lure, Charlie Ingram has proven it's also one of the most-deadly crappie baits. Ingram's jigging-spoon tactic allows not only dedicated crappie fishermen to catch fish during a traditionally-difficult time of year, but also bass anglers to catch crappie when bass aren't active.
To learn recipes to cook the most-delicious crappie, check out John E. Phillips' Kindle book "13 Freshwater Fish Recipes You Can't Live Without" at http://amzn.to/18OiC9v.