Editor's Note: With red snapper season starting the first of June, John in the Wild wanted to give an update on fishing off the Alabama Gulf Coast. We contacted Captain Troy Frady of Distraction Charters with the charter boat "Distraction" based out of Orange Beach Marina. We asked Frady, "What's your goal for each fishing party you take out?" He replied, "We want to have bent rods and smiling faces."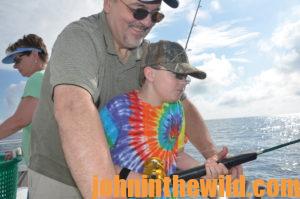 Our target anglers are families who come to the Gulf of Mexico and never may have been deep-sea fishing before, or novice anglers. To keep smiling faces and bent rods, we fish five different tactics to target five various types of saltwater fish on a 6-hour trip. We want our anglers to have an opportunity to catch a species of fish that's biting on the day they're here. We want to introduce families and novice anglers to all the fish they can catch in a very-short time.
Many charter boats don't start fishing until they have run for an hour or more to get to the location where they want to start fishing. By then, the time going out and the time coming back in often means a party loses 2 hours of fishing time. Instead, we start fishing as soon as we come out of Perdido Pass that flows under the bridge on Highway 182 and try to catch fish as close to the shore as possible that are biting. We begin slow trolling as soon as we get out of the pass to catch Spanish mackerel and any other fishes living close to shore.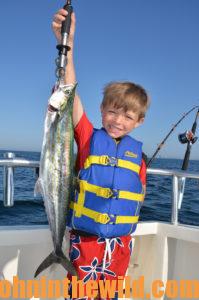 This year, we've had a good run of Spanish mackerel. We use spoons and straw-type baits to catch the Spanish mackerel. We put out several lines to catch and release as many Spanish mackerel as we can as we're going out to the spots further out we're planning to fish. Spanish mackerel are in-season year-round, however, they are not available all year to catch. The Spanish mackerel is a really tasty fish that some of our anglers may want to keep a few for the table. If the Spanish mackerel are biting, we'll make two or three circles right outside the pass to enable our anglers to have the thrill of catching some fish before they've been on the boat for too long. If we're not getting a Spanish mackerel bite, we'll continue to slow troll for about 2-3 miles outside the pass. We don't stop fishing. Next we'll take our slow trolling rods out of the rod holders and put our high-speed trolling rods and lures in the rod holders and start using those.
To contact Captain Troy Frady, you can reach him at distractioncharters@gmail.com or his website www.distractioncharters.com, or you can call (251) 975-8111. During daylight hours, Captain Frady often will be out of cell service, however, you can reach him by text and leave him a message with your name and phone number. He will call you when he's coming in from a trip or when he reaches cell-phone service. He'll be happy to talk with you.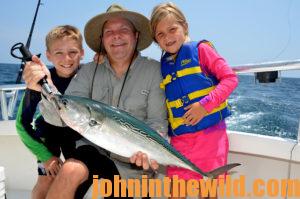 Our favorite Spanish mackerel recipe is Pat's Legendary Mackerel Salad that came to us from anglers at Orange Beach and Gulf Shores. .
Ingredients:
4-5 pounds filleted fish (no bones, no skin, no blood lines) Spanish mackerel
1 cup liquid crab boil (you can add more or less, depending on how spicy you want it)
1 large Vidalia onion, chopped
1 bell pepper, chopped
6-8 stalks celery, chopped
2 bunches of green onions (including bulb and green part about halfway up), chopped
1 large bottle of ranch dressing
1 bottle golden Vidalia onion dressing
1/2-cup spicy mustard
2 tablespoons of horseradish
2 tablespoons of chopped jalapeño peppers
8 ounces sweet pickle relish
2 tablespoons Mrs. Dash Original
2 tablespoons Tony Chachere's Seasoning
Salt and pepper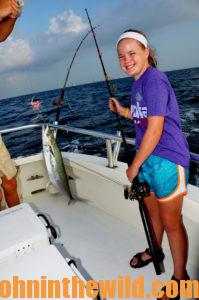 Preparation:
Add 1 cup of liquid crab boil and some salt to a large pot of water, and boil. Add fish, and let boil for 20 minutes. Turn off heat, and let the fish sit in the water until it cools. Mix ranch dressing, golden Vidalia dressing, mustard, horseradish, jalapeños and pickle relish. Put fish in a large flat pan, and flake. Pour 1 to 2 cups of the water the fish has been cooked in over the fish to keep it moist. Sprinkle Mrs. Dash, Tony Chachere's and pepper and salt to taste. In a large bowl, mix fish and veggies, and add the dressing to taste. You may have some dressing left over.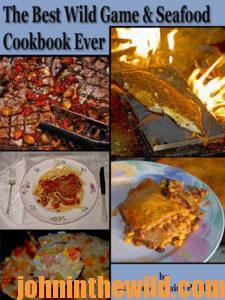 This delicious recipe is found in John E. and Denise M. Phillips' "The Best Wild Game & Seafood Cookbook Ever: 350 Southern Recipes for Deer, Turkey, Fish, Seafood, Small Game and Birds" from Amazon at http://amzn.to/WkbLRg. You may have to copy and paste the click into your browser.
Tomorrow: High Speed Trolling with Troy Frady on Alabama's Gulf Coast and What you Catch