Editor's Note: With red snapper season starting the first of June, John in the Wild wanted to give an update on fishing off the Alabama Gulf Coast. We contacted Captain Troy Frady of Distraction Charters with the charter boat "Distraction" based out of Orange Beach Marina. We asked Frady, "What's your goal for each fishing party you take out?" He replied, "We want to have bent rods and smiling faces."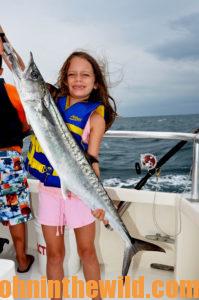 Low-speed trolling when we're catching Spanish mackerel is when the boat is running at five knots of speed. When we're high-speed trolling, the boat will be going from 8-1/2 – 10-1/2 knots and pulling more-expensive artificial lures to try and catch king mackerel. The difference between the king mackerel and the Spanish mackerel is that a Spanish mackerel may weigh from about 1 – 1-1/2 to about 5 pounds. The king mackerel will be from 24 inches from its nose to the fork of its tail, up to as much as 70 pounds or more. As long as the water quality is good, and plenty of salinity (salt) is in the water, we usually can catch some of those young king mackerel from 24 inches up to 30 or even 40 inches long here at the end of May and on into June. .
If a volume of rain comes down through the Mississippi River and Mobile Bay, and there's plenty of fresh water in the Gulf of Mexico, the king mackerel fishing isn't nearly as good as when not much rain drains into the Gulf. Since the king mackerel are larger than the Spanish mackerel, they can swim faster and catch a fast-moving bait quicker than a Spanish mackerel can. When one of our anglers gets a king mackerel on his rod, we slow the boat down to give the angler an easier time getting the king mackerel into the boat. When the anglers start reeling the king mackerel in, we leave our rods in the rod holders. This way, the angler doesn't have to hold a really-heavy rod as he's reeling in a fairly-heavy fish. The rods, reels and lines that we're using for king mackerel fishing are rigged to catch and hold fish that weigh 100 pounds or more. Since the rods are somewhat heavy and somewhat awkward for a new fisherman to hold while fighting a fish heavier than a Spanish mackerel, we leave the rods in the rod holders. Then the anglers can reel the fish to the boat without being tired or worn-out after he or she has caught a king mackerel.
There's generally plenty more fish to catch and have fun doing it after we finish king mackerel fishing. Remember, our goal is to have bent rods and smiling faces, and if our customers get tired and worn-out from catching king mackerel, those smiling faces may become grimaces. We want our parties to experience the joy of fishing. We target king mackerel from 24 – 30 inches long. The white meat of these king mackerel isn't as fishy-tasting as the king mackerel that weight 20 to 70 pounds.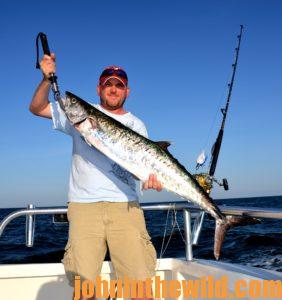 Another fish that we catch often when we are fast trolling is a bonito. Like the king and Spanish mackerel, the bonito is a migratory fish and weighs from 5 – 15 pounds, with the average bonito weighing 8-10 pounds. All four of these species, including tuna, are members of the same family, but they aren't eaten as food most of the time. Many angles use the bonito they catch as cut bait for reef fish. But bonitos are hard-fighting fish and are fun to catch.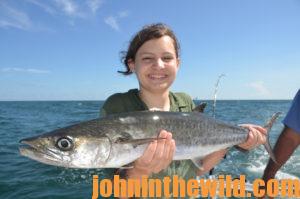 To contact Captain Troy Frady, you can reach him at distractioncharters@gmail.com or his website www.distractioncharters.com, or you can call (251) 975-8111. During daylight hours, Captain Frady often will be out of cell service, however, you can reach him by text and leave him a message with your name and phone number. He will call you when he's coming in from a trip or when he reaches cell-phone service. He'll be happy to talk with you.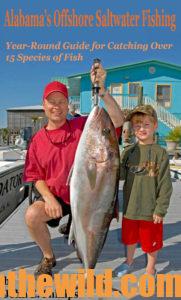 To learn more about fishing in the Gulf of Mexico off Alabama's Coast, check out John E. Phillips' book, "Alabama's Offshore Saltwater Fishing: A Year-Round Guide for Catching Over 15 Species of Fish" at http://amzn.to/VBqZPZ. You may have to copy and paste this address into your browser. You also can go to John's Author's Page at http://amzn.to/XW2URC to learn about his other books.
Tomorrow: Captain Troy Frady Says Fish with Large Lures for King Mackerel at the Trolling Alley