Editor's Note: With red snapper season starting the first of June, John in the Wild wanted to give an update on fishing off the Alabama Gulf Coast. We contacted Captain Troy Frady of Distraction Charters with the charter boat "Distraction" based out of Orange Beach Marina. We asked Frady, "What's your goal for each fishing party you take out?" He replied, "We want to have bent rods and smiling faces."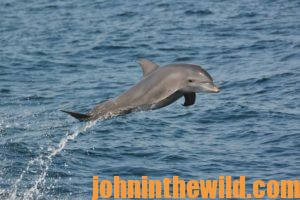 On a 6-hour deep sea fishing trip, we'll start off slow trolling for Spanish mackerel as soon as we get out of Perdido Pass,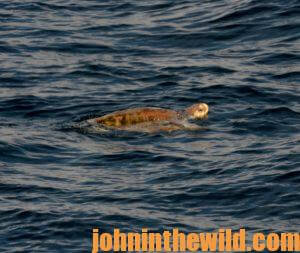 then change out our rods and high-speed troll for king mackerel and bonito until we arrive at the Trolling Alley. The Trolling Alley is a series of artificial reefs put out in two lines, about 1-1/2 miles long. We'll change-out our high-speed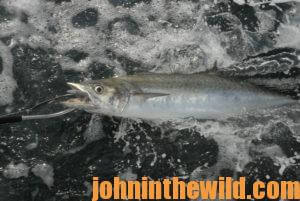 trolling lures to even larger lures to attempt to catch some larger king mackerel along this 1-1/2 mile of underwater reefs that have been created to attract pelagic fish (migratory fish). The reason we often go through the trolling alley after catching king mackerel is because the bigger kingfish (king mackerel) will explode on the baits and jump 6-8 feet high in the air, making them not only fun to catch, but also a real treat to watch them go skyward on the end of your line. These bigger baits are top-water lures that we pull behind the boat to get the bigger kings to come up under the lures and attack the bait running just under the surface or on the surface.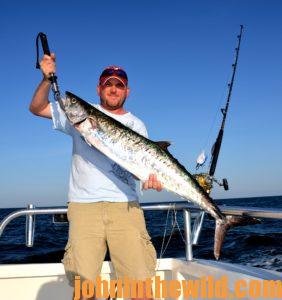 Remember I said I not only wanted to produce bent rods, but also smiling faces. When one of those big mackerel blows-up on a bait and climbs high in the air, twisting and turning and reflecting the light of the sun off its silver sides, we often see smiling faces on everybody on the boat. Oftentimes in the trolling alley, we'll see bottlenose dolphins (porpoises) rolling in the top of the water right beside the boat and occasionally a big sea turtle basking in the sun. These critters offer great photo opportunities, even though we don't try to catch them. Although we may have five lines out when we're trolling for king mackerel, we rarely, if ever, have five king mackerel hooked-up at the same time. After one of our guests catches a king mackerel, we usually will put another guest on that rod to try to allow everyone to catch a king mackerel on that trip by rotating anglers to the rods that are catching kings.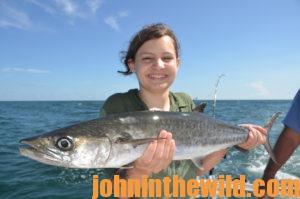 To contact Captain Troy Frady, you can reach him at distractioncharters@gmail.com or his website www.distractioncharters.com, or you can call (251) 975-8111. During daylight hours, Captain Frady often will be out of cell service, however, you can reach him by text and leave him a message with your name and phone number. He will call you when he's coming in from a trip or when he reaches cell-phone service. He'll be happy to talk with you.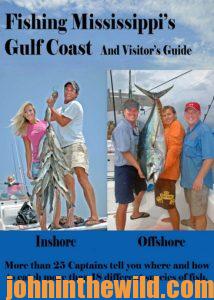 To learn more about Upper Gulf Coast Fishing, check out John E. Phillips' book "Fishing Mississippi's Gulf Coast and Visitor's Guide" at http://amzn.to/XkluEO. You may have to copy and paste this address into your browser. You also can go to John's Author's Page at http://amzn.to/XW2URC to learn about his other outdoor books.
Tomorrow: Captain Troy Frady on Late Spring and Summer Fishing at the Gulf of Mexico