Editor's Note: Woo Daves of Spring Grove, Virginia, started tournament bass fishing in 1973 and has been active in that for more than four decades. "I've been fishing, since I was old enough to walk," Daves explains. He's qualified for two FLW Championships (https://www.flwfishing.com), and won the World Bass Fishing Championship and the Bassmaster Classic (https://www.bassmaster.com/tournaments/) in 2000. He's qualified for 20 different world championships and says, "My success in bass fishing isn't too bad for an ole country boy." Let's look at how Daves catches bass on a bad day.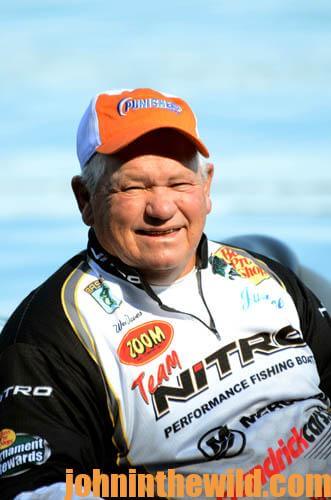 However, the worst weather I've ever fished in occurred at the Bassmaster Classic that I won in Chicago, Illinois in 2000. In the morning on the last day, the wind would blow from one direction and it then blow the opposite way in the afternoon. The wind made a complete circle all the way around my boat. For instance, if it was blowing out of the east at 8:00 am, then by 1:00-2:00 pm, the wind would blow out of the west. The water was calm in the middle of the day for some reason. The waves were so high that the photographers photographing me on that last day had pictures when I was down in the trough of a wave, and all you could see was the top of my hat. Then I'd come up on top of a wave, and you could see the riprap that I was fishing.
On that day, I was fishing 6-pound-test line and a Zoom Tube bait (https://zoombait.com/chunks-trailers-grubs/tubes/). When fishing rough water and windy conditions, I'd learned I could catch more bass on light lures and light line. The light line allowed me to cast better than heavier 10-12 pound-test line would. The wind would push your line and your bait away from the target you were trying to hit. When the bait hit the water, the heavier line wouldn't let the bait sink properly. The wind would blow your bait away from the target, even when the bait was in the water.
I had three sizes of line on three rods. I had a rod with10-pount-test line and one with 8-pound- test-line, and I couldn't get a bite. But when I fished the 6-pound-test line, I started catching bass. Naturally, when you hook a bass, you wish that your line was a piece of steel cable to have more strength to put the fish in the boat, but you couldn't put a bass in the boat, if you didn't get the bite. When I'm fishing in very-bad, windy weather, I have downsized my line to as little as 4-pound-test before.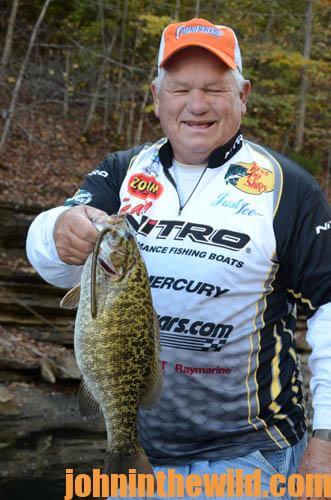 Of course, line is so much better today than it was 20-30 years ago. I fish Bass Pro Fluorocarbon (http://www.basspro.com/shop/en/fishing-line) or XL line, and the 6-pound test today is much stronger than it was 10-12 years ago. You can land a lot of bass with 6-pound-test line, and I've found that I get more bites fishing with 6-pound-test line than I do with any other line size, especially during high wind and big waves.
When I fish big line and big baits like a Punisher jig (https://punisherlures.com/), I've learned that I only may get two bites that day, but those two bass may weigh 5-6 pounds each which allows me to do well in a tournament. On bad days where there are high skies after a front, or if its windy days when you've got waves that are taller than you are, I really believe that light line and little baits produce the most bass and can produce big bass.
To learn more about Woo Daves, visit http://woodaves.com/.
Woo Daves – From a Zero to a Hero: https://youtu.be/gA5T3ink2ks
I Thought I Would Lose But I Won: https://youtu.be/cyALpIHD8eY
To learn more about bass fishing and get John E. Phillips' Kindle eBooks, print books and audiobook on bass fishing, go to http://johninthewild.com/books/#bass, or for Nook books, visit www.barnesandnoble.com.
Tomorrow: Why Equipment Failure Can Cause a Bad Day of Bass Fishing with Woo Daves
EXPLORE MORE: you'll love these stories from John too