Editor's Note: If you fish visible cover with a pole, sooner or later, you will become a jig pole fisherman. What do you do if you are fishing for crappie with minnows, and you run out of minnows? Do you go home with the fish that you've caught and leave the crappie biting? Or, do you continue to fish with nothing but a jig on the end of your line? For many crappie anglers, once they've tried jig pole fishing, they've become addicted. Even when they're using minnows, when they find the crappie schooled-up, they will switch to jig pole fishing. Jig pole fishing: allows you to fish your jig vertically through various water depths in even the thickest cover; lets you work the cover more thoroughly than when using a cast-and-retrieve method of fishing; and spooks fewer crappie because you pull the crappie straight up out of the cover instead of dragging that slab through the cover.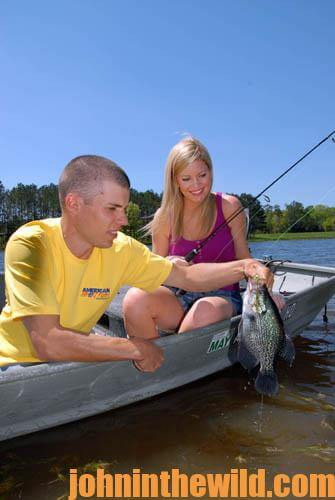 One April I'd been crappie fishing with minnows all day, and late in the afternoon I found a brush top in the middle of an old slough. Big crappie were stacked in there like cordwood. The bite was so good, I recycled the same minnows two or three times each to catch more big slabs. Finally, my last minnow looked like it had been through a meat grinder. Digging through my tackle box, I found three, 1/16-ounce crappie jigs. At that time I'd heard about jig poling for crappie, but never had tried it. But I was desperate. The big crappie were biting, and I was out of bait. If I wanted to keep catching those slabs and fill-up my cooler, I only had one choice. I had to tie the jig on and see what would happen.
I eased the jig down into the same hole in the brush where I'd been catching crappie. Before the jig was 2-inches underwater, the tip of my pole bent to kiss the water. Working the big slab through the brush, I got it up to the side of the boat where I could use my dip net to land it. For the next hour, I used the jig to explore every open spot in that brushpile. As the sun was going down, I barely was able to shut my cooler's lid, because it was so tightly-packed with big, slab-sized crappie. That was many years ago, and that's how I became a fan of jig poling for crappie.
A few years later, I was fishing with the late Red Cotton of West Point, Mississippi, a legendary angler on the 234-mile Tennessee-Tombigbee Waterway that ran along the Mississippi/Alabama border. Red had developed the most-unique method I'd ever seen for catching big crappie that he called beaver-stick fishing. Red would go to a beaver dam and collect a boatload of beaver sticks (3-6 feet long and 1-3 inches around sticks with all the bark removed that beavers had sharpened on one or both ends). Red then put the beaver sticks just-off the bank of the main river channel, 6-10 feet from shore and 20-30 feet apart. He pushed each beaver stick into the mud on the bottom to hold securely against the current.
"I've found big crappie usually are solitary fish," Red told me. "During the pre-spawn, individual crappie like to hold by themselves on one piece of structure. Every now and then, you'll catch two or three big crappie off each beaver stick. Since crappie spawn several times, this tactic also works during April and May here and in other parts of the country."
Red would maneuver his boat to put a jig in the water and swim it up to the beaver stick and around the sides of the stick. If he didn't get a bite in the first 2 inches of water, he'd lower the jig down and repeat the same action until the jig was near the bottom of the stick. However, he almost always caught a big slab crappie in the first foot of water.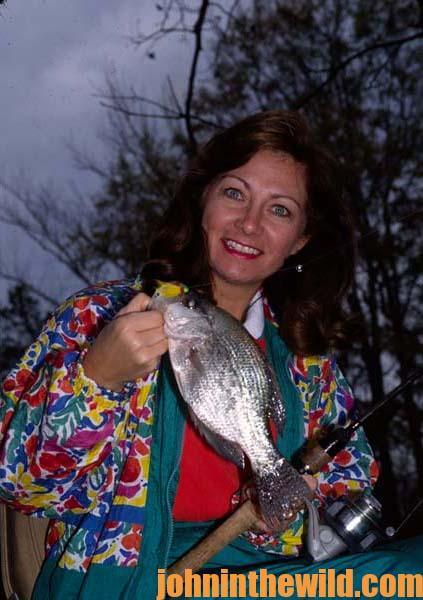 Red used a slow-swimming action without jerking or hopping the jig. When the jig got on the downcurrent side of the stick, he'd hold the jig steady like a minnow holding in the slack water behind the stick. If a crappie didn't take the jig as soon as it hit the water, it almost always attacked when the jig was held still about 4-inches under the surface on the downcurrent side.
As Red had predicted, 80-percent of the time, each beaver stick produced a crappie weighing 1-1/2- to 2-pounds. "These beaver sticks usually will replenish themselves overnight or within 2 days after you fish them," Red reported. "They usually produce best when the crappie are moving into the banks but haven't moved into the shallow water yet. Most of the time, a crappie will take the little hair or feather jigs in that first foot of water below the surface, because that's where minnows hold out of the current. This technique doesn't produce as many crappie as other tactics, but all the crappie you catch will be big."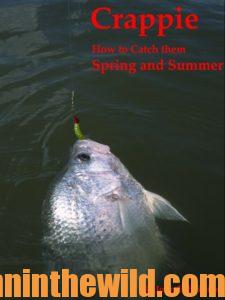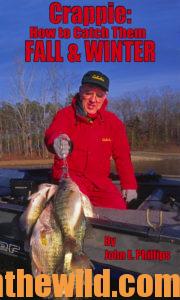 For more tips and information on catching crappie, check out John E. Phillips' Kindle and print books "Crappie: How to Catch Them Fall and Winter" and "Crappie: How to Catch Them Spring and Summer," also available from Audible at https://www.audible.com/pd/B06XTV9J2F/?source_code=AUDFPWS0223189MWT-BK-ACX0-083098&ref=acx_bty_BK_ACX0_083098_rh_us. Or, go to http://www.amazon.com/John-E.-Phillips/e/B001HP7K6O to see all of John's books. To receive and download for free "The Crappie Catchers' Cookbook," by John and Denise Phillips, go to https://www.dropbox.com/sh/1tvp5nmxp8jycjf/AAAiOTM6vHolzGV44kO2oEnKa?dl=0.
Tomorrow: Finding Crappie at Discharges from Industrial Plants and in Small Streams
EXPLORE MORE: you'll love these stories from John too