Editor's Note: The last Friday in April, 2018, I received unbelievable pictures from my friend, fishing guide Tony Adams in Eufaula, Alabama. Tony sent me pictures of giant shellcrackers (redear sunfish), crappie that were longer than a 5-gallon bucket, and catfish that weighed from 10 to 30 pounds. "This is it!" I told Adams when I called him. "Now's the chance to catch the Lake Eufaula trifecta of delicious-eating fish – shellcrackers, crappie and cats. I'll leave on Monday, and we'll slay them." But I forgot what a good friend of mine once told me many years ago. "A fishing report is history and  tells you what's happened yesterday. But it in no way influences what will be happening tomorrow or next week."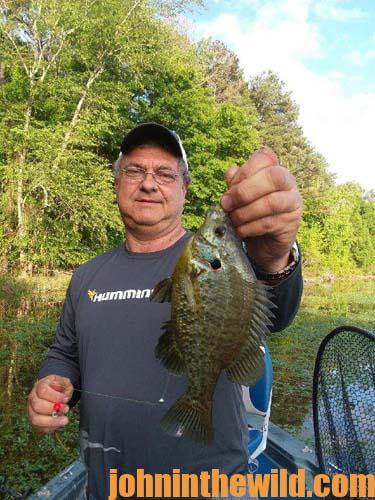 Tony Adams told me, "You need to get down here. We're tearing the fishing up. Catfishing can't get better, and the big crappie are on the structure. I took three of my friends fishing with me – Joe Good, Billy Nelson and Wayne Erickson. We caught 50 big crappie and 300 pounds of catfish that weighed from 10 to 20 pounds each. The catfish were holding in two-different water depths – deep water about 60-feet deep on the main river channel and 40-foot-deep water on the sandbars. The catfish came up on the sandbars where there were mussel shell beds. Catfish fed on small mussel shells and the bait fish that would feed on the algae on the mussel shells. When I cleaned one of the biggest catfish I caught, it had bones in its stomach that looked like a chicken. I don't know whether the bones were a chicken, a duck or maybe a cormorant. Catfish will eat almost anything. The crappie we caught were out in deep water on some of the natural structure and artificial reefs I'd built in 20 feet of water, out on the edge of the main river channel.
"The crappie just have finished spawning, so they usually will pull back to the staging area where they hold before they go to the bed. During the summer months, they like to feed on that structure on the edge of the main river channel. When the weather gets really hot, they'll drop down onto the river channel to stay cool and to feed on the bait fish that run that river-channel ledge. I've also been getting good reports on shellcrackers going to the bed but not your ordinary shellcrackers. These fish run from 1-1/2- up to 2-pounds each."
I asked Adams, "How do you clean those shellcrackers that size? Do you just scale them, score them and fry them whole like I've always done?" He laughed and said, "Heck, no. These shellcrackers are as big as the crappie I catch, so I fillet them."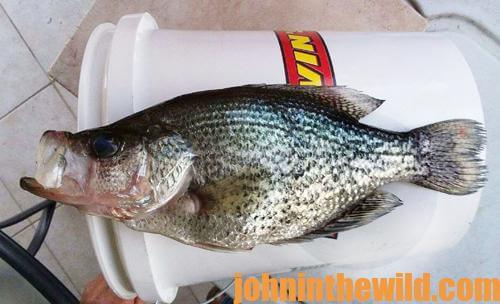 Thinking about the opportunity to catch monster shellcrackers, giant-sized catfish and bigger- than-average crappie, I asked Adams, "How soon can you go again?" Adams replied, "I get off at 4:00 pm on Monday afternoon. If you'll be here then, we'll fish for shellcrackers in the late afternoon, fish for crappie and cats that night, and then get up the next morning and fish for crappie and cats during the daytime." I realized that fishing until dark, then fishing a good portion of the night, getting a few hours of sleep and fishing all day the next day might be a tough trip. However, I also knew that catching, photographing and getting articles on three species of bigger-than-average size fish and interviewing for daytime and nighttime crappie information and catfish stories were an opportunity I just couldn't let pass. So, I told Tony, "I'll be sitting at the boat ramp at Barbour Creek waiting on you to get off on Monday afternoon."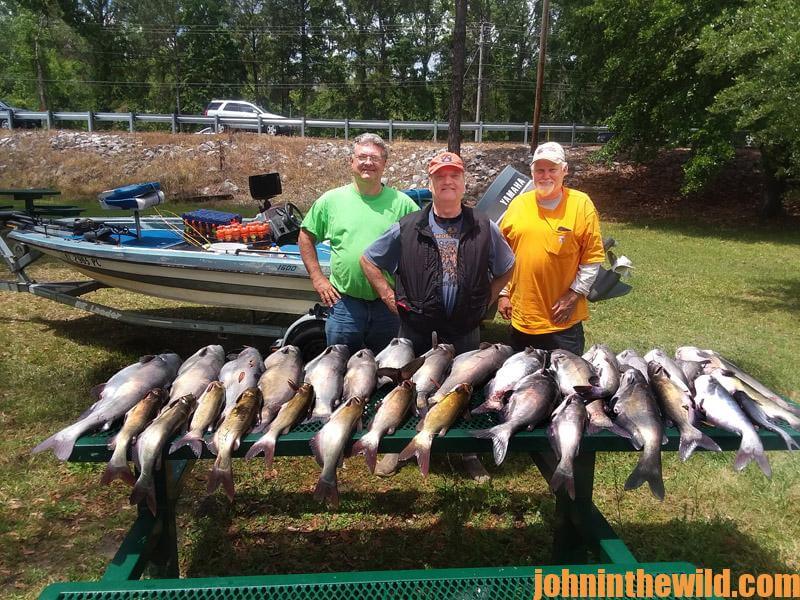 You can contact Tony Adams at 334-688-7505 or tony.adams@marvins.com. He also has a Facebook page at https://www.facebook.com/tony.adams.5477.
While in Eufaula, I stayed at Lakepoint Resort in the Alabama State Park (http://www.alapark.com/lakepoint-state-park), where the rooms have views of the lake, and the food is delicious. Contact the sales director, Sone Kornegay, at 334-687-8011 to learn more. Email pam@alabamablackbeltadventures.org to learn more about Alabama Black Belt Adventures which cover fishing at Lake Eufaula.
To learn more about fishing for catfish, go to http://amzn.to/W900eu and for crappie, http://johninthewild.com/books/#crappie. For free copies of "The Catfish Catcher's Cookbook" and "The Crappie Catcher's Cookbook," visit http://johninthewild.com/free-books.
Tomorrow: Chasing the Elusive Shellcracker