Editor's Note: Denny Brauer of Del Rio, Texas, who's won just about every bass-fishing title there is, fishes in all kinds of weather and under many varied water conditions, although he's now retired from professional bassing. (https://www.facebook.com/pg/dennybrauerangler/about/?ref=page_internal)
I like to fish a jerkbait like Strike King's Wild Shiner (https://www.strikeking.com/) on bluff banks, especially when we have a two or a three day warm front move onto the lake, which will make the bass swim up to the next level in the water column. This type of place is often little secondary points where some wind is blowing into those small points. In January and February, you often can really hammer the bass with this pattern.
I like to jerk a bait down and then kill it, work the bait two or three times with two or three fast twitches and then kill the bait and let it sit still. All I'm doing with my harder jerks is keeping that jerkbait at the depths where I want to fish it. What I'm trying to do is get the attention of the suspended bass to look at that jerkbait. I'm not attempting to take the lure out of the bass's strike zone. I'm just trying to give it some action and allow it to sit where the bass can eat it. The worse the weather conditions are and the colder the water – then the slower I'll work the jerkbait. You have to experiment to see how fast or how slowly the bass want you to move the bait before they'll take it. I like to fish a jerkbait on 10-pound-test line. I know some fishermen prefer 8-pound test, but I just like 10 pound better. If the bass are biting aggressively, I even may use 12-pound-test line.
Editor's Note: A big and often quiet man, 57-year-old Mark Davis of Mt. Ida, Arkansas, is a fierce competitor in tournament bass fishing. Davis has won in years past the title of B.A.S.S. Angler of the Year three times and the Bassmaster Classic and more than $2.32 million in tournament bass-fishing. (https://www.facebook.com/pg/markdavisprobassfishing/about/?ref=page_internal)

I like to fish a suspending jerkbait, and I'll be fishing it on wind-blown points, banks and pockets. I want to use this jerkbait to imitate shad in clear water, and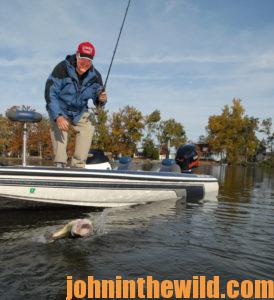 I'll probably use either a clear clown, a chrome with blue back or maybe even a bleeding calico – all colors that work in both clear and stained water. I don't fish a jerkbait in muddy water, but if the water's stained and is clearing, a jerkbait is a good choice.
I fish 10-12 pound test line with a jerkbait by making a long cast into shallow water in the 3-5 foot deep range, jerk the bait down and let it sit. I don't fish a jerkbait really slowly until I get into January and February. I think the real secret to success with a jerkbait at this time of year is fishing it where you find wind -blown areas. If you feel like fish are suspended under boat docks, then try a jerkbait there.
Dead-sticking the jerkbait is a common tactic for catching wintertime bass. Dead-sticking the jerkbait means getting the jerkbait down to the depth you want to fish and letting the lure sit motionless for a long time. A long time is defined different ways by various fishermen. I define a long time as letting the lure sit for 5 to 10 seconds without moving it. I seldom let one sit longer than 10 seconds. Ten seconds is a long time to allow a lure to sit motionless underwater and is hard for most anglers to do. Even when the lure's sitting still in the strike zone where I think the bass will take it, I'll still barely twitch my line to make the lure quiver.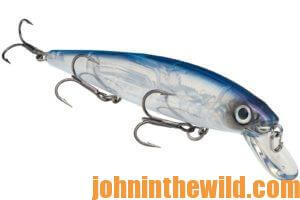 Of course, this is the advantage of a suspending jerkbait. You can leave it in the strike zone of bass for a long time, but you really need confidence that the place you're fishing has a bass sitting there, looking at that lure, to leave it sitting still that long. Most anglers won't fish this slowly. However, if you try it one time, and you catch a bass that weighs 5 pounds or more, you'll start practicing this tactic and develop a pattern for fishing it.
You must have confidence in that pattern too. But most fishermen don't have the patience to really slow-down their fishing and dead-stick their jerkbaits, even though it's a deadly tactic. The real secret to dead-sticking the jerkbait is knowing exactly where in the retrieve the bass should be and stopping that lure right in front of that bass. Most pro fishermen can let a bait sit dead in the water much longer than the average fisherman can. This is just another way of tricking the fish to bite. In January and February, the bass are very sluggish in really-cold water.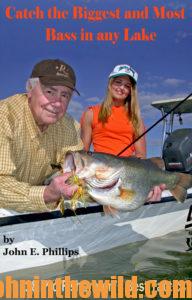 To learn more about bass fishing, check out John E. Phillip's book, "Catch the Biggest and the Most Bass in Any Lake," at http://amzn.to/Xd7qez, available in Kindle, print and Audible versions.
Tomorrow: Fishing Suspending Jerkbaits for Winter Bass with Greg Hackney