Editor's Note: "I can't wait for you to get here to Lake Eufaula," Mayor Jack Tibbs of Eufaula, Alabama (http://eufaulaalabama.com/, told me on the phone. "Tony Adams, who will be your guide, assures me he's found a spot where you and him should be able to limit out on crappie in 2 hours, and at the same time, Tony will have jugs put-out for catfish. He thinks you should be able to catch 100-200 pounds of catfish too in that 2-hour-time period."  I wanted to leave immediately for Eufaula, right after talking to Mayor Tibbs. But I remained at my home outside Birmingham, Ala., went to Eufaula the next day and enjoyed the fishing trip of a lifetime. Pam Swanner with the Alabama Black Belt Adventures Association (ALBBA), a non-profit group promoting the 23 Black Belt counties' hunting and fishing, (www.alabamablackbeltadventures.org) helped me set-up my trip and had put me in touch with Mayor Tibbs.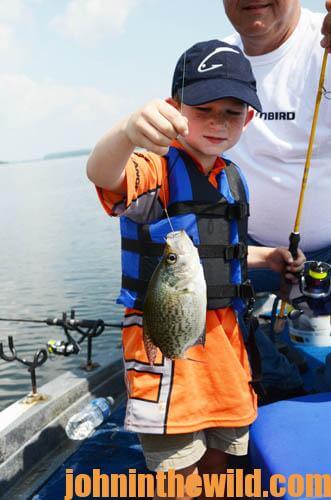 As Mayor Jack Tibbs of Eufaula, Alabama, had mentioned to me originally, Adams and I both had our limits of crappie within 2 hours. But we'd also asked Mayor Tibbs if he knew a youngster who liked to fish. So, we went to the boat ramp with our two crappie limits to pick up Mason Mogren, a 7-year-old, who was to fish with us that day as we ran a few jugs. We caught several catfish before arriving at the boat launch to pick up Mason. To be honest, I had a lot more fun watching Mason catch his limit of crappie than I did catching my limit.
The three of us returned to the same spot where we'd fished and caught the crappie that morning. Mason sat on the front of the boat, right by the rods, and Adams sat in the seat just forward of Mason. Those two anglers made up the fastest crappie-fishing team I'd ever seen in my life. Adams kept the rods baited with minnows, and Mason was setting the hook, reeling in the crappie, putting the crappie on the bottom of that boat and laying that rod down. Adams would unhook the crappie, while Mason was catching another crappie, bait the hook, drop it down to 8 feet, turn around, and by that time, Mason would have another fish and rod in the bottom of the boat. Those two worked together like a well-oiled crappie-catching machine. I was a cheerleader, as well as a photographer, shooting pictures of this dynamic duo, as Mason limited out on crappie within about 45 minutes.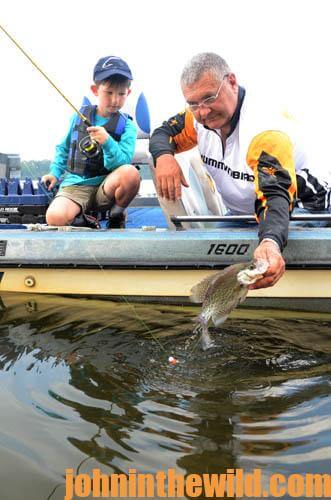 With three limits of crappie in the boat, we left those fish biting and went to the check the jugs for catfish that we'd put out earlier in the morning. As Adams pulled his boat up beside a  jug, Mason would pick up the jug and try to determine whether or not a catfish was on the other end of the line. If the catfish on the line was less than 5 pounds, Mason would handline the catfish in to the boat, as Adams coiled the line around the jug. If Mason found a catfish on a jug that weighed more than 5 pounds, Adams would pull in the catfish to the boat, hand over hand. Numbers of our jugs were hung up in the brush. So, when the line on the jug went tight, Mason would release the jug, Adams would circle the boat and pick up that same jug, break the line off and head for the next jug.
"To maximize your catfish-catching efficiency, you really must watch your jugs carefully and run them as soon as you put them out," Adams explains. "The catfish know where the thick cover is, and as soon as they feel the hook, they know where the thick cover is and will run to it immediately. If you don't catch up the jug and land the catfish before it reaches cover, those catfish will get in those logs and limbs, pull the hooks out of their mouths and leave your jugs stuck in cover."
For a 1/2-day of fishing, the three of us caught three limits of crappie – 90 fish – and 100 pounds of catfish. "If we had continued to fish jugs for the 4 hours we were fishing, we should easily have had 200-300 pounds of catfish," Adams says. "That's about what we catch every time we go jug fishing for catfish."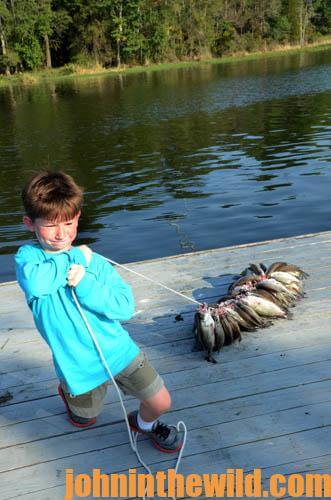 You can contact my guide, Tony Adams at 334-688-7505 or tony.adams@marvins.com and see photos of his fish on his Facebook page (https://www.facebook.com/tony.adams.5477). While in Eufaula, I stayed at Lakepoint Resort in the Alabama State Park (http://www.alapark.com/lakepoint-state-park), where the rooms have views of the lake, and the food is delicious. Contact the sales director, Sone Kornegay, at 334-687-8011 to learn more.
If you want to hold a crappie-fishing or a bass-fishing tournament at Lake Eufaula, you can contact Mayor Jack Tibbs at mayortibbs@eufaulaalabama.com or call 334-695-3765. You also can call 334-343-6173 or email pam@alabamablackbeltadventures.org to learn more about Alabama Black Belt Adventures.
"Double Down on Crappie and Cats" – https://youtu.be/vzAoQrVqm0k
"What to Expect in 4 Hours of Fishing Lake Eufaula with Tony Adams" – https://youtu.be/5vqVn0PnG3M
"Let's Move and Find More Crappie" – https://youtu.be/GhAvVfyXE34
To learn much more about crappie fishing, get John E. Phillips' Kindle eBooks, and print and Audible books by going to http://johninthewild.com/books/#crappie or to www.barnesandnoble.com for Nook books. To receive and download for free "The Crappie Catchers' Cookbook," by John and Denise Phillips, go to http://johninthewild.com/free-books.
http://amzn.to/16AzIZi
Next Week: While at Lake Eufaula, I also enjoyed as great day of catfishing and learned some new ways to rig, fish, store jugs and bait for catfish and bass fished with Mayor Tibbs.
EXPLORE MORE: you'll love these stories from John too