John's Note: Creekbanking for cats brings together all the ingredients of the finest outdoor living as it is…
* a solace to be rubbed on the soul of mankind;
* a potion with mystical powers to eliminate worry;
* a time for lying, for remembering and for enjoying the fellowship of good friends;
* an outdoor activity where the catching of a catfish is the excuse for the creekbanking experience, but never the ultimate goal; and
* an adventurous night in the woods and on the water.
Creekbanking is an ideal time to let your imagination run wild and play "what if" games.
When outdoor writer J. Wayne Fears' two boys, Chris and Steve, were much younger, they went on a creekbanking adventure with my son JJ and me. J. Wayne prides himself on being an expert backwoodsman. He really is a 19th century mountainman forced to live in a society not of his own making. The old virtues are his stock in trade. And, like J. Wayne, I believe that our American heritage should be passed on to young people.
"Here's what we'll do," J. Wayne planned before our trip. "I'll get my Dutch oven and make up some bannock – pioneer bread. We'll take a few potatoes and some other stuff for us to eat. You handle the catfish chores, and we'll show these boys how to have a good time creekbanking." When I told JJ that we were going fishing with J. Wayne and his sons, he immediately started a rapid fire succession of questions. "What do we need to take? What kind of fish are we going to catch? How long will we be gone? What kind of bait are we going to get? Can I take my knife? Do I need my tacklebox?"
Jug-fishing for cats must have been invented for young men and grown men who like to keep a lot of things going at one time.
Remembering the days when I dug worms out of the chicken manure piles at the back of our barn, cut-down cane on the creek banks and trapped minnows in homemade minnow baskets to prepare for a fishing trip, I realized that half of the fun of fishing was getting ready. So, every day after school, JJ, his sister, Kate, and I raided all the laundromats within a 2 mile radius of our house. Digging through the garbage, we hunted only the very-best jugs. Although one-quart bleach bottles were our prime targets, we did liberate a few detergent bottles with handles extending from the necks. Next, we tied strings on the jugs, attached the hooks and the weights, rolled twine around the jugs and taped the hooks to the jugs.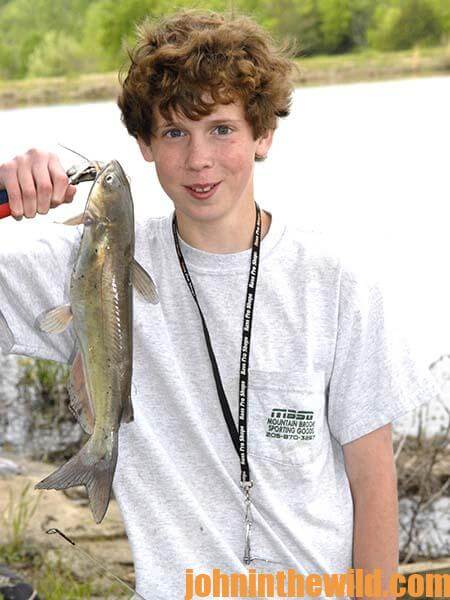 Catfish Like a ProTo learn more, click here to get John E. Phillips' new Kindle book, "Catfish Like a Pro."
About the Author
John Phillips, winner of the 2012 Homer Circle Fishing Award for outstanding fishing writer by the American Sportfishing Association (AMA) and the Professional Outdoor Media Association (POMA), the 2008 Crossbow Communicator of the year and the 2007 Legendary Communicator chosen for induction into the National Fresh Water Hall of Fame, is a freelance writer (over 6,000 magazine articles for about 100 magazines and several thousand newspaper columns published), magazine editor, photographer for print media as well as industry catalogues (over 25,000 photos published), lecturer, outdoor consultant, marketing consultant, book author and daily internet content provider with an overview of the outdoors. Click here for more information and a list of all the books available from John E. Phillips.
EXPLORE MORE: you'll love these stories from John too