John's Note: This year 2013 anglers have experienced about every type of bad weather affecting much of the nation, particularly rain, floods and rising water. Outdoor writer John E. Phillips has talked with some of the tried-and-true bass fishermen who must catch fish no matter what the weather is. Gary Klein www.garykleinfishing.com, a professional bass fisherman from Weatherford, Texas, has fished in more than 354 tournaments and placed in the earnings in 241 of them. He has had 8 first-place finishes, 87 top-10 finishes and was named BASS Angler of the Year in 1988 and 1993. When the storm clouds brew, and rain starts coming down, fair-weather anglers will crank-up their motors and head for home but not Gary Klein. By staying in the wet weather, Klein has learned how to catch bass and how to become a better angler.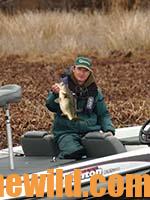 "If you want to grow in your knowledge of the sport of bass fishing, and if you want to catch bass any time you go to the lake, then the best thing to do is always try and fish on the worse days," Gary Klein says.
"You will learn more about how to catch bass under bad-weather conditions than you will in good weather. You also will discover that when most other anglers are leaving the lake actually is the best time to be on the lake. When other sportsmen are thinking that because of the weather they can't fish, you will know that due to bad weather and having fished in bad weather before, you can catch bass. Fishing under bad-weather conditions provides confidence for the fisherman and more bass for the livewell."
Angling During the Slow Drizzles:
"If rain has been falling the day and the night before I plan to fish, and rain still is falling when I reach the lake, then I know several things before I get to the water," Klein explains. "First of all I realize that the skies have been overcast for a long time. I will know that my first plan of attack will be to use baits that will help me cover a lot of water. One of my favorite lures is a buzzbait, because it tends to draw bass to itself. When a warm rain comes into a lake, it usually aerates the water at the top and makes the bass more active and more apt to feed on the surface. I will look for pebble banks or rocky banks – mainly to escape the mud that will be coming into the lake during the rain. If the rain that is falling has a chance to hit on the rocks and then come into the lake, it won't carry as much siltation with it as the rain that hits a clay or a muddy bank and then runs into the water.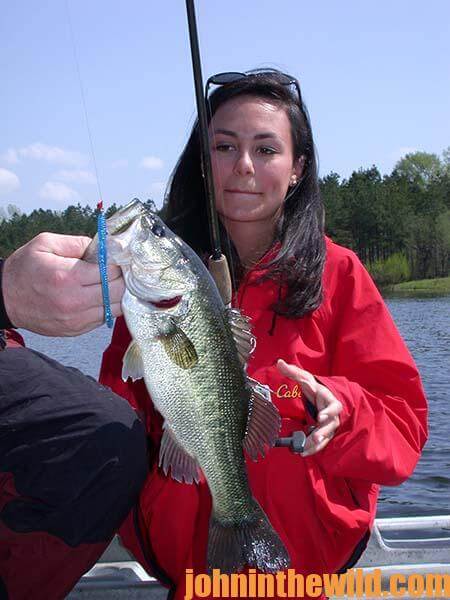 "The fish in clear water should be the easiest to catch and the easiest to continue to take during falling rain. What you have to remember is that the rain can leave at any time. Generally after the rain come the high skies and bluebird days. The bass that are in the clearer water stop hitting then, and you may have to move back to the stained water to catch fish. But as long as I am in the rain, I have found I take the better fish on the rocks. Because of the overcast sky, I think bass tend to be roaming more along the rocky bank and not holding in as tight to cover as they will on a sunny day. By covering more clear water with a buzzbait along a rocky bank, I believe my chances of catching bass are greatly increased.
"Another lure that works equally as well on these rocky banks is the spinner bait. I like to cast the bait out and reel it in fast just under the surface. Then it will leave a wake just as it comes to the boat. With a spinner bait or a buzzbait fished like this, a bass often will come from as far as 10-feet away to take the lure. On rainy days on rocky banks, these baits are my favorites to fish.
I prefer basic colors for the skirts of my spinner baits. I like white/chartreuse/white or chartreuse/ blue. I like to combine the colors of my blades. I prefer a silver front blade and a gold back blade or a silver forward and a copper on the back blade."
Fishing a Fast-Moving Thunderstorm:
"If the day's bright and sunny, and you're fishing deep-water structure, the bass usually will be hiding under or on the down-current side of the structure. Or, even if the structure is in shallow water, the bass will be more in the shade and tighter to the structure," Klein reports. "However, when a thunderstorm moves in, the sun is hidden, the rain comes down which diffuses the light more, and there is wave action, which again lessens the amount of light penetrating down into the water. The bass generally will come out away from the structure and become more aggressive.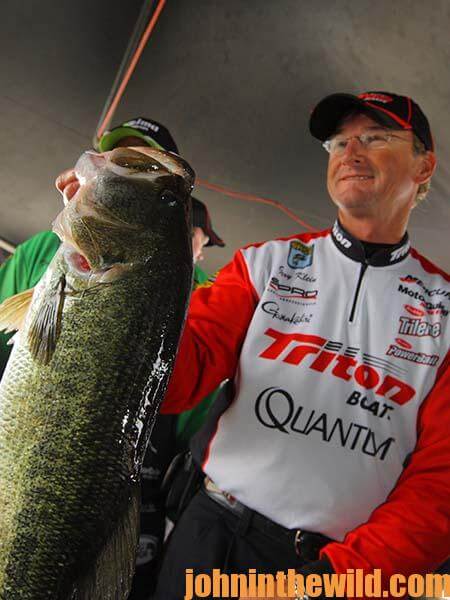 "If bass are holding in a rock pile on a deep-water ledge or tight into deep-water bushes and trees, they will move out of the cover, swim-up on top of the structure and become very aggressive when a thunderstorm arrives. When a thunderstorm blows-up if I'm fishing deep-water cover, I'm still going to fish fast, trying to get an aggressive bite. I believe the bass leave the cover when the storm hits. The main key to remember when a thunderstorm comes is to try and cover more water quicker. If you are fishing for deep bass with a worm, use a lighter sinker and a larger worm. If you're angling for more shallow-water fish, use buzzbaits or spinner baits that you can cover a lot of water with, fish quickly, and catch more-aggressive fish.
All of this advice holds true unless a rain comes down so hard you hardly can see and has 20- or 30-mile an hour winds with it. During those kinds of rains, buzzbaits and spinner baits are hard for the bass to see and to home in on, so that's when I change to a crankbait. I still feel bass are relating to the surface because of the rain. But, I also think they can see a spinnerbait easier and will come to it quicker than they will the spinner bait or the buzzbait. Utilizing the crankbait, I still can cover water from zero to 15 feet. Basically I'm angling for shallow-water bass. However, I'm fishing under the water instead of right on the surface. I'm still angling for cruising and active bass. But I have to admit during those hard, driving rains where holding the boat steady, seeing and casting is hard, I don't do as well as I do in a thunderstorm where the wind isn't quite so high and the rain not so heavy."
To get "Hot-Weather Bass Tactics," "How to Become a Tournament Bass Fisherman," "How to Win a Bass Tournament: Personal Lessons from 8 Pro Bass Fishermen," "Catch the Most and Biggest Bass in Any Lake: 18 Pro Fishermen's Best Tactics" and "How to Bass Fish Like a Pro," click here to get this book.
About the Author
John Phillips, winner of the 2012 Homer Circle Fishing Award for outstanding fishing writer by the American Sportfishing Association (AMA) and the Professional Outdoor Media Association (POMA), the 2008 Crossbow Communicator of the year and the 2007 Legendary Communicator chosen for induction into the National Fresh Water Hall of Fame, is a freelance writer (over 6,000 magazine articles for about 100 magazines and several thousand newspaper columns published), magazine editor, photographer for print media as well as industry catalogues (over 25,000 photos published), lecturer, outdoor consultant, marketing consultant, book author and daily internet content provider with an overview of the outdoors. Click here for more information and a list of all the books available from John E. Phillips.
Tomorrow: Fishing on Toad Strangler Days and Drizzling Fall Days for Bass