Editor's Note: Gary West from Gallatin, Tennessee, returns to Bent Creek Lodge (http://www.bentcreeklodge.com/) in Jachin, Alabama, to hunt turkeys every spring. "I've been hunting here for 24 or 25 years," West says.
Before I started hunting at Bent Creek Lodge, I hadn't used turkey decoys ever. However, from the guides, I learned that at certain times and places specific kinds of decoys could be effective. I also learned how, where and when to set-up a decoy. Just as importantly, I learned that there are times, places and gobblers that you shouldn't use decoys. Since learning that strategy, I carry decoys with me when I go hunting alone now. Knowing how to use decoys effectively can be a game changer to bring a gobbler within gun range. Here's some other insights from turkey guides.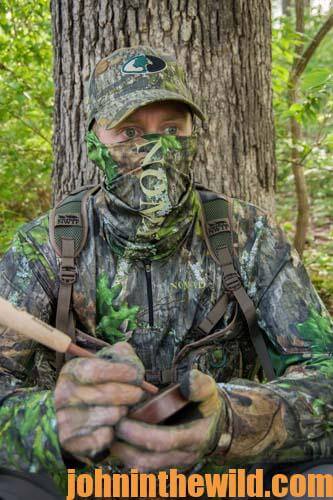 * Call Loudly or Call Softly – To get a debate started in a turkey camp, begin a discussion on whether you should call softly or loudly to a turkey. Every turkey hunter has his/her heartfelt belief that one type of calling is better than the other kind of calling. From hunting with different guides at Bent Creek, I've learned that loud, aggressive calling works just as effectively for some guides as soft, low calling works for other guides. There is no right type of calling. You just have to decide for yourself which kind of calling produces the most gobblers for you. I've hunted with guides who have been deadly effective in bringing in gobblers that have called so softly, I hardly can hear them. I've also hunted with other guides who've called so loudly and aggressively that they'll rattle the treetops. I've discovered that both styles of calling produce gobblers for the guides who believe in each style. I guess the most-important thing I've learned is: when soft calling works best, when loud calling works best, and when the time has arrived to quit calling, and go look for another turkey to hunt.
* Know What to Do When the Gobbler Shows Up Behind You – When I've been hunting turkeys at Bent Creek, many times, we've had a gobbler walk up behind us – drumming, strutting and maybe even gobbling. On one hunt with guide Bill Martin, we set-up thinking that the turkey would come straight to us, out in front of us. However, once we heard the turkey on the way to us, the turkey shut-up, and I had another opportunity to practice patience. After sitting in that same spot for an hour and not hearing that turkey, I finally heard a gobbler drumming behind us. I don't hear very well, because I'm hearing impaired and I wear hearing aids. The problem with hearing aids is you can't always determine from which direction the sound is coming. I thought the turkey was coming off to my right. Finally, Bill whispered, "The gobbler is behind us." I knew the turkey was within 40 yards, because I couldn't hear a turkey drum any farther than 40-yards away.
Bill whispered, "Just sit still, and don't move." Finally, after a little while, when my patience was about to give out on me, I cut my eyes as far as I could to the left without moving my head. I saw the gobbler, and he was strutting. He would take about three steps, stop and drum. Then, he'd take another three or four steps, stop and drum. The turkey was so close I knew I couldn't move without him seeing me. So, I let him walk to within 15 or 18 yards in front of me. Once he walked behind a tree and couldn't see me, I brought my gun up to my knee and aimed at the front of the tree the turkey was behind. When the tom stepped out from behind that tree, and I had a clear shot at his wattles, I squeezed the trigger. I think Bill Martin was as excited, if not more excited, than I was about the hunt.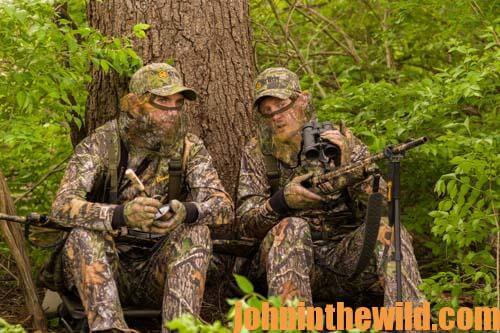 * Understand Turkey Fever – I've gotten so excited about hunting turkeys that I hunt Texas about three times per year and hunt Bent Creek, Nebraska and South Dakota every spring. I hunt turkeys about 60 days every spring. The turkey bug has hold of me so bad, because turkey hunting is like playing chess. With each turkey, you've got to go through your list of tactics you've learned and see which method will make a turkey gobble. Once you hear him gobble, you have to determine which route to take to get to the bird without spooking him. Then you have to decide what sequence of calls that you believe the turkey will answer and come to – all that's as challenging and exciting as playing chess with a great chess player.
I started traveling each spring to hunt turkeys in various states when 20-years ago, I went on a hunt I'd won in Texas, sponsored by Mossy Oak (www.mossyoak.com) and Mossberg (http://www.mossberg.com/). I met Ronnie "Cuz" Strickland and other people with Mossy Oak and the representatives from Mossberg. I totally fell in love with Texas and hunting turkeys in Texas. I kept going back, and finally acquired a lease on some property in Texas to hunt turkeys. Over the last 20 years, I've had three turkey leases in Texas.
A friend of mine, Bill Murphy, from Shreveport, Louisiana, and I duck hunted in Stuttgart, Arkansas. He had been turkey hunting in Nebraska for 30 years and invited me to go to Nebraska on a turkey hunt very close to the South Dakota border. I liked Nebraska, because the terrain was different from Tennessee, Alabama and Texas. Too, Nebraska had Merriam's turkeys that were very vocal and gobbled a lot.
South Dakota was only about 15 miles from where we turkey hunted in Nebraska, and Bill asked me to go with him to South Dakota to hunt pheasants. We saw lots of turkeys while hunting pheasants with Dakota Wild Wings Outfitters (http://dakotawildwings.com). I talked to the owner of Wild Wings about the possibility of coming there in the spring and hunting turkeys. He said I could come and take two turkeys. Since the time I was there, I put South Dakota on my list of places to hunt every spring. I spend 9 days in Alabama, hunt Texas for about 20 days, hunt Nebraska for about 3 days or until I tag out and then go to South Dakota for 2 -3 days. Between my traveling hunts, I'll hunt several mornings too when I'm at home in Tennessee. I take the lessons that I've learned in the college of turkey hunting at Bent Creek Lodge and apply them to my turkey hunting all over the country.
To learn more about turkey hunting, check out John E. Phillips' print, Audible, Kindle and Nook turkey books at http://johninthewild.com/books/#turkey and at www.barnesandnoble.com. You also can download a free Kindle app that enables you to read the book on your iPad, computer or SmartPhone. You can learn more about calling turkeys by going to johninthewild.com/audio-files/ for audio turkey tapes to purchase of Lovett Williams, Rob Keck and Chris Kirby, available for download to your SmartPhone, tablet or computer. For a free copy of John E. Phillips' "The Turkey Gobbler Getter Manual," go to http://johninthewild.com/free-books/ to download.