Editor's Note: Jared Mophett of Honey Brake Lodge (www.honeybrake.com) in Jonesville, Louisiana, has been keeping dogs tuned-up and ready for dove season for over 20 years. "I've learned plenty from great trainers on how to keep our dogs at Honey Brake in peak performance to retrieve," Mophett says. Mophett also competes his dogs in the Amateur Division of retrieving dog competitions and in the Super Retriever Series and explains, "I run some dogs in the hunt test. I also have some dogs with professional trainers." Often, when you're talking about retrievers, some waterfowlers don't like to use their duck and goose dogs to pick up doves. But according to Mophett, he tunes up his Labradors before dove season and hunts them during dove season. He believes his dogs are better prepared to find and retrieve waterfowl by his working with them well before dove season arrives. He says you need to expect your dog to perform just as well in the dove field as it does in the duck blind. Remember that you're training your dog while it's dove hunting. Let's look at 10 secrets for getting your retriever prepared for dove season.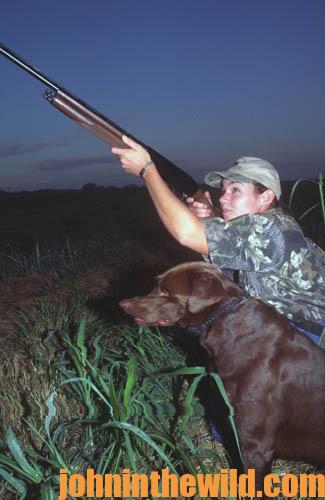 Tip 1: Get Your Retriever in Shape before Dove Season – Both Health Wise and Training Wise
An overweight dog is an unhealthy dog, and weight will cause him to overheat. Or, he may have joint problems and not be able to perform at his best on opening day of dove season. If you know your dog is out of shape, start several months before the season (now) by walking him and taking him on light runs. If you have a place where you can swim your dog, this exercise is best to help get your dog in shape. Take the dog swimming every day or every other day. As well as getting the dog in physical shape, you need to get it in shape to perform the tasks you want it to perform in the dove field. For that reason, obedience training is necessary to get the dog's mind right, and then it will act right in the dove field. Come, sit, stay, and mark are all tasks that the dog will have to do in the dove field. So, the more the dog practices those commands, the better it will perform on opening day of dove season.
Tip 2: Pick a Specific Time to Train Your Dog – Early in the Morning or Late in the Evening
In most states, 1-3 months before dove season is when the weather is the hottest. Working a dog in the heat of the day isn't advised, although on most dove hunts, the dog will have to work in the heat of the day. But in getting the dog ready to work in the heat of the day, you need to train it and get it prepared for that heat by working it in the coolest weather – early in the morning and late in the evening. Then, you can spend more time training the dog, and the dog will be better prepared to perform the task you ask it to do when the dog sees a dove fall. I prefer to work my retriever early in the morning, because the dew is still on the ground, and that moisture on the ground helps keep their feet cool, and the water temperature is cooler then than later in the day.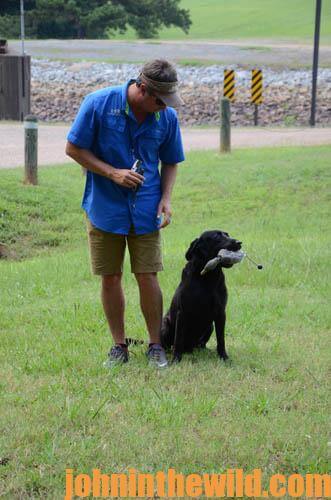 To contact Mophett at Honeybrake, call 318-775-1007.
To learn more about hunting, check out John E. Phillips' print, Kindle and Nook eBooks and audiobooks at johninthewild.com/books.
Tomorrow: Do Obedience Training to Get Your Retriever Ready for Hunting Season