Editor's Note: The weather may be hot, and the woods may be dry, but the early part of deer season across the U.S. may be one of the best times to take a buck. However, early-season success may require a different set of strategies from those to which many hunters are accustomed.
Although there are many back streets and side streets that a driver can take while traveling in a city, there are generally major highways or roads that provide access from one city to another. The movement of deer can be linked to this analogy because there are certain routes deer prefer to travel from one location to another. And, wherever these routes are constricted by different types of terrain, the hunter can expect to see the most deer movement in the smallest region of cover. That area is known as a funnel.
For instance, if there are two large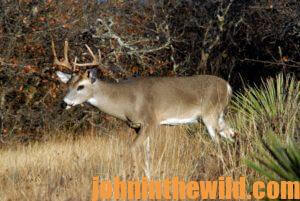 woodlots bordered by fields but connected to each other by a small strip of woods, when deer cross from one wood lot to the next they will almost always travel through the strip of woods. The same pattern is true when open terrain constricts a wooded area through which deer travel. The point where the wood lot is the most constricted – the funnel – is the place the hunter is the most likely to see the most deer. Although deer can and will cross barriers such as a field or a creek, they will travel more frequently through wooded areas. Because deer meander through funnel areas, finding distinctive trails often can be impossible. There should be, however, quite a few dropping and tracks in these regions. Usually the best and the easiest ways to locate these funnel areas is with an aerial or a topo photo of the land you plan to hunt. From looking at the photo, you easily can spot most of the funnels on the property. I particularly like the maps provided at www.mytopo.com where you can buy aerial maps for specific lands and have them mailed to you within 24 hours.
"Of all the different tactics that I know of for early-season bucks or for taking a deer at any time of the year, I believe that hunting funnel areas is the most productive for the hunter," says Dr. Larry Marchinton, former professor of wildlife at the University of Georgia in Athens, Georgia.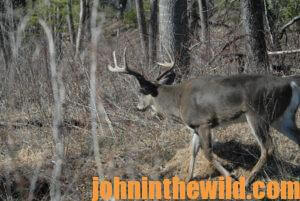 "Hunting funnels is a big-buck tactic, because when you hunt a funnel area, your chances of seeing a lot of deer are greatly increased. Since most of the deer in the region will pass through that funnel, sooner or later, if there's a big buck around, and the sportsman concentrates on one of these funnel areas, eventually, the hunter should see that big buck."
You can identify out-of-the-way hunting places and find the funnels in them by ordering maps from www.mytopo.com. The company offers printed, waterproof maps shipped right to you – generally within 24 hours – of regions with USGS quads and GMU hunting maps and can include public and private la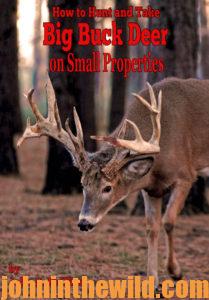 nds' boundaries. You also can buy digital and instant access maps for your mobile and desktop.
To learn more about hunting deer, check out John E. Phillips' book, "How to Hunt and Take Big Buck Deer on Small Properties," available in Kindle, print and Audible versions at (http://amzn.to/1vIcj4m).
Tomorrow: Hunting Deer with Dry-Weather Strategies