Editor's Note: The weather may be hot, and the woods may be dry, but the early part of deer season across the U.S. may be one of the best times to take a buck. However, early-season success may require a different set of strategies from those to which many hunters are accustomed.
There is no surefire tactic that will always put a hunter in the right place at the right time to see a big buck early in the season. There are techniques, however, that have proven reliable for finding and taking trophy deer when the deer season is still young.
One of these techniques involves simply, talking to a good friend. For a sportsman, a farmer, or a landowner to allow another hunter to hunt a trophy buck of his property, usually both men have to be good friends. And, since the landowner likely knows his land and the game on it better than anyone else, most of the time he'll be the first to spot a big buck in the area. Also, he'll generally know where the deer ranges, and at about what time of day and in what location the hat rack buck is most likely to appear. Of course, because a trophy buck won't always show up at the same time every day, an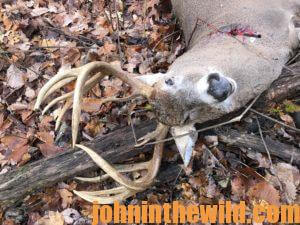 outdoorsman may have to plan to hunt three or four days in a big-buck hotspot to see the whitetail. Without a doubt, though the best way to locate a bragging-sized buck in the least amount of time is to have a landowner direct you to that buck.
Here's how one hunter took a 192-5/8 inch buck on only 5 acres by talking to a co-worker. Ethan Smith lives south of Paoli, Indiana, and is the executive chef at the five-star West Baden Springs Hotel in West Baden, Ind. He was hunting in Orange County, Ind., just outside of West Baden on 5 acres of private land that one of Ethan's co-workers just had bought. She kept telling him about all the deer she was seeing on her new land, including a big buck, since she knew Ethan was an avid deer hunter who always was searching for new places to hunt deer.
As Ethan remembers, "Jokingly I asked, 'You wouldn't mind if I came and hunted your 5 acres and took one of those big bucks, would you?' She answered, 'Sure, come on, and check it out.'"
In August, 2017, Ethan put out a trail camera on the 5 acres but didn't return there. He eventually only hunted this land in French Lick that was about 3-4 miles from the hotel where he worked two times. Ethan took 2 weeks off every   November to hunt and already had been hunting for several days on other properties before he hunted these 5 acres.
Although Ethan usually hunted with a compound bow, his older bow wasn't shooting as fast as it once did and certainly couldn't shoot as fast as more modern bows could. Ethan never got that much time off, and he knew to be accurate with his compound bow, he'd have to practice often. So, when crossbows became legal to hunt with in Indiana, Smith bought a Parker
(https://www.parkerbows.com/) crossbow before that company went out of business and tipped his arrow with a Muzzy Trocar broadhead (https://www.feradyne.com/muzzy-broadheads/)
Once Ethan and his brother Jason arrived at the French Lick property they put up their climbing tree stands. "On the way back to our vehicles after hanging our stands, I pulled the SD card out of my trail camera and saw five pictures on it – four of does and one a monster-sized buck. 'Oh, my gosh,
that buck will score 190 at least,' Jason said. 'He's the biggest buck I've ever seen."'
The next morning on November 9, 2017, Ethan put up his climbing tree stand and heard some deer blowing in the thicket in front of him but knew they couldn't smell him with no wind moving that morning. "I spotted a big buck at about 40 yards that barely poked his head out as he stood behind two large trees," Ethan reports.
As Ethan released his crossbow arrow, he heard a loud pop. The huge buck with two, split G2s whirled, ran hard back into the thicket and vanished. Ethan realized he was the monster buck in the pictures. The buck only ran about 20 yards. Ethan heard some thrashing in the thicket and spotted the buck's big rack moving around on the ground, but then stopping. Ethan no longer could see him. "I remained in my stand for an hour," Ethan reports. "To make the time go faster, I texted my brother and several other friends to let them know I had a big buck down."
Ethan then climbed down from his stand and went to the place where his arrow had hit the huge buck. But Ethan found no sign of blood, hair or anything about the deer that would indicate he'd made a good hit. Ethan walked 10 yards in the direction that the buck had gone into the thicket and then spotted his trophy. "That's when I realized just how big the 5 Acre Buck, as I'd named him, was," Ethan says. "I'd had an encounter with a buck that would have scored 170 inches the previous year, so I recognized this buck as a trophy and couldn't wait to hang him on my wall. I field dressed this huge buck and was so amped up on adrenaline that I had no trouble dragging him uphill and then downhill to my truck." Once Ethan sent a picture to the lady who owned the property of the buck, she texted him back, "That's the buck I've been seeing in my yard." Originally Ethan hadn't thought she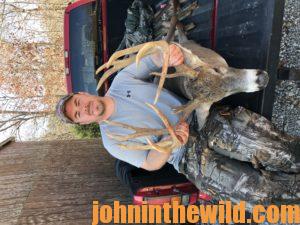 probably knew what a big buck looked like, but apparently as he says, "I was so wrong."
If you're running short of friends who own good land for deer hunting, your next option is to out-hunt the hunters. One of the ways you can out-hunt other hunters is by knowing what's happening on the green fields on which you have permission to hunt. Most deer hunters who have a place and the opportunity to plant a green field to attract deer will plant one of these deer attractors. Of course, the deer visiting any green field have been shot at two or three times and spooked even more often, finding a whitetail on that green field may be difficult. So, a smart move for hunters who are aiming for a big buck in the early part of der season is to watch green fields a week or two before the season's opening day. By spending an afternoon observing a green field before the season, the hunter can get an idea of what size of bucks are using the green field each day, what time they appear, and which green fields seem to be drawing the most deer. Then you can determine which green field to be sitting over on opening day.
There are no shortcuts to early-season trophy-buck hunting. And, there are two times a year when the hunter's chances are best for bagging a trophy buck – in the first three or four days of the season while the deer are still using the same feeding, bedding, and traveling patterns they were using before the season came in, and during the rut. Yet, whether your sights are set on a big buck, or just a buck, your chances for success in the early days of the deer season likely will depend on your ability to take advantage of your preseason scouting, nature's dry-weather conditions, and the whitetails' early-season habits.
To learn more about bowhunting deer, check out John E. Phillips' book, "How to Hunt Deer Up Close: With Bows, Rifles, Muzzleloaders and Crossbows," available in Kindle, print and Audible versions at (http://amzn.to/11dJRu8).