John's Note: Often deer hunters don't consider rattling in the early season for deer. But some nationally-known hunters use a combination of rattling and grunting to bring deer to them in the early season.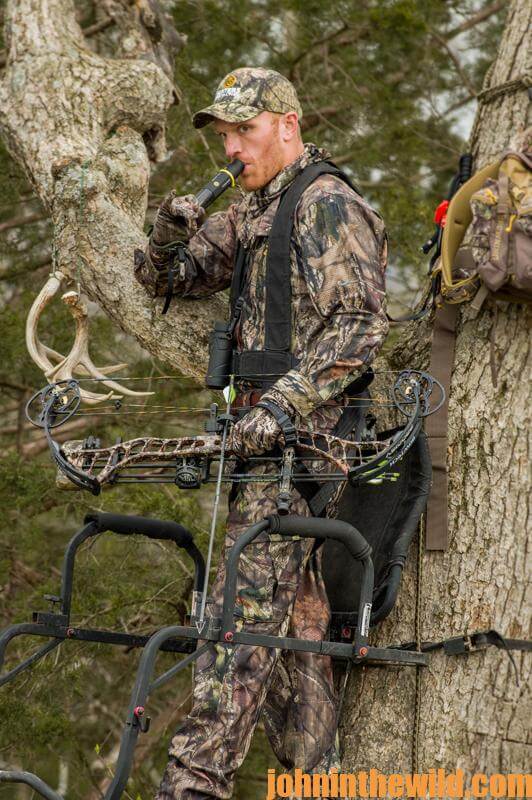 My backside was sore. As I squirmed in my tree stand to reposition myself and shift my weight, I saw what I believed to be an ear twitch about 60-yards away on the edge of a field. With my binoculars, I studied the tree line and spotted a line parallel to the ground about 3-feet high. Through the trees I could see the dark circle of the deer's eye. I watched as the deer cautiously approached the field. Venturing no more than three steps from the wood line, the buck fed on the winter wheat. I counted 6 ivory points on the 14-inch rack.
I'd been watching the buck for about 20 minutes, when I decided that something had to happen since night was about to fall. If the buck didn't come in quickly, I'd be unable to take a shot with my bow. With my grunter, I gave four or five short grunts. The buck picked up his head and looked in my direction. I grunted two more times. The buck walked toward me. He stopped and put his head down to feed, allowing me time to stand and prepare for the shot. This time I twisted the tube of the grunt call to throw the sound off to my right and behind me.  Once again the buck moved before finally stopping 20-yards from the tree where I was perched. The sun almost had vanished behind the pines when I made my draw. Once the pin settled just behind the deer's front shoulder and somewhat low, I squeezed the trigger on my mechanical release. The bow fired, the deer jumped, and my arrow dug into the dirt without cutting a single hair on the deer. Using the grunt call had given me the opportunity for a shot I wouldn't have had without it. When I stepped off the distance, I realized I'd been concentrating so hard on the buck, I'd miscalculated the range. However, I was totally convinced I'd never have gotten the opportunity to shoot without the call.
Today like the mythical Dr. Dolittle, we can talk to the animals. Deer hunting has followed much the same pattern as turkey hunting, duck hunting and predator hunting. We've learned how to effectively call deer where we're hunting. Although speculation abounds as to why deer come to grunt calls and rattling antlers, until we find a whitetail that speaks English, no one will know for certain what these sounds say to the deer.
How should you grunt, when should you grunt, how often should you grunt, when are rattling antlers effective, when are they not effective, why do deer come to rattling antlers, and will rattling antlers scare off as many deer as they call are questions continuing to plague white-tailed deer hunters. Too, the bowhunter must get a deer in close enough to take a shot. Using rattling antlers and grunt calls often affords the archer the chance to bring a buck within that 30-yard kill zone. This week we're learning how some top hunters call deer.
To get John E. Phillips' eBooks and print books on hunting deer, including his newest deer-hunting book, "Whitetail Deer and the Hunters Who Take Big Bucks," available at http://amzn.to/2bYwYOK/, click on these books to learn more, "How to Hunt and Take Big Buck Deer on Small Properties," "How to Hunt Deer Up Close: With Bows, Rifles, Muzzleloaders and Crossbows," "PhD Whitetails: How to Hunt and Take the Smartest Deer on Any Property," "How to Take Monster Bucks," "How to Hunt Deer Like a Pro," and "Bowhunting Deer: Mossy Oak Pros Know Bucks and Bows," or to prepare venison, "Deer & Fixings." Or, go to www.amazon.com/kindle-ebooks, type in the name of the book, and download it to your Kindle, and/or download a Kindle app for your iPad, SmartPhone or computer. You also can find John's books on Nook at www.barnesandnoble.com.
For free information on making jerky from your deer to provide a protein-rich snack, you can download a free book from http://johninthewild.com/free-books.