John's Note: 2014 is Steve McCadams' 40th year of guiding crappie fishermen on Kentucky Lake. He also fished crappie tournaments for 10 years, and at one time he was part owner of Crappie USA. "I guess you could call me a crappie farmer, because I put out a lot of crappie cover and harvest a lot of crappie," McCadams says. Except when he's guiding or hunting ducks, McCadams guides crappie fishermen and catches crappie every day of the year. The secret for finding and catching crappie is to know where the crappie live and build homes for crappie. "I guide for crappie 9-10 months out of the year on Kentucky Lake, and we've never struck out," McCadams reports. He only may catch 1-10 crappie, when he's fishing an hour or two on the lake, because of high winds, snow, thunder or lightning. With two clients in the boat, McCadams averages keeping 40-45 crappie per day. On Kentucky Lake where he primarily fishes, anglers only can keep crappie 10-inches long or longer. However, on an average day, his clients may catch 100 crappie and release the undersized ones.
I'm not a onebait type of fisherman. Each day that I'm on the water, my customers will fish both minnows and jigs.
We wait for the crappie to tell us what bait they want to eat. Frequently, we'll tip a jig with a live minnow. We offer them the two best baits at the same time. If the crappie are biting aggressively, we'll usually fish with a jig. Often we'll tip the jig with Berkley PowerBait Nibbles (http://www.berkley-fishing.com/PowerBait). I really believe that scent plays a role in helping a crappie determine if it wants to feed or not.
If the crappie are very sluggish or reluctant to bite, and they won't take a jig, then, I put only a live minnow on and see if the crappie will eat that bait. If we have two or three guys in the boat, I'll usually have one angler fishing a jig on the back of the boat. The angler in the middle of the boat will be fishing a jig tipped with a minnow. The fisherman up front with me will be fishing a jig with a Nibble, and I may be fishing just a live minnow. If the guy in the back of the boat catches two or three crappie using only a jig, we'll all change our bait to just jigs. Whichever combination or whatever bait seems to be producing the most crappie is the one we'll all change to and start fishing.
We'll change colors of jigs, baits and the ways we present the baits to the crappie throughout a day of fishing. Then, we can tell not only what bait and what color the crappie prefer on that day but also what bait and what color they want at different times of the day. When crappie are aggressive, I really like to fish the jig, because I can switch colors and stay up with the color changes that the crappie prefer much better than I can when we're fishing with minnows.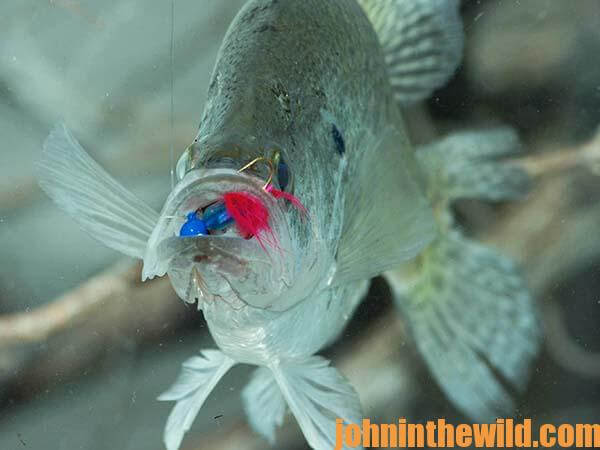 Water color plays a major role on what color jig the crappie prefer each day and each hour of the day. In clear water, I'll fish motor oil colored jigs and/or motor-oil-colored jigs with glitter or sparkles. However, chartreuse is always a good color to start with, at any time of the year. If I get into some dingy or muddy water, I prefer to use fluorescent jigheads like pink, red, green and some loud-colored skirts or jigs. Red-and-chartreuse is a great combination of colors to use in stained water. My rule of thumb is: in stained water use really-loud, bright colors. In clear water, use subdued black colors.
Sometimes, we'll cast jigs to our brush shelters, even though vertical fishing with poles is the way I prefer to fish. When the water is clear, or when the crappie are holding in extremely shallow water, they spook very easily. Then, I'll back away from my stake beds and cast jigs to the stake beds.
Sometimes, I'll use a slip bobber to keep my jigs at the depth I want to fish.
Other times, I'll just tight-line the jigs. When I'm using either one of these two rod-and-reel tactics, I like either a Roadrunner jighead (http://www.sliderfishing.com).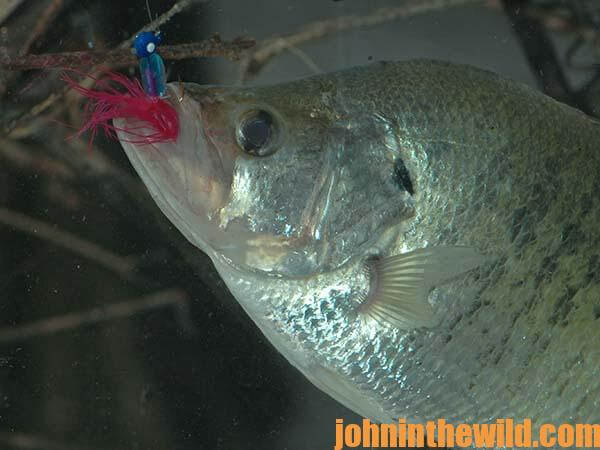 These techniques are really deadly when the crappie are boat-shy. One of the advantages of using a slip bobber is that you can regulate the depth of water through which you want your jig to pass. Using the slip bobber and a jig, we can cast and retrieve our jigs just above the stake bed without our jigs getting hung. Since crappie generally feed looking-up, this is a good technique to get crappie to come away from the stakes and take your bait. Another advantage to this jig-casting technique is if the crappie doesn't want to bite, you can stop the jig and let it sit perfectly still right in front of the crappie. Then all the fish has to do is get close to the jig and suck in the bait. This technique can be very effective when the crappie are holding tight in the cover and don't want to chase the baits.
To learn much more about crappie fishing, get John E. Phillips' Kindle eBooks and some print books, "Crappie: How to Catch Them Fall & Winter," "Crappie: How to Catch Them Spring and Summer," "Catch Cold Water Crappie Now," and "Reelfoot Lake: How to Fish for Crappie, Bass, Bluegills and Catfish & Hunt for Ducks." Click here to get these books.
Steve McCadams Professional Guide Service – stevemc@charter.net – (731) 642-0360
Share this page with a friend!
About the Author
John Phillips, winner of the 2012 Homer Circle Fishing Award for outstanding fishing writer by the American Sportfishing Association (ASA) and the Professional Outdoor Media Association (POMA), the 2008 Crossbow Communicator of the year and the 2007 Legendary Communicator chosen for induction into the National Fresh Water Hall of Fame, is a freelance writer (over 6,000 magazine articles for about 100 magazines and several thousand newspaper columns published), magazine editor, photographer for print media as well as industry catalogues (over 25,000 photos published), lecturer, outdoor consultant, marketing consultant, book author and daily internet content provider with an overview of the outdoors.