Editor's Note: Financial advisor Trey Dorman of Birmingham, Alabama, has hunted turkeys since he was 12-years old and guided for 24 years at the Lakes of Leavellwood in West Greene, Alabama (https://leavellwood.com/ – 205-372-2323). Leavellwood offers outstanding turkey hunting, trophy deer hunting and trophy bass fishing.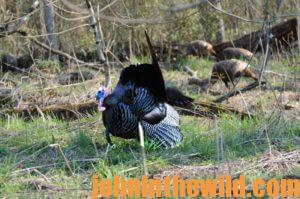 I took a turkey in mid-April of 2019, when the wind was blowing between 40 and 50 miles per hour. The wind was so strong that it was bending trees over. This hunt took place on the last weekend of the 2019 turkey season in Alabama, and although the weather conditions were horrible for hunting turkeys, I just had to go turkey hunting one more time.
My wife, Laura, and I rode around in the truck for a while looking for turkeys. We knew they had to be out on the fields on windy days, so that they could see any type of predator that might be coming after them. Finally, we spotted a flock of turkeys out in a cotton field – with four longbeards and several hens in that flock. I noticed a long row of privet hedge right along the wood line between the woods and the cotton field. I told Laura, "The wind's blowing so hard that I think if we could get behind that privet hedge, the gobblers out in the field wouldn't be able to see us when we tried to sneak-up on them."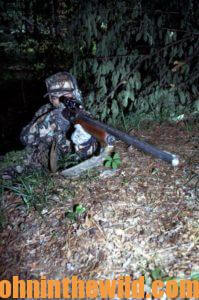 We parked the truck where the turkeys couldn't see it and quietly moved to the privet hedge. Every time there was a big gust of wind, we'd move closer and closer to the turkeys up in the cotton field. When we had gotten out of the truck and moved into the privet hedge, the gobblers were about 300 yards from us. As we moved, we kept our eyes on them, so we could see where they were, and what they were doing. They were just feeding, and the gobblers were strutting around the hens – doing turkey stuff. We hadn't spotted these turkeys until midmorning – at about 10:00 am. Every time there was a gust of wind, we'd move further down the row of privet hedge. We had cut the distance between us and the turkeys by about 70 yards, and I could see that the privet hedge was becoming thinner as we moved closer to the turkeys. I decided that we needed to sit-down and see what would happen, because I was afraid that if we tried to keep moving toward the turkeys through that thin privet hedge, the turkeys would see us.
After we sat-down and got comfortable, I made a couple of calls. One of those gobblers left the flock and started moving toward us. He got close enough to us that his distance was far enough away from the flock for me to take the shot without my shot pattern hitting any of the other gobblers. This longbeard was only about 30 yards from us when I took the shot. I felt certain that I could have taken him at 40 yards, but I was afraid that with the wind blowing as hard as it was, the wind might blow my shot pattern away from the turkey's head and cause me to miss him. I let the turkey get 10 yards closer before I took the shot – afraid if he got closer he'd spot us. When I squeezed the trigger, that longbeard kissed the dust.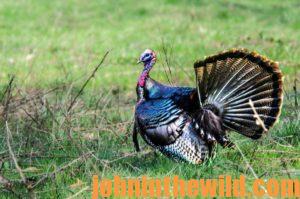 What I Learned from the Windy Day Gobbler:
* You can harvest a turkey – even in a hard-blowing wind.
* You must have good cover to sneak up on a turkey or a flock of turkeys out in a field.
* You need to only move when the wind's blowing the hardest, as the trees, leaves, and bushes will hide your movement then.
* You must use the cover and the woods to get as close as you can to the bird you want to take, and then hope you'll get lucky, and the turkey will come to you.
* A tom turkey can hear you call if you're close enough to him – even in a bad wind.
To learn more about turkey hunting, check out John E. Phillips's book "The Turkey Hunter's Bible," available in print, Kindle and Audible versions at https://www.amazon.com/gp/product/B007HT1IUS/ref=dbs_a_def_rwt_hsch_vapi_taft_p1_i7. You may have to cut and paste this link into your browser. (When you click on this book, notice on the left where Amazon says you can read 10% of this book for free and hear 10% for free). To learn more about other turkey books by John E. Phillips, go to www.amazon.com/author/johnephillips.
Tomorrow: Guide Trey Dorman Guides His Customer to Bag the No-Call Shooting House Gobbler