John's Note: Some years ago I'd met my longtime friend Brad Harris of Neosho, Missouri, the well-known outdoorsman and TV personality, and his friend Scott Bennett, to hunt the big Kansas corn-fed bucks. For several years, Harris had hunted Kansas and had bagged some monster-sized whitetails there.  He'd invited me to come and try my luck on this area's trophy bucks.
As I sat in my misery and self-pity, I remembered an interview I'd done years before at the 1997 Bassmasters Classic with Dion Hibdon of Stover, Missouri. Hibdon had walked in the shadow of his famous father, Guido, a former Bassmasters Classic winner, for a number of years. However, Dion Hibdon never seemed to have that killer instinct that would allow him to win a bass-fishing tournament. "I was really down on myself," Dion recalled. "I'd come close to winning several major tournaments but still saw victory slip through my fingers each time. I'd really get upset with myself and uptight when I lost a fish or missed a strike in the closing hours of any tournament. I just couldn't seem to win."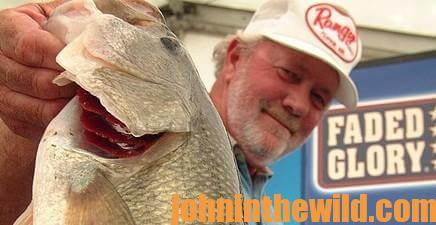 To try to solve this problem, Hibdon went to a sports psychologist. The psychologist told Hibdon that when he missed a fish, instead of thinking about the fish he missed, he should say to himself, "That miss means I'm fishing in the right place with the correct bait. Since that bass struck my lure, then I've got every reason to believe that another bass will." In the last 2 hours of that Bassmasters Classic, Hibdon lost or broke off 20 bass. "I sort of felt guilty," Hibdon remembered, "Praying, 'Lord, just give me one more fish,' after I'd missed so-many chances.' But I continued to believe that I was fishing in the right place, I was using the best baits, the bass were striking at my lures, and I could expect to catch at least one more good fish." During the last 2 minutes of this world championship of bass fishing, Hibdon did catch one last bass that weighed 4 pounds and won the Classic.
I decided that if this technique worked for Hibdon, then maybe it should work for me. After all, we'd seen several nice bucks from this tree stand all day. I'd had a shot at two monster-sized bucks. Evidently we'd set-up in the right place. Although I'd missed, I had every reason to believe that one more buck would show up just before dark. So, I asked the Good Lord for, "Just one more chance."
To get John E. Phillips' eBooks and print books on hunting deer, including his newest deer-hunting book, "Whitetail Deer and the Hunters Who Take Big Bucks," available at http://amzn.to/2bYwYOK/, click on these books to learn more, "How to Hunt and Take Big Buck Deer on Small Properties," "How to Hunt Deer Up Close: With Bows, Rifles, Muzzleloaders and Crossbows," "PhD Whitetails: How to Hunt and Take the Smartest Deer on Any Property," "How to Take Monster Bucks," "How to Hunt Deer Like a Pro," and "Bowhunting Deer: Mossy Oak Pros Know Bucks and Bows," or to prepare venison, "Deer & Fixings." Or, go to www.amazon.com/kindle-ebooks, type in the name of the book, and download it to your Kindle, and/or download a Kindle app for your iPad, SmartPhone or computer. You also can find John's books on Nook at www.barnesandnoble.com.
For free information on making jerky from your deer to provide a protein-rich snack, you can download a free book from http://johninthewild.com/free-books.
Next: Taking a Redemption Buck Deer Finally