John's Note: Fifty-year-old Mark Clemens from Baltimore, Maryland, who's been hunting deer for 38 years, is a nuisance deer hunter. He's on the cutting edge of changes that are being made in deer hunting across the nation. If you live in a gated community or anywhere that you're seeing deer around your house, you need to realize that right now there are as few deer on your property as there ever will be, unless some type of control measures are instituted to keep deer numbers in check. In a healthy deer population, does will produce from one to three fawns per year with two being the average. In communities that don't allow for the hunting of these nuisance deer, you easily can see why deer herds in suburbia are drastically increasing. The same is true for rural farms and ranches, especially where agriculture is being produced. Deer love agriculture, especially soybeans, corn, watermelons and other crops. Clemens is one of the new breed of hunters who's tasked with the responsibility of keeping deer herds at a manageable level. Clemens also enjoys taking wounded vets hunting and introducing youngsters to the sport.
Urban deer hunting is growing in popularity nationwide, especially in areas where the whitetails are destroying landowners' gardens, flowers and shrubbery. But when my neighbor Dale Hunter and I left our homes near Baltimore, Maryland, on the first day of Maryland's gun deer season to hunt nuisance deer in the Accokeek community, we never dreamed I'd take one of the biggest and most unusual bucks I'd ever seen.
Dale and I drew stands next to each other and arrived at our designated hunting area before daylight. My stand was in a bottom, however, I couldn't find the stand site when I got to the bottom. As the sky lightened up, I saw a big tree and decided to put my climbing tree stand there. I soon spotted a doe out in front of my stand, but she was out of range. We are allowed to take does and bucks on this hunt. If she'd been closer, I would've taken the shot.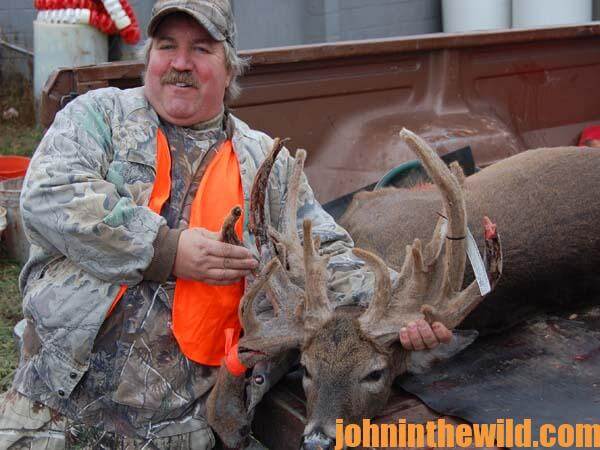 The weather turned out bad that morning with the wind blowing and the temperature falling. Most of the hunters took cell phones with them into the woods to text back and forth about the deer they were seeing and taking. That morning many of my friends decided that they were getting too cold and would come out of their stands early, although usually we would stay until 11:00 am. Because the weather was so brutal, and the men had been on their stands from before daylight, their dedication was wearing thin. Dale texted me that he was considering coming down from his tree early. I texted him back that it was 9:45 am, and I planned to come out of my tree stand at 10:00 am.
After I put my cell phone back in my pocket, I looked to my right and saw a group of does moving at about 70 yards. Since the deer were in hard rut, I decided to wait to see if a buck was at the back of the herd of does. In less than five heartbeats, I spotted a shooter buck. On this hunt, a shooter buck had to have an antler spread wider than his ears, mostly 8-pointers or better that generally would score 120-150 as composite scores. I saw an opening about 70 yards from my stand and decided that would be my killing ground. I let the does walk through the opening. I had my Remington 870 Wingmaster to my shoulder, the safety off and the crosshairs in the scope on the edge of the opening. When the buck stepped into the opening, I squeezed the trigger, and the buck disappeared. Quickly I heard the buck fall in a laurel thicket at the base of a hill, although I couldn't see him.
I watched the does come out of the laurel thicket but couldn't get a shot at them. I texted Dale, "I just shot a hammer." I climbed down, and when I was about 20 yards from the laurel thicket, I spotted the white hair of the buck's belly. Then I thought, "That deer's rack looks like he has a bunch of tree branches coming out of his head." I couldn't believe how big this buck was. He weighed more than 200 pounds. The buck only had run 40 yards before he piled up. I just stood and stared at the buck until I heard and saw Dale coming around the base of the hill. He told me, "Oh my gosh, I've never seen anything like that buck in my entire life. You've killed a monster."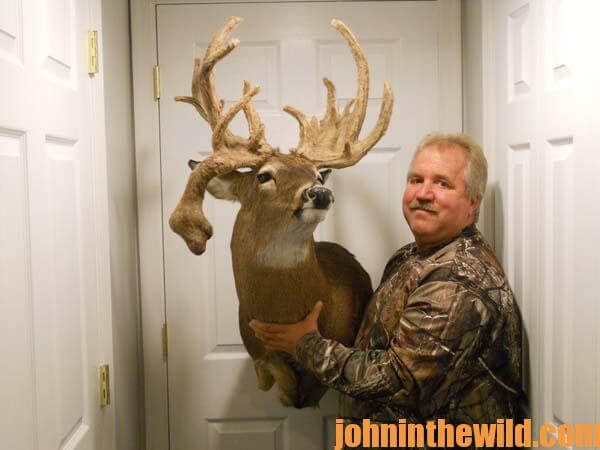 Once we got close to the deer, we realized the buck was still in full velvet, although this hunt took place on December 5, 2010, the first day of Maryland's deer hunting season. I was really surprised that the buck was still in velvet and really hadn't noticed before. I learned many years ago that once I identify a buck as a shooter. I try not to look at his rack until after he's down. This way, I don't get nervous or excited before the shot. The buck also had a drop tine. Dale and I didn't realize this buck would score 212-1/8 inches as a composite score. I knew this not only was the biggest buck I had ever taken, but perhaps the most unusual.
To get John E. Phillips' Kindle eBooks and print books on hunting deer, "How to Hunt and Take Big Buck Deer on Small Properties," (John's latest book), "How to Hunt Deer Up Close: With Bows, Rifles, Muzzleloaders and Crossbows," "PhD Whitetails: How to Hunt and Take the Smartest Deer on Any Property," "How to Take Monster Bucks," and "How to Hunt Deer Like a Pro," or to prepare venison, "Deer & Fixings," click here.
Next: The Most Unusual Buck Mark Clemens Has Taken during Maryland's Nuisance Deer Hunts