John's Note: Sooner or later, if you love to be in the outdoors, and work and play in the outdoors, you'll probably get hurt, because outdoor people tend to push the limits. They climb mountains too high, swim rivers too far, go up trees too tall and/or ride mustangs too wild. When outdoors people survive tragic accidents, some give up, while others fight back, reinvent themselves and become more than they ever may have been before their accidents. We all love the stories of people who have overcome disaster to find the true greatness in us all, and such is the story of Ashlee Adkins Lundvall, who was born and raised in Indianapolis, Indiana. She was a true 6-foot, 2-inch Hoosier girl who played volleyball, basketball, fast pitch softball and slow pitch softball. With her outgoing personality and good looks, she had a very active social life, had a boyfriend and was living the dream of every high school teenage girl. After finishing her sophomore year with big plans for her junior year in high school, Ashlee went for 3 weeks to Cody, Wyoming, where girls from all over the county came to this working ranch. All the girls had chores. After the chores were done, they enjoyed horseback riding, backpacking, rodeoing and other fun activities. But while there, Ashlee suffered a T12 vertebra spinal cord injury in 1999 that left her in a wheelchair. This week we'll learn how Ashlee's injury led her to enjoy the outdoors even more.
My husband, Russ, and I were married in-between the 2 years I spent in graduate school, and then we moved to Wyoming in 2007.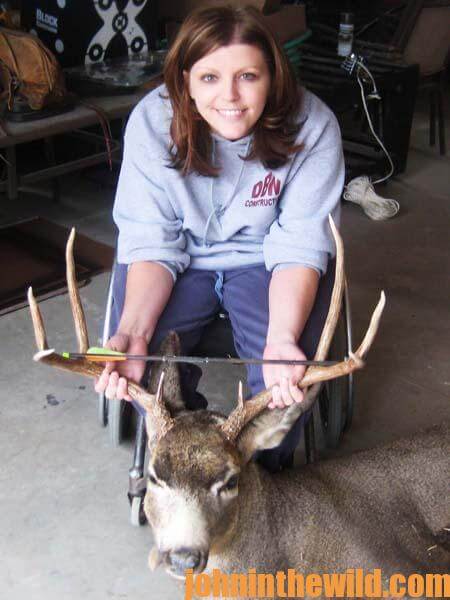 I was fearful to move back to Wyoming because all the activities I once loved doing there that I no longer could do, especially outdoor activities like hiking, camping and ranching. Wyoming isn't accessible and has lots of mountains, gravel, rocks and mud. But as soon as I arrived in Wyoming, I got involved in 4-wheeling, camping and hunting.
When I first heard about the 2013 Ms. Wheelchair America pageant (http://www.mswheelchairamerica.org), I thought it was a joke. I was convinced that people in wheelchairs like me didn't do beauty pageants. And, even if I did enter the pageant, what would my talent be? Maybe I could take my crossbow and shoot out the tires in the other contestants' cars. Or, maybe, I could do a wheelie longer than all the other contestants. I really couldn't understand why people wanted me to be involved in this beauty pageant. I believed all the stereotypes about beauty pageants and that their primary concerns were about outward appearance. I thought they were attended by a bunch of divas who talked non-stop about their hair, their nails and girly things.
I knew I wasn't interested. However, once I began to research, I learned this pageant appreciated that women in wheelchairs and women with disabilities were beautiful, and that the Ms. Wheelchair America pageant was all about giving women a national platform to talk about issues important to them and empowering women to be advocates for themselves and other individuals in wheelchairs. The most-important part of the pageant for me was that it provided a time and a place for women in wheelchairs to meet and get to know each other. Meeting other women in wheelchairs was important to me, because in Wyoming where I lived, the only people in wheelchairs I knew were guys, which was great when I was hunting, camping or 4-wheeling. However, if I ever wanted to call up a girlfriend and ask her about disability girl stuff, I didn't have a friend I could call. Because I didn't know very much about this contest when I signed up to enter, I decided I'd just lay low at the pageant, meeting people and making friends.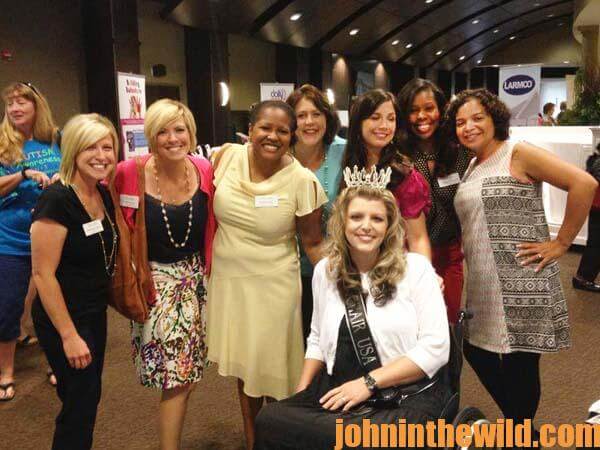 Much of my family and friends encouraged me to participate in this pageant, and my guy friends were goading me to enter the pageant. One told me, "Ashlee, if you win, you can always spray paint your crown orange and still go hunting." So, the whole idea about me entering a beauty pageant became a big joke around where I lived. I planned to go to the pageant to network, find some lady friends in wheelchairs I could talk to, form a national platform to talk about my concern of outdoor accessible recreation and share my passion for outdoor recreation with a large audience. I had tremendous support from my family and friends.
When I got to the pageant, I was completely blown away about how wrong I was about everything involved in the Ms. Wheelchair America pageant. Of course some women who showed-up were definitely into the pageant scene, but most of the women weren't all about outward appearances, and weren't shallow divas. These women were very empowered and empowering and showed me a wide variety of opportunities that they had in their communities that I never had considered in my community. They also taught me how to become an advocate for people in wheelchairs. We did do some fun, girly things too, which I enjoyed.
We almost forgot that we were in a competition or a pageant. We had a great time, learning about each other and different ways to advocate and being better people in the disability community. I decided I was at the bottom of the totem pole for the pageant, since some of these women were very poised and were doing tremendous work in their communities. So, no one at the pageant was more surprised or more appreciative than I was when I was crowned the 2013 Ms. Wheelchair America.
I think I won because my platform of accessibility in the outdoors was a different take on advocacy. Too, I was passionate about trying to open up the outdoors to more individuals with disabilities. I think this made me very different from any of the other ladies. I think perhaps the judges may have thought that if they supported me with this platform, I might be able to help empower individuals in the wheelchair community and show them that they could go outdoors, and the outdoors could be accessible to them.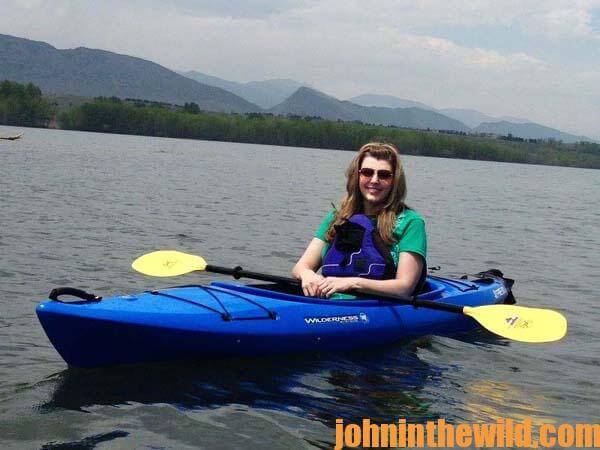 For great recipes to prepare wild game, get John E. Phillips' Kindle eBooks, "The Best Wild Game & Seafood Cookbook Ever: 350 Southern Recipes for Deer, Turkey, Fish, Seafood, Small Game and Birds" (also available in print), "The Recipes You Can't Live Without," and "Deer & Fixings: How to Cook Delicious Venison." Click here to get these books.
Next: When Ashlee Adkins Lundvall's World Seemed to End