John's note: Two ways of bagging a buck include luck, which is a factor that a majority of hunters in many areas depend on solely, and experience – knowing the deer, his movement patterns, his behavior patterns and what causes him to move from one place to another. Being able to predict deer movement is an important trait of the hunter who bags a buck year after year. Very-little guesswork is involved in this type of hunting. The sportsman takes a set of given facts, studies the terrain, the available food, the deer's mating habits and the weather in his region, correlates them with deer sign he finds where he's hunting and comes-up with a hunt plan that logically will put him in a position to see and hopefully bag a deer on any given day he hunts.
The more you look at deer tracks, and the harder you search for tracks, the better you'll be able to interpret where the deer are going when they've made the tracks.

"Now we have to go even further into the woods and identify the holding area where the deer holds during daylight hours when the hunting pressure is on," Dr. Robert Sheppard, who teaches bowhunting schools each year, reports, "This is the most-difficult pattern to try and interpret. But if you can follow a deer track and find some type of thick cover – a briar thicket, a pine thicket, a cutover field or some type of heavy foliage – where the deer have plenty of cover to hide in and maybe stay during daylight hours, then you've located a region to scout for your end-of-the-season hunting. Scouting thickets is much like the scouting that you've done at the beginning of the season, when you've scouted the field. Just because you find tracks coming into or out of a thicket, you still don't have enough evidence to set-up a tree stand or a ground blind to try and take a deer at that particular point.
"Walk all the way around the thicket. If the thicket is large enough, and more than one deer is utilizing this cover during daylight hours, you'll probably locate several places on the edge of the thicket where the tracks go both into and out of the thicket. Once again, place a tree stand or designate a tree or a ground-blind site for a stand. Take your compass or GPS out, determine which way your stand should be facing, and which way you'll have to approach that stand with a favorable wind. Then you can plan your hunt and determine which stand you'll hunt from, according to wind direction on the morning of your hunt. The advantage to these stands is that you can catch your deer in the mornings, coming from the food source going into the thicket, or in the middle of the day if they've been to the food source coming into the thicket. These late-season thicket patterns may provide your best, all-day hunting.
"All of these patterns work well during bow season and in areas during gun season with little or no hunter pressure. But in regions where there's a high concentration of hunters, only the purist bowhunter will try and hunt deer during gun season. In gun season, an archer who plans to bowhunt will have to hunt in thick cover, will be required to cut shooting lanes and will have to accept the fact that he'll see fewer deer. At the end of the season, strict attention must be paid to every detail of deer hunting to be successful. The deer are alerted and looking for danger. Although the wind is a key factor for keeping the hunter's scent out of his hunting area, equally as important is the sportsman's approach to the stand. When gun season is in, I take a rake into the woods with me to make a path from my tree stand back 150-yards toward where I enter the woods. Then I can walk to my stand without making noise on the morning I plant to hunt. I normally take 15 minutes to get to my stand during the first part of the season. I may spend an hour covering the same distance to reach my stand in the late season to keep from spooking the deer. The last 150-yards from the tree to my stand is the place I rake down to the ground, because that's where most hunters spook their deer before they ever get into the trees. I also primarily use permanent stands or ladder stands in the late season to make little or no noise when I climb into my tree stand. The most-difficult deer to pattern and to hunt are the deer that have spent all season long learning what hunters do, and when they do it."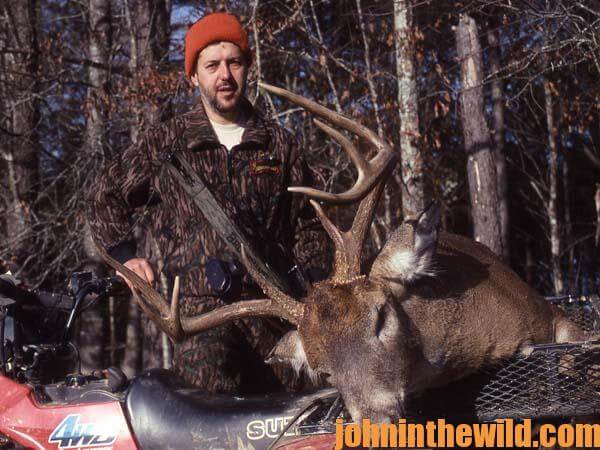 By investing more time studying the deer, their movement patterns and learning where they feed, wait to feed and hold when hunting pressure is on, you'll be better able to predict at what point in the woods to place your tree stand or ground blind for an effective ambush. The hunters who spend more time learning deer movement than they do hunting will take more deer than those who spend more time hunting than they do studying the deer and their movements. Predicting deer movement is bowhunting's most-important skill.
"Three Critical Factors to Locate Deer Movement" with Bob Sheppard: http://youtu.be/f5FYAlMuAYU
To learn more about deer hunting, you can get John E. Phillips' Kindle eBooks, "How to Hunt and Take Big Buck Deer on Small Properties," (John's latest book), "How to Hunt Deer Up Close: With Bows, Rifles, Muzzleloaders and Crossbows," "PhD Whitetails: How to Hunt and Take the Smartest Deer on Any Property," "How to Take Monster Bucks," and "How to Hunt Deer Like a Pro," or to prepare venison, get "Deer & Fixings."  Click here to get these books.
About the Author
John Phillips, winner of the 2012 Homer Circle Fishing Award for outstanding fishing writer by the American Sportfishing Association (ASA) and the Professional Outdoor Media Association (POMA), the 2008 Crossbow Communicator of the year and the 2007 Legendary Communicator chosen for induction into the National Fresh Water Hall of Fame, is a freelance writer (over 6,000 magazine articles for about 100 magazines and several thousand newspaper columns published), magazine editor, photographer for print media as well as industry catalogues (over 25,000 photos published), lecturer, outdoor consultant, marketing consultant, book author and daily internet content provider with an overview of the outdoors. Click here for more information and a list of all the books available from John E. Phillips