John's Note: Mike Lee, formerly from Montana but now living in Oregon, has been hunting elk for about 38 years – both on Montana and Oregon public lands. According to Lee, "Because I like to work from the ridgeline of mountains down to the lower elevations, I hunt in trees and dark timber most of the time. So, if I'm calling an elk from down below me, more than likely, I'll meet him in the timber."
Some friends of mine from Oregon were hunting on the last day of elk season in Montana in 2013. Our group had taken two nice mule deer and two really-nice whitetail bucks in Montana. If you have a general season tag, you can take either a cow or a bull. Our group had two cow tags and two bull tags left.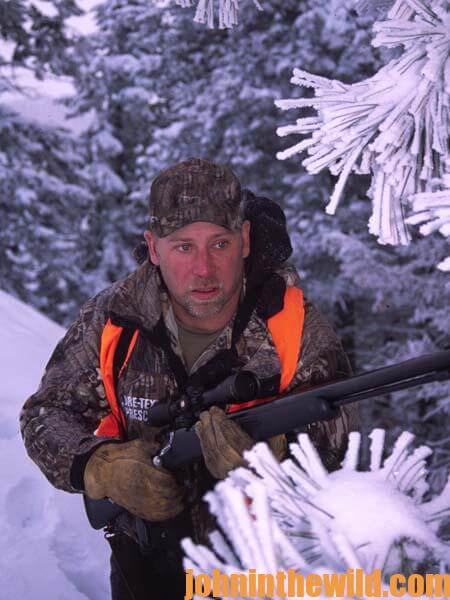 On the last day of the season, we went to the high country to look for some elk and got into a snowstorm. Since we couldn't see very well, I suggested we move out on a finger ridge and get on the downwind side, so we wouldn't catch as much snow. Then we spotted a herd of about 20 or 30 elk in the top of a little bowl that was so close to the road that most hunters never would hunt it.
We made two shots and got two, 6×6 bulls. Because we were only a mile from the truck, we field dressed the bulls and slid them whole downhill all the way to the truck. When we got to the truck, we quartered the elk and loaded them into the truck. The snow dumped about 5 – 6 inches on us in about 4 hours. We couldn't see past 100 yards with our binoculars. But snow is good for the elk hunter, because you can see the elk's tracks easily, and you can follow the tracks to find out where they're bedding and feeding. Instead of walking right up to the tracks and following them, I try to stay 50 to 100 yards away from the tracks and look at them with my binoculars.
On public land in Montana, most of the ground you're hunting will be mountainous. Most of the flatlands at the base of the mountains are privately owned and often leased to outfitters. So on public land, I'm usually hunting at 5,000 to 10,000 feet of elevation. I don't use any horses. All my elk hunts are on foot. Most elk hunters don't want to leave their trucks as early as I do, and they usually don't want to climb to 10,000 feet before they start hunting. I believe this is another reason I'm successful hunting on public land. Most of the time, elk hunters will start hunting at the base of a mountain and hunt up. Because I'm at the top of the mountain before daylight, most often, the other hunters are pushing elk to me instead away from me, as I hunt down a mountain.
Secrets for Finding Elk on Public Lands:
I'm often asked, "What six tips would you give elk hunters on public lands that could increase their odds for taking a bull?"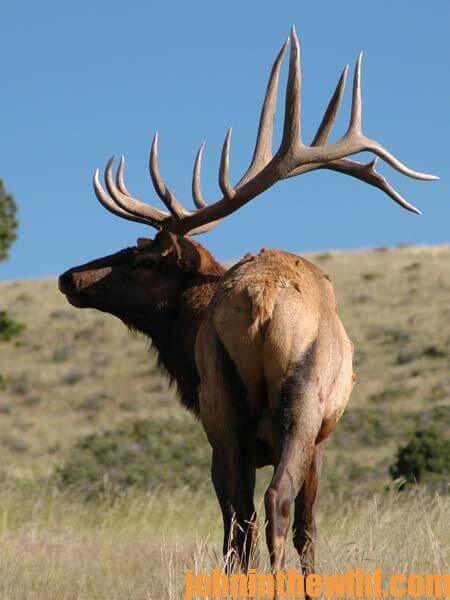 * Do your homework. Call a state wildlife biologist for the land you'll be hunting. Most of the biologists are happy to share information with you. In return, they hope you'll report back to them on any elk you take, and where you've hunted to harvest that elk. The biologist can be extremely helpful and suggest places where you have a good chance of being successful.
* Go on the internet, and read some of the elk forums. Ask questions about the public land you plan to hunt. Many of the elk hunters on www.bowhunternorthwest.com  and www.ifish.com  and other elk-hunting forums can give you valuable information about the public land that you want to hunt.
* Plan to make one or two trips before the season to scout, or come out a week early before the season starts to scout. Generally, the more time you can spend scouting, the less time you'll have to spend hunting.
* Plan to hunt all day long from before daylight until after dark. Pack enough food, water, toilet paper and dry clothes to allow you to stay out all day long, regardless of the weather.
* Be persistent. Don't just walk up to an area, look at the landscape, and say, "Well, there's no elk here." Use your binoculars, and look for the travel trails that the elk have been using often. In canyons, you can see trails leading into and out of the canyon. If you're persistent in studying the land with your binoculars, you'll drastically increase your odds for taking an elk.
* Talk to other hunters you meet during your hunt. You'll probably run into a few successful hunters who are packing their meat out or field dressing their elk. Always offer to help other hunters skin out their elk and/or pack out their meat. Many times, they'll tell you where they've seen elk, and in what areas they've been hunting elk. Their hunts are over, so they have nothing to lose by helping you, especially if you've helped them skin and quarter their elk and/or carry their elk out.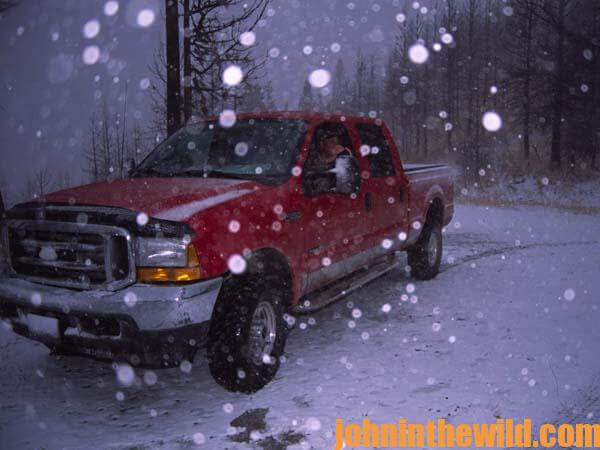 To get John and Denise Phillips' free cookbook, "Miz Denise's Outdoor Cooking: More than 35 Recipes for Elk and Mule Deer," and "How to Make Venison Jerky – the Ultimate Snack Food" (recipes also can be used for elk jerky), as well as other free eBooks, go to http://johninthewild.com/free-books. To learn more about elk hunting, get John E. Phillips' Kindle eBooks and some print books, "How to Find Your Elk and Get Him in Close," "Secrets for Hunting Elk" and "PhD Elk: How to Hunt the Smartest Elk in Any State."
Next: What Happened on a Roosevelt Elk Hunt and Whitetail Hunt
EXPLORE MORE: you'll love these stories from John too