Editor's Note: In 2019, Ott DeFoe of Knoxville, Tennessee, won the Bassmaster Classic on the Tennessee River and $300,000 in February, 2019. In mid-March of 2020, Defoe won $100,000 on Day 3 of Stage 3 of the Bass Pro Tour event, which is a part of Major League Fishing on Lake Fork, Texas, and the Championship Round on 1,799 acre Lake Athens near Athens, Tex. On the last day of the tournament, DeFoe boated 69 pounds and 12 ounces with 23 scorable fish. DeFoe also weighed in the biggest bass caught that day – 9 pounds, 6 ounces. "That bass and most of my big ones were caught on a Rapala DT10 Crankbait (https://www.rapala.com) in a new color called Biggs Shad that will be available in the summer on 12-pound test XPS fluorocarbon line (https://www.basspro.com/) with a Bass Pro (https://www.basspro.com/shop/en/bass-pro-shops-crankin-stick-split-grip-eva-casting-rod) 7-foot, 6-inch medium-heavy action crankin' stick with a Johnny Morris Platinum 6.8:1 reel." To learn more about Ott DeFoe check out (https://www.facebook.com/pg/ottdefoe/about/?ref=page_internal). What DeFoe learned can help you at your next tournament or on your next fun bass-fishing trip.
John E. Phillips: What did you think when all those big bass started biting?
Ott DeFoe: I thought I might could win the tournament, since I had a little bit more than an hour before I had to make the run back to the weigh-in. But I knew I had a long way to go to catch that many big bass to have a chance to win. The first three or four scorable bass that I caught out of the school weighed about 2-pounds apiece. Then I caught a 3 pounder. I just wasn't sure I could catch enough of those 2 pounders in an hour to overcome a 20-pound deficit. I knew the bass were there on that spot, but I didn't really think I'd have enough time to catch enough bass to take over the lead. I didn't catch a bass on every single cast, but I was catching one bass on about every sixth cast. When the bass first came up and started schooling on the surface, I got a good look at them, and I could see how many bass were actually in that school – an incredible number of them. I knew that the potential to win was at that place. I was really excited about that potential, however I was realistic enough to know that I wouldn't catch enough fish fast enough to win. Although I was somewhat optimistic, I knew I was going to have to work hard and fast to take over the lead.
Phillips: How did you make the decision to put down the crankbait rod and pick up the rod with the wake bait on it?
DeFoe: The first bass I caught, I caught on the wake bait, but then the entire school came to the surface and started feeding on top. So, I knew the crankbait would run under the school and probably would get a bite. Since I already had a jerkbait tied on to another rod, I picked up the jerkbait quickly, cast it into the school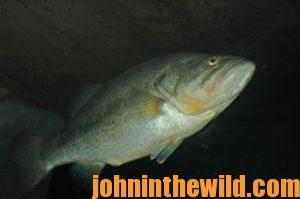 and caught a bass. Then I laid the jerkbait down and picked up the wake bait. Every time a school of bait fish came under the bridge, the bass would get fired-up and move to the surface to feed. Not much current was coming out of the creek, but the wind was blowing from the lake into the creek. The bait fish were coming into the wind and then pulling over to what was probably an eddy area.
Phillips: Would you say luck put you on that school of bass, and your skill as an angler enabled you to catch them?
DeFoe: No, I wouldn't. I would say that God put me there at that time and at that place, and God gave me the skills and too all the years of fishing helped me figure out how to catch them.
Phillips: Is that the most pounds of bass you've have ever caught in 1-1/2 hours or a day?
Defoe: I probably would say if it wasn't the best day, it was the best day for catching as many big bass as I've ever caught in 1-1/2 hours. All the fish that I caught before I caught the 9-pounder weighed 3 pounds or less. However, once I caught that 9-pound bass, the next fish I caught was either a 4- or a 5-pound bass. And, the next fish was a 5 pounder. That last 30 minutes I had to fish that spot I cranked-out some really-large bass.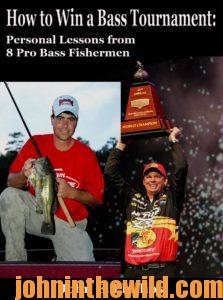 To learn more about catching bass, check out John E. Phillips' book, "How to Win a Bass Tournament: Personal Lessons from 8 Pro Bass Fishermen," at http://amzn.to/Wkbyxk, and available in Kindle and print versions.
Tomorrow: What Happened at the End of Ott DeFoe's $100,000 Bass Fishing Day?