Editor's Note: In 2019, Ott DeFoe of Knoxville, Tennessee, won the Bassmaster Classic on the Tennessee River and $300,000 in February, 2019. In mid-March of 2020, Defoe won $100,000 on Day 3 of Stage 3 of the Bass Pro Tour event, which is a part of Major League Fishing on Lake Fork, Texas, and the Championship Round on 1,799 acre Lake Athens near Athens, Tex. On the last day of the tournament, DeFoe boated 69 pounds and 12 ounces with 23 scorable fish. DeFoe also weighed in the biggest bass caught that day – 9 pounds, 6 ounces. "That bass and most of my big ones were caught on a Rapala DT10 Crankbait (https://www.rapala.com) in a new color called Biggs Shad that will be available in the summer on 12-pound test XPS fluorocarbon line (https://www.basspro.com/) with a Bass Pro (https://www.basspro.com/shop/en/bass-pro-shops-crankin-stick-split-grip-eva-casting-rod) 7-foot, 6-inch medium-heavy action crankin' stick with a Johnny Morris Platinum 6.8:1 reel." To learn more about Ott DeFoe check out (https://www.facebook.com/pg/ottdefoe/about/?ref=page_internal). What DeFoe learned can help you at your next tournament or on your next fun bass-fishing trip.
John E. Phillips: When you cranked-up and went back to the weigh-in, did you think you had caught enough bass for the day that were big enough to produce a win?
Ott DeFoe: Just before I caught the 9 pounder, I had caught a fish that was 2 pounds and barely scorable. On the next cast, I caught the 9 pounder, and I knew if I caught that one fish, I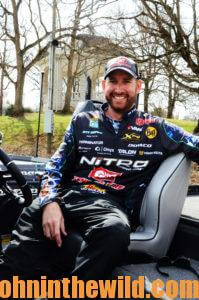 could be well into the lead for the day. So, once I weighed that 9 pounder in, I felt like I'd hit my stride, and I could settle down. I felt I had a good lead and kept thinking, "Now all I've got to do is increase that lead," which I did.
Phillips: Did you leave the bass biting at that place?
DeFoe: Yes, I did with 8 minutes left before I had to make a run back to the weigh-in, and I was feeling pretty good. I had several 5 pounders, the 9 pounder and some nice 4-pound bass. When I asked my partner how much time I had left to fish, he answered, "30 seconds." So, I made a cast, and my partner said, "You've got 15 seconds." I got a big strike. I knew the rules said for a bass to be a part of your total catch that bass had to be inside the boat before the tournament time ran out. I tried to rush the bass to get it into the boat, before my marshal called, "Time's up. You've got to stop fishing." I missed getting that bass in to the boat by 1-1/2 seconds, so it didn't count. We did go ahead and weigh that 5 pound, 6 ounce bass but not as part of my tournament weight. That was the last cast I was permitted to make.
Phillips: Did you hate to leave that spot to return to the weigh-in?
DeFoe: I sure did. I wish I was there right now instead of doing this interview.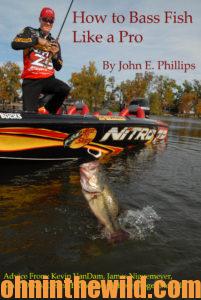 Phillips: What's next for you?
DeFoe: I would like to think in a couple of weeks I'll go to Raleigh, North Carolina, and fish our next event. However, with this Coronavirus, I'm not sure whether we'll have the event or not.
To learn more about bass fishing, check out John E. Phillips' book, "How to Bass Fish Like a Pro," at http://amzn.to/YpoJvD, available in Kindle and print   versions and Click here for the Audible link.