John's Note: One time when I was hunting deer, the wind was howling, the rain was coming down, and I was praying my tree stand wouldn't break loose from the tree where I'd attached it. As I sat 15 feet up in the beech tree riding out the storm, I asked myself, "What am I doing here? I really don't have any reason to believe a deer will pass this way. My shooting glove is wet, so, the bowstring probably will slide off my fingers. I'm freezing too. And with the wind blowing like it is, most likely I'll fall out of the tree if I stand to shoot. The only reason I've put a tree stand here anyway is because a few acorns have fallen from nearby trees. But acorns are everywhere in these woods. I'm smarter than this. I ought to get out of this tree, go back to the warm lodge and wait for a nicer day to hunt. Surely I can find a better place to put my tree stand than just anywhere in the woods on a rainy day." So, I left the woods to wait for a better day to deer hunt and determined I'd select a more-productive spot for my tree stand the next time I hunted deer. I decided to study tree stand hunting for deer.
Another ingredient that helps any stand site be more productive is if it allows you to hunt into the wind. Because the most-effective tree stand hunters are those who hunt in prime areas with a favorable wind, many successful deer hunters use a multiple-stand hunt plan. This multiple stand concept requires you to have more than one tree stand in the woods on the day you plan to hunt. The most-productive hunters I know may have from five to 20 stands or stand sites from which they can hunt. Many have their stands in place prior to the day they hunt. Each of these stands is in a prime deer area. These successful outdoorsmen know what type wind direction they must have to approach their stands.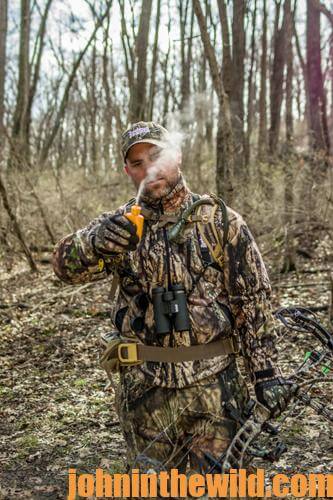 Depending on the wind direction, they eliminate the stands they can't hunt from because their scents will be carried into the hunting areas.
What to Do When You're in a Stand:
If you are hunting from the very-best stand you can, have found the most-productive place to hunt and are in your tree stand at the deer's prime moving times, but fall asleep, daydream or become distracted, all your time and energy are wasted. Because you have scouted and identified the best region to hunt, be confident you can see deer from this stand. When you're in your tree stand, look for deer, constantly search your surroundings, work out your game plans as to where and when you will take the deer if he appears, and study every log, tree and bush. Also search for the tips of the deer's antlers, watch for the white swish of a tail, and notice parallel lines 3-4 feet off the ground, which indicates the deer's back. Concentrate on hunting.
When you no longer can focus on hunting, come out of the tree, and move to a new tree stand site, or go home, and plan to hunt another day. Some of the most-effective hunters I know may stay in their tree stands for only 2 hours in the morning and 2 hours in the afternoon. If you're sleeping in your tree stand, you are not hunting. Also, you risk falling out of your stand and dropping your bow or your gun.
Tree stand hunting gives you a better view of the woods, provides a way to get your scent up off the ground, enables you to have the opportunity to sit quietly on an elevated shooting platform for a long time and is, in my opinion, one of the best ways to take a deer. However, knowing where to put your tree stand, when to hunt from it and what to do when you're in the stand may be the difference between your success or failure as a tree stand deer hunter.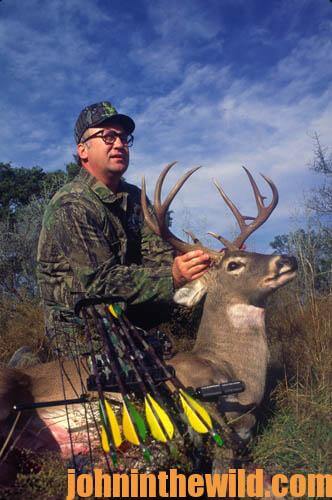 To get John E. Phillips' eBooks and print books on hunting deer, including his newest deer-hunting book, "Whitetail Deer and the Hunters Who Take Big Bucks," available at http://amzn.to/2bYwYOK/, click on these books to learn more, "How to Hunt and Take Big Buck Deer on Small Properties," "How to Hunt Deer Up Close: With Bows, Rifles, Muzzleloaders and Crossbows," "PhD Whitetails: How to Hunt and Take the Smartest Deer on Any Property," "How to Take Monster Bucks," "How to Hunt Deer Like a Pro," and "Bowhunting Deer: Mossy Oak Pros Know Bucks and Bows," or to prepare venison, "Deer & Fixings." Or, go to www.amazon.com/kindle-ebooks, type in the name of the book, and download it to your Kindle, and/or download a Kindle app for your iPad, SmartPhone or computer. You also can find John's books on Nook at www.barnesandnoble.com.
For free information on making jerky from your deer to provide a protein-rich snack, you can download a free book from http://johninthewild.com/free-books.