Editor's Note: Many master deer hunters start their scouting programs for opening week two weeks before deer season begins. As one told me, "If you start scouting earlier than that, then you won't know where the deer are feeding during the time you plan to hunt them. I start scouting when the acorns begin falling because during the early deer season, deer primarily prefer acorns. I want to learn which acorn trees the deer feed around just before opening day and the routes the deer take to these trees. I also want to find a tree-stand site for opening morning. If you start scouting too early, you may hunt over a region where the deer once have fed rather than a site where the deer will come to feed on opening morning."
* Inventory the Trees, Bushes and Shrubs for Deer:
Tara Wildlife (http://www.tarawildlife.com/) near Vicksburg, Mississippi, each year always inventories the fruit and nut trees, bushes, shrubs and grasses that deer feed on and that are available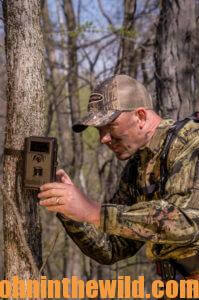 on the property. Acorn trees don't drop acorns every year. Too, different trees, bushes and shrubs produce fruits and nuts at various times of the year. If you keep records on the plum thickets, persimmon trees, nut trees, honey locust trees and other trees, bushes and shrubs on the property you hunt, you'll notice that certain trees bear fruits and nuts on different years. Some nut trees will bear nuts every other year, some plum thickets will produce plums every other year, and some trees always will drop their acorns before other trees every year.
If you'll inventory your fruit and nut trees, and keep a log of which trees drop nuts on what years, which trees are the first trees to drop nuts, which trees are the last to drop nuts, which plum thickets are dependable every year, and which honey locust trees produce every year and at what times of the year they begin dropping their pods, then in 2 or 3 years, you'll have a wealth of information about what are the deer's favorite foods, and when they'll be available. This information will tell you where and when to place your tree stands during every phase of bow season to aid you in regularly taking bucks with your bow each year.
To keep-up with this inventory, use a hand-held GPS receiver to mark the trees, the bushes and the shrubs that produce deer food as waypoints. Then before the season, go to that vegetation and note whether it has produced food and when. With honey-locust pods, acorns and trees that drop fruit, you'll need to note on what day this tree generally starts dropping its fruit. By placing this information in your computer, after 2 or 3 years, you'll have accurate readings of where you can expect to find deer foods, and when are the most-productive times to hunt around those food sources.
* Use Trail Cameras: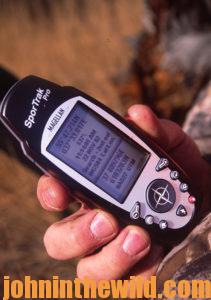 To save time, scout more efficiently and learn when deer are feeding, use trail cameras. "I believe every hunter should have three to five trail cameras set-up to pattern deer and feral hogs before deer season begins," longtime deer hunter Jason Johnson of Tylertown, Mississippi, advises. "Then I can learn not only when and where I can expect a buck to appear but also before the season what kind of buck I can antici   pate taking once deer season arrives. The trail cameras keep me from wasting time hunting regions where I won't see deer.
"I use the trail cameras at two-different times. Just before hunting season, I put them on the travel corridors to see which bucks are using what trails at what time of day or night. But before the season, when feeding deer is legal, I'll put corn out and place the trail cameras on the spots where I'm feeding the deer. Then I can get an idea of how many bucks I've got, and what size bucks I'll have to hunt this season. You have to carefully follow the state regulations and take the corn up at the proper time. Armed with this knowledge before the season, you can decide whether that 6 point is the biggest buck on the land, or if you ought to let him go and wait for that 10 or 12 point that you've seen on your trail camera when you've been inventorying your herd and watching them feed. The trail cameras also give me a good idea of what the property's buck-to-doe ratio is."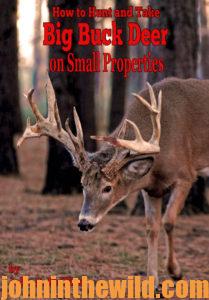 To learn more about hunting deer, check out John E. Phillips' book, "How to Hunt and Take Big Buck Deer on Small Properties," available in Kindle, print and Audible versions at (http://amzn.to/1vIcj4m).
Tomorrow: Handle Opening-Week Deer Hunting Pressure and Outlast the Competition