John's Note: On August 6-8, 2015, Randy Howell of Springville, Alabama, won the Bassmaster Northern Open on Oneida Lake at Syracuse, New York. At this writing Howell has cashed a check in 6 out of 7, 2015 Bassmaster Elite tournaments. He's 13th in the point standing for Bassmaster Angler-of-the-Year title with one Elite series tournament left to fish. Howell was born and raised near Lake Gaston in North Carolina and moved to Alabama in July, 1998. Night Hawk wanted to know why Howell moved to Alabama and how a southern boy could travel to New York and other states where he's never lived and win bass tournaments there.
I picked out three areas on Lake Oneida that I thought were holding good schools of bass. The bass that I'd catch in one spot one day might move the next day from 100 yards to 1/4-mile away following bait fish. A lot of schooling activity was taking place in the areas where I was fishing. I would catch bass in one place and return to that same spot the next day, and the bass would be gone. I'd start roaming around in my boat looking for birds diving on bait fish and watching my graph trying to locate the bass. I'd usually move out to somewhat deeper water than the bass had been on the day before.
On the day before the last day of the tournament, I found a big school of bass. The next day, the last day of the tournament, I returned to that big school of bass, and they were gone. I started roaming around looking for bass and found them about a mile away. I really believe that was the same school I'd fished the previous day. In the tournament, I found that I had to move a lot and fish many different lures, until I finally discovered the lure the bass would hit.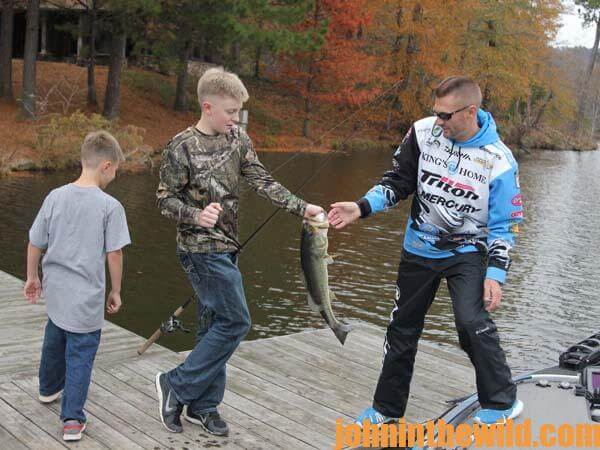 Another thing that makes Lake Oneida special is that it's a relatively-small body of water for 200 of the nation's top anglers to compete. Most of the competitors were all fishing the same areas. The last two summers my wife, my boys and I have spent an extra week fishing Lake Oneida and getting to know fishermen on the lake. Because of the extra time we've put in, we've learned where the bigger bass on that lake tend to hold and chase bait fish.
After the tournament, I was asked "Randy, how did you make decisions on when to move from one location to another and when to change lures?" First of all I determine a water depth where I think the bass are holding. Then I try to pinpoint that depth in different sections of the lake. Going into a tournament like this, I know I can't tie myself down to fishing one area with one lure.
In the place where I was fishing, I'd see schools of bass coming up to the surface and chasing perch minnows. I'd start casting lures I thought the bass would eat, but I couldn't get a bite. I'd change lures until I could get the bass to bite. Then the bass in that school would go down and hold right on the bottom. So, I'd switch to plastic lures and fish right on the bottom. I might catch one or two more bass. One of the clichés you often hear in bass fishing is not to leave a school of bass to go and find another school of bass. I didn't want to leave one school of bass that were biting to go find another school that was biting. I kept changing lures until I found one the bass would bite. The decision I made in those tournament was to stay with the bass I'd found and keep switching lures until I finally made those fish bite. I knew all I had to do was catch five quality bass each day to win.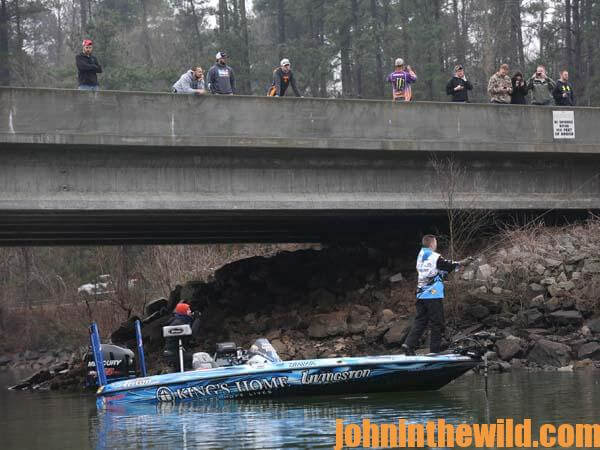 I think a typical trait of a junk fisherman (see Day 1) is exactly what I did in this tournament – locate a school of bass and keep casting to that school until you discover a lure that the bass will bite. On the very first day of this tournament, I almost broke that cardinal rule. I had a co-angler with me who was a guide on Lake Okeechobee in Florida and a really good fisherman. He knew how to catch bass. I asked him to fish different lures than the lures I was using. Then we could work together and decide what lure the bass would bite. Between 6:00-8:00 am, he caught three keepers, and I never caught a bass. My co-angler was fishing a drop-shot rig with a long leader slowly. However, I was fishing really fast because I got nervous since he was catching bass, and I wasn't. I was chunking and winding at 100 miles an hour trying to get a bass to bite, and he was barely moving the drop shot lead on the bottom, stopping the lead, shaking his rod tip and then leading a few more inches. Finally at 8:00 am, I realized my co-angler was showing me the bass were holding where we were fishing, and that I needed to slow down to catch bass.
About 8:15 am, the bass started feeding, and that's when I started catching bass using the Livingston top-water lure, my Senko worm and a little plastic crawfish on a Carolina rig. In 10 minutes of fishing, I went from zero pounds of bass to catching four bass that weighed 14 pounds. That's when I knew I was fishing the correct lures for the fish in the school. All I had to do to catch them was to fish slower and be patient. When the fish would quit biting, I'd leave them alone for a while, look for another school and let that first school rest. Then later I'd come back and fish that same school.
Something else I've learned as a junk fisherman is when you catch several bass out of one school, the fish may stop biting. If you leave them alone for a little bit, you can go back to that same school, and they may start biting again. When I move to that second school, I'll get my boat as far away as I can, make long casts and catch one or two more bass out of that same school.
To learn more about bass fishing, get John E. Phillips' Kindle eBooks and some print books, "How to Bass Fish Like a Pro," "How to Win a Bass Tournament," "Catch the Most and Biggest Bass in Any Lake: 18 Pro Fishermen's Best Tactics, "Hot Weather Bass Tactics" and "How to Become A Tournament Bass Fisherman." Click here to get these books.
Next: Randy Howell Says If You Don't Gamble When Fishing for Bass You May Not Win