Editor's Note: With the Bassmaster Classic taking place on Lake Guntersville in northeast Alabama March 6-8, 2020, many anglers are dreaming of chasing bass to make dollars. I've interviewed my longtime friend of 40+ years Rick Clunn about how to fish bass tournaments.
Clunn of Ava, Missouri (https://www.facebook.com/ricksageriver/), has won every major bass tournament in the nation in more than four decades of competitive bass fishing. He's won four Bassmaster Classics besides numerous national and regional tournaments. Many have called Rick Clunn a fishing machine, however, those of us who know Rick realize that knowledge powers the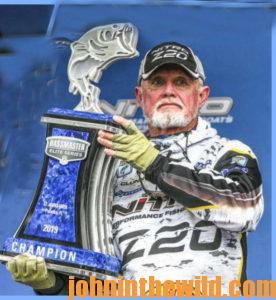 Rick Clunn fishing machine. He's the consummate student of bass fishing – reading, studying and researching to determine not only the best way to catch any bass but also the most-productive way to take big bass. Clunn believes three techniques will catch more big bass consistently in tournaments than any-other tactic you can use. "Basically three strategies produce wins in national bass-fishing tournaments," Clunn says.  "They are crankbaiting, spinnerbaiting and flipping and pitching." Clunn also emphasizes that a successful tournament bass fisherman must prepare himself mentally before the tournament.
I try to shrink the lake from a 50,000-acre lake to a 5,000- to 10,000-acre lake I can fish.  Knowing seasonal bass-migration patterns are your most-reliable tools to help shrink the lake.  Then I'll determine the various kinds of habitat in the region and where bass will hold. I'll ask myself if there are boat docks, grass beds, stumps, blow-downs, creek channels, river channels, riprap or other cover that may hold bass at this time of the year based on the fish's seasonal migration patterns and the weather and the water conditions. Most lakes have less than six types of cover where bass should be holding at any specific time of the year. I next try to determine what bass-fishing techniques and lures will yield the biggest bass on each of the kinds of cover or structure I've located. I begin to test the lures and strategies I've chosen to learn where the bass are, and what cover they're using.
Taking Care of Tasks the Night Before a Tournament:
I have a meeting with myself to evaluate the data I've compiled and try to deal with that information honestly. For instance, if I've thoroughly fished an area with 10 docks and caught a 3-pound bass and a 5-pound bass for a day of fishing, then I apply this information to my fish-per-object law. This law asks the question, "How many bass have you caught per boat dock yo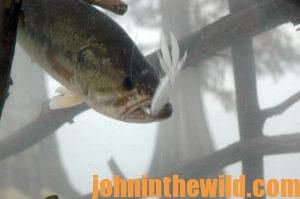 u've fished thoroughly?" If I've only caught two fish per boat dock, then I probably won't fish this same region again in the tournament. However, if I fish a section of a lake with 100-boat docks, fish every 10th boat dock and catch those same two fish, I'll know that the number of objects that I've fished and the number of quality bass I've caught will make this area worthy of fishing on a competition day. Next, I try to organize my day and have backup plans for every plan. Then I'm prepared if the water, the wind or the fishing conditions change. Never run out of backup plans for a day of fishing. If you do, then you can't stay excited about fishing and continue to fish with the enthusiasm you need to win.
Thinking Intuitively:
After I've built this tremendous database of information about the lake, the fishing conditions, the structure and the bass, I let my intuitive thinking take over. Hunches, feelings and notions will pay-off, if you listen to them. This intuitive thinking is very important to winning a bass tournament. Remember that with a five-bass limit, at any time during a competition, you may be only five casts away from winning. If you maintain that mindset, you can perform at your highest level of fishing, and that's all any contestant can hope to do.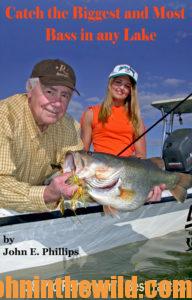 To learn more about bass fishing, check out John E. Phillip's book, "Catch the Biggest and the Most Bass in Any Lake," at http://amzn.to/Xd7qez, and available in Kindle, print and Audible versions.