Hunting over green fields is a southern tradition.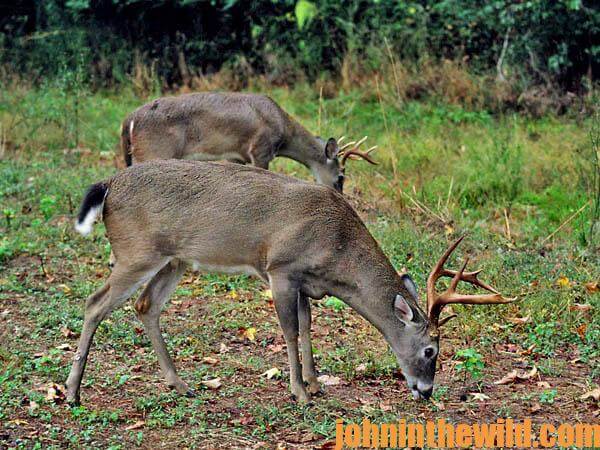 By January, however, the older-age-class bucks realize that fields spell danger for them. To hunt a green field successfully during the late season, hunt between 11:00 am and 2:00 pm, the hours green fields experience the least amount of hunting pressure, and older bucks feel most confident searching for estrous does. Or, if you prefer to hunt green fields early and late in the day, pinpoint the trails the deer use to enter and leave the fields. Early in the morning, take a stand in the woods 200-yards away from a green field. Expect the buck to come from the field to his bedding area at first light. In the afternoon, take the same stand, and look for the buck to travel from his bedding region to the green field.
Scrapes: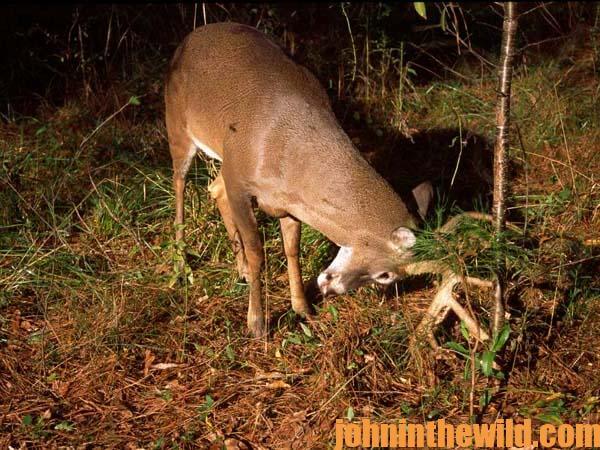 An active scrape warns bucks that a dominant buck rules that territory. During the rut, hunt scrape lines in or near a natural funnel to see the most bucks. Two-different types of habitat pinching down a large expanse of woods forms a funnel. A buck that builds a scrape on or near a natural funnel reminds me of a teenage boy who hangs around a fast-food restaurant. He knows he'll see plenty of girls coming and going. To double your odds of seeing a buck, hunt a funnel scrape line immediately after a rain. For best results, go to your funnel area, get on your stand in the pouring rain, and start looking for the buck to show-up when the rain stops. Scrape lines attract does with visual signposts of a buck's presence as well as his scent. During a rain, the scent becomes diluted and washes away. To maintain the scrape's ability to lure in does, the buck must reintroduce his scent immediately to the scrape. That's why you'll find scrape hunting the most productive after a rain.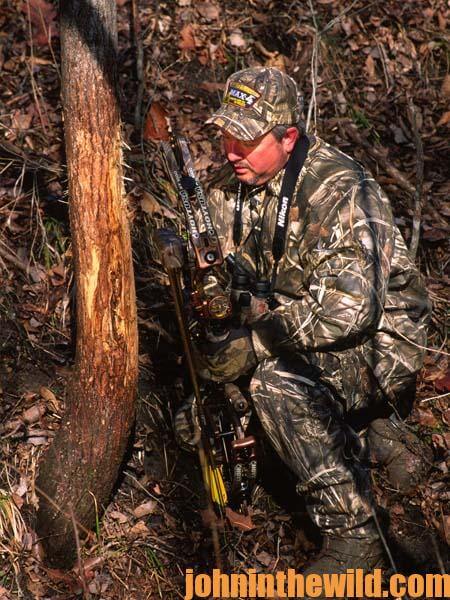 "Deer and Fixings" (a cookbook that will help you prepare delicious dishes with the venison you've taken), "PhD Whitetails," and "Bowhunting Deer: The Secrets of the PSE Pros," by John E. Phillips. "Click here to get these books."
About the Author
John Phillips, winner of the 2012 Homer Circle Fishing Award for outstanding fishing writer by the American Sportfishing Association (AMA) and the Professional Outdoor Media Association (POMA), the 2008 Crossbow Communicator of the year and the 2007 Legendary Communicator chosen for induction into the National Fresh Water Hall of Fame, is a freelance writer (over 6,000 magazine articles for about 100 magazines and several thousand newspaper columns published), magazine editor, photographer for print media as well as industry catalogues (over 25,000 photos published), lecturer, outdoor consultant, marketing consultant, book author and daily internet content provider with an overview of the outdoors. Click here for more information and a list of all the books available from John E. Phillips.