Editor's Note: Hunting in a swamp isn't as mysterious or as difficult as some hunters may believe. Often you'll encounter some of the biggest bucks ever there because these waterways can provide a sanctuary for deer. The definition of a swamp, one of the most-valuable ecosystems, is an area of land permanently saturated or covered with water. Swamps generally are dominated by trees. Many animals live in swamps, as well as nesting birds, fish, amphibians and reptiles. Swamps act as giant sponges by absorbing excess water and thereby moderating the effects of flooding. Swamps also act like water treatment plants, filtering wastes and purifying water naturally.
From the canoe, hunters can find trails leading to the water besides areas with good browse and bedding regions for deer. Hunters who shore their boats and reconnoiter these likely-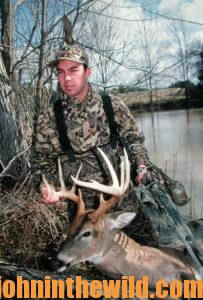 looking spots can lay a hunt plan that often pays deer dividends. You can hunt until total darkness, knowing you won't get lost because your canoe will carry you, your friends and the deer to the pick-up point. A canoe also can transport heavy tree stands, food, coffee, extra clothing, foul-weather gear and equipment for cleaning and caring for the deer meat until you return to camp. Using a canoe to move the elderly or disabled in and out of productive deer-hunting areas is another prime reason for hunting waterways or swamps with a canoe. A canoe speeds up the scouting time for a deer hunter besides helping him to get to his stand quieter without leaving his scent and providing a way to carry in his tree stand and other hunting tackle.
Although hunters are permitted to shoot from a canoe in some regions, some states prohibit this practice. Check with your local department of conservation on rules and regulations governing hunting from a boat or a canoe. Also many states require that you have the landowners' permission before exploring lands along the water's edge. Make certain that you have this permission to hunt these lands. By knowing the rules and regulations where you intend to hunt, you'll have a safer, more-enjoyable experience. National forests and state wildlife management areas may be just the places for you to start canoeing waterways or in swamps for deer. Even though this land may be hunted heavily during deer season, remember that most hunters don't explore far from their cars. You can enhance your opportunity to bag a buck by canoeing into inaccessible spots.
Once you have decided where to hunt, the type of canoe or kayak you choose to hunt from is important. If you plan to use the canoe in placid water and carry a lot of gear and people, then a larger canoe may be your best bet. If beaver ponds, swamps and small streams are your choice for hunting deer, a smaller canoe or a kayak can be maneuvered easier in tight quarters. Fast water with some sharp rocks present that can break open a canoe will be handled best by a plastic canoe designed to take the shock without tearing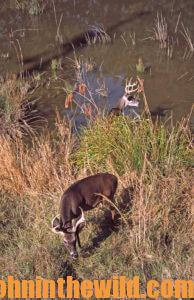 a hole in the craft. So, tell a dealer what you expect out of your canoe or kayak. Then he can put you in the best boat for you to hunt deer.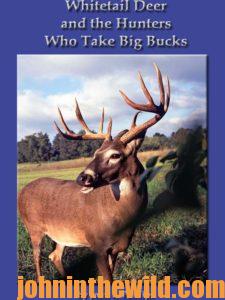 Canoeing for deer solves many of the problems associated with deer hunting waterways. But my favorite reasons for using this mode of travel is that the canoe:
* puts me deeper into the woods where the hunting pressure isn't as great;
* allows me to scout more land quicker and without my leaving a scent;
* provides an easy way to carry my gear into and out of the woods; and
* solves the problem of how to get a deer out of the woods without much heavy dragging and carrying.
To learn more about hunting deer, check out John E. Phillips' book, available in Kindle, print versions and Audible, "Whitetail Deer and the Hunters Who Take Big Bucks," (http://amzn.to/2bYwYOK).