John's Note: If you take a deer this season, don't miss out on some of the most-delicious meat ever. Researchers have proved that venison, a heart-friendly meat, contains fewer calories than the same size serving of chicken or turkey and one-half the calories of ham or ground chuck. Venison also has more protein than freshwater or saltwater fish and one-tenth as many fat grams as ground chuck. A rich source of trace minerals, including calcium, magnesium, zinc, potassium, phosphorus and iron, venison has a cholesterol content comparable to chicken and turkey.
Deer Processors' Equipment Picks: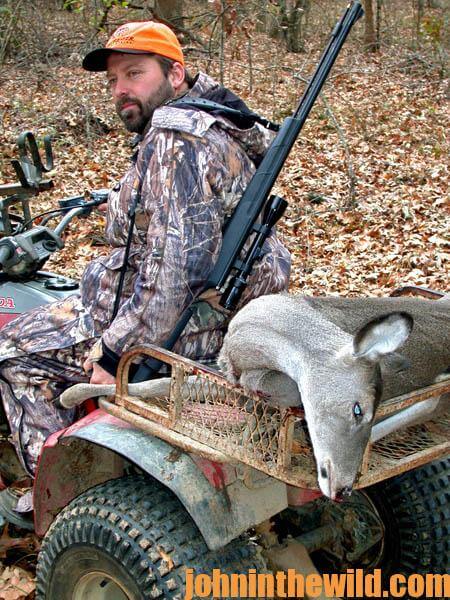 "We like the Old Hickory Knives you can buy at the hardware store and Buck Knives," Bo Pitman, the manager of White Oak Plantation in Tuskegee, Alabama, who dresses more than several hundred deer each year, says. "We like a knife made of soft steel with a straight blade and some type of finger guard to keep our fingers from sliding off the handle when the knife becomes wet or slippery." (http://www.buckknives.com ) Jason Edmondson, the owner and operator of Edmondson's Taxidermy and Meat Processing in Alabaster, Alabama, explains that, "We like the Sentinel One Hand. These knives hold an edge really-good, and they can be sharpened easily and quickly." (http://www.victorinox.com) Chad Scherer, the former owner of Central Montana Outfitters, who hunts all over the country for his TV shows, "Shoot Straight" South, says, "I like the Buck Knives because they're tough enough to split the chest cavity, yet they'll stay sharp enough for skinning and cutting-up the meat." Bob Walker at R & J Meathouse in Livingston, Alabama, prefers to use, "A 4-inch stainless clipper knife with a thermo-plastic handle made by Frost Cutlery. I like this knife because it stays sharp for a long time and is a really-effective cutting knife." Go to www.frostcutlery.com to learn more.
Many restaurants and exclusive clubs nationwide feature farm-raised venison on their menus.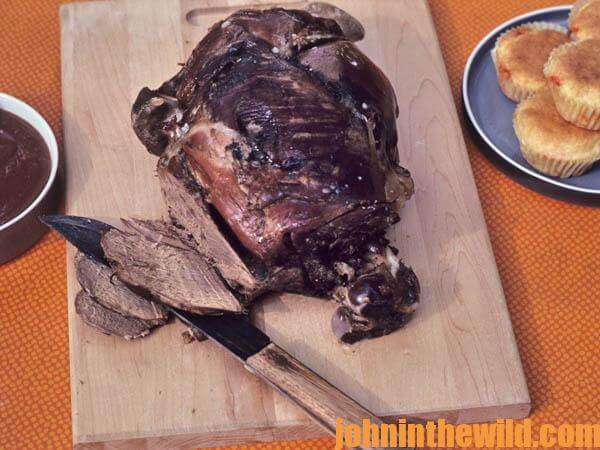 How to Prepare Ground Venison: 
The deer's shoulders and neck contain delicious meat that can be ground up.
1) Mix cooled deer meat (partially frozen works well) with beef trimmings available at the butcher's, and grind together in the following proportions:
* 50 pounds of venison – cut into pieces;
* 40 pounds of beef trimmings;
* 10 pounds of pork trimmings;
2) Grind the mixture at least twice for a finer texture. Be sure to mix the ground meat and trimmings thoroughly with your hands.
3) Treat this ground meat in the same way you do ground beef. Substitute this ground venison in any of your recipes calling for ground beef.
How to Prepare Ground Venison Sausage (not in casings):
1) Mix cooled or partially-frozen deer meat with trimmings available at the butcher's, and grind together in the following proportions:
* 50 pounds of venison – cut into pieces;
* 40 pounds of pork trimmings;
* 10 pounds of beef trimmings;
2) Grind the mixture at least twice for a finer texture. Be certain to mix the ground meat and trimmings thoroughly with your hands.
3) Add a mixture of sausage-seasoning mix to the ground mixture, being sure to mix well. Read the package for instructions, as the amount you add depends on your personal taste. You can substitute this venison sausage in any recipes made with sausage, or use as a breakfast food.
Mr. Miller's Venison Roast
Hands-down this recipe from Alabama's Westervett Lodge has been one of our family's favorites for more than 35 years and is delicious served as an appetizer or as a main dish.
Ingredients:
1 (3-4 pound) venison roast with all white connective tissue cut off
1 cup water
1 package dry onion soup mix
5 pieces of bacon (optional)
Preparation:
Soak the venison roast in salted water for 24 hours in the refrigerator. Wash all the salt off. Make a paste of the dry onion soup mix and some water, and rub all over the roast. Crisscross with bacon slices held in place by toothpicks. Place 1 cup water in roasting pan. Cook at 250 degrees in oven, covered, for about 4 hours or until tender. Or, crisscross with bacon slices, and place in a smoker for 8 hours.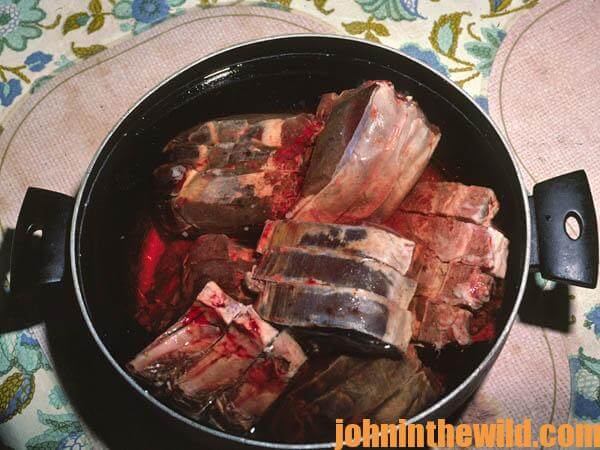 Hot and Spicy Ribs
Often deer hunters have a difficult time using ribs, but these are delicious.
Ingredients:
7 pounds venison ribs that all the white connective tissue has been cut off of and that have been soaked, covered in heavily-salted water, overnight in the refrigerator, and then thoroughly washed before preparing dish
3/4-cup water divided
1 cup ketchup
2 tablespoons lemon juice
1 teaspoon ground cinnamon
1 teaspoon hot pepper sauce
1 teaspoon crushed red pepper
Preparation:
Place each slab of ribs, meat side down, in center of a double thick rectangle of heavy-duty aluminum foil. Sprinkle 2 tablespoons water over each slab of rib bones. To form packets, bring two long sides of foil together over tops of ribs. Fold edges over 3 or 4 times, pressing crease in tightly each time. Allow some air space. Flatten foil at one short end; crease to form triangle, and fold edge over several times toward package, pressing tightly to seal. Repeat procedure on other end. Place cover on cooker, and cook 1-1//2-hours, turning packets every 1/2-hour. Meanwhile, combine ketchup, remaining 1/2-cup water, lemon juice, cinnamon, hot pepper sauce and crushed red pepper in small saucepan. Bring to boil, reduce heat, and cook slowly 10 to 12 minutes. Remove ribs from foil packets. Place on grid over medium coals, and grill 30-40 minutes, turning and brushing with sauce occasionally. Serve remaining sauce with the ribs.
Note:  Ribs may also be cooked on an open brazier (Increase cooking time in packets by 30 minutes) or in a water smoker. Prepare smoker according to manufacturer's directions. Brush sauce completely over ribs. Do not place ribs in foil packets. Place ribs on each rack of smoker.  Cover and smoke. Cook at low to moderate temperature 4 hours or until tender
For more venison recipes, get the new Kindle eBooks, " The Best Wild Game & Seafood Cookbook Ever: 350 Southern Recipes for Deer, Turkey, Fish, Seafood, Small Game and Birds" and "Deer and Fixings." by John E. Phillips.  "Click here to get these books."
About the Author
John Phillips, winner of the 2012 Homer Circle Fishing Award for outstanding fishing writer by the American Sportfishing Association (AMA) and the Professional Outdoor Media Association (POMA), the 2008 Crossbow Communicator of the year and the 2007 Legendary Communicator chosen for induction into the National Fresh Water Hall of Fame, is a freelance writer (over 6,000 magazine articles for about 100 magazines and several thousand newspaper columns published), magazine editor, photographer for print media as well as industry catalogues (over 25,000 photos published), lecturer, outdoor consultant, marketing consultant, book author and daily internet content provider with an overview of the outdoors. Click here for more information and a list of all the books available from John E. Phillips.