I couldn't believe that my friend Hank Hearn had dropped me off 1/4-mile from camp and walked me into a stand no more than 60-yards from the main road to Willow Point Lodge, a part of Tara Wildlife near Vicksburg, Mississippi.

Hearn had told me, "We use hunting pressure here at the end of deer season to move bucks at Willow Point. Older-age-class bucks will go into areas that haven't been hunted before to get away from other hunters. I try and stay one jump ahead of what I think the bucks will do. I went in and hung this stand before we started hunting the pine thicket to the right of the stand and the swamp to the left of the stand a couple of weeks ago. We had hunting pressure on both sides of this little strip of hardwoods you'll be hunting. Although I've never seen a buck here, I know there has to be one, because this is the only section of this region we haven't hunted for the last 3 weeks."
I sarcastically thought to myself, "Well, I can see why nobody has hunted this spot. It's too close to camp and the main road, and it doesn't have any deer sign in it."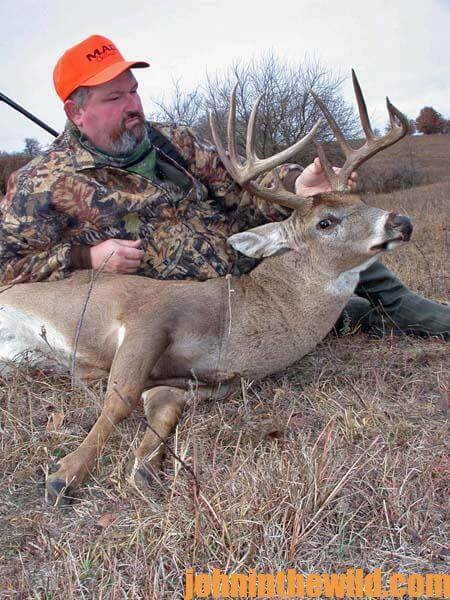 After the sun came up, I checked the area thoroughly with my binoculars from my tree stand, thoroughly convinced I had embarked on another of those hunts where someone had a good idea about a buck's location, but where I probably wouldn't see one. However, at 8:30 am, I heard a blue jay scream and a slight rustling in the leaves about 30- or 40-yards straight behind my tree stand. I saw a nice 9-point buck slowly meandering his way toward me, occasionally stopping to eat an acorn. Carefully standing on my tree stand, I prepared to draw. At 20 yards, the buck turned broadside to me and put his head down to feed, as I drew and aimed behind the buck's front shoulder and back and a little lower. When I released the arrow, I felt confident I'd make a lethal hit. The buck bolted, ran about 30 yards, slowed his walk, stumbled and fell. I couldn't believe I'd taken a buck from that stand that had had absolutely no deer sign.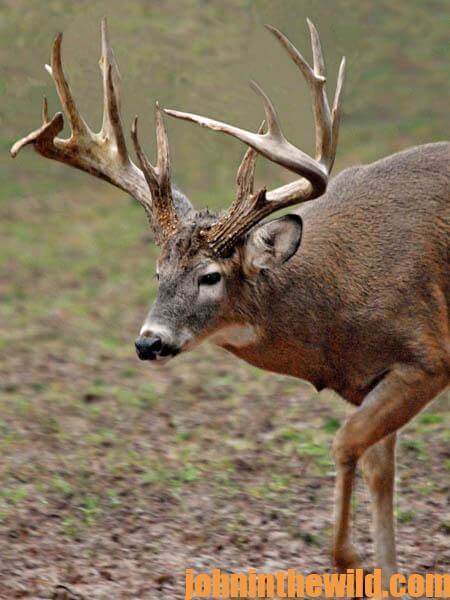 At the lodge at 9:30 am, as I sat sipping coffee, Hearn came in and asked, "Did you get him?" When I answered, "Yes," Hearn explained, "Late in the season, hunting pressure can be your best ally for taking big bucks. If you leave little patches of woods unhunted until the end of the season, you can go into those small spots where no one else has hunted the entire season and bag older-age-class bucks, although you'll see no deer sign." I enjoy bowhunting at the end of the season, since gun hunters will pressure bucks from the open woods into small, thick-covered areas where they may not can see more than 10 to 20 yards to dodge gun hunters. Few gun hunters will take stands where they only can see 10 or 20 yards.
"Click here to get these books." "How to Hunt Deer Up Close: With Bows, Rifles, Muzzleloaders and Crossbows" and "Bowhunting Deer: The Secrets of the PSE Pros," by John E. Phillips.
About the Author
John Phillips, winner of the 2012 Homer Circle Fishing Award for outstanding fishing writer by the American Sportfishing Association (AMA) and the Professional Outdoor Media Association (POMA), the 2008 Crossbow Communicator of the year and the 2007 Legendary Communicator chosen for induction into the National Fresh Water Hall of Fame, is a freelance writer (over 6,000 magazine articles for about 100 magazines and several thousand newspaper columns published), magazine editor, photographer for print media as well as industry catalogues (over 25,000 photos published), lecturer, outdoor consultant, marketing consultant, book author and daily internet content provider with an overview of the outdoors. Click here for more information and a list of all the books available from John E. Phillips.
EXPLORE MORE: you'll love these stories from John too