John's Note: Sooner or later, if you love to be in the outdoors, and work and play in the outdoors, you'll probably get hurt, because outdoor people tend to push the limits. They climb mountains too high, swim rivers too far, go up trees too tall and/or ride mustangs too wild. When outdoors people survive tragic accidents, some give up, while others fight back, reinvent themselves and become more than they ever may have been before their accidents. We all love the stories of people who have overcome disaster to find the true greatness in us all, and such is the story of Ashlee Adkins Lundvall, who was born and raised in Indianapolis, Indiana. She was a true 6-foot, 2-inch Hoosier girl who played volleyball, basketball, fast pitch softball and slow pitch softball. With her outgoing personality and good looks, she had a very active social life, had a boyfriend and was living the dream of every high school teenage girl. After finishing her sophomore year with big plans for her junior year in high school, Ashlee went for 3 weeks to Cody, Wyoming, where girls from all over the county came to this working ranch. All the girls had chores. After the chores were done, they enjoyed horseback riding, backpacking, rodeoing and other fun activities. But while there, Ashlee suffered a T12 vertebra spinal cord injury in 1999 that left her in a wheelchair. This week we'll learn how Ashlee's injury led her to enjoy the outdoors even more.
Some years after my accident, like every young lady, I was trying to impress a boy, Russ Adkins, who is my husband now. Russ came from a very-active outdoor background. Half-jokingly, Russ told me, "I can't marry you, until I find out if you can shoot or not." He took me out to a shooting range when we were dating and got me set-up to shoot. I found out very quickly that I really enjoyed shooting guns and bows.
After Russ and I got married, I finished graduate school, and we moved back to his home state of Wyoming, I was approached by a coworker, who suggested that we start a nonprofit organization for hunters who were disabled. I thought, "Sure, I'm in a wheelchair, I'm a computer nerd, I'm a secretary, and I can take notes. I would love to be involved." Unbeknownst to me, these guys were already planning on me becoming a hunter, and I would be the only female hunter in this organization. I never had considered hunting, although I loved shooting, riding and 4-wheeling. I just thought this would be a way I could advocate for getting more people in wheelchairs outdoors. After the organization was formed, I learned very quickly that these men were serious about wanting me to become a hunter. I kept telling them, "But I'm an animal lover. There's no way I can hunt or kill an animal."
However, the guys really challenged me about what I thought about hunting, what my beliefs were about hunting, and then they goaded my competitive spirit. They told me, "You should at least try hunting." So in 2007, I went on my first bowhunt and quickly learned there was plenty of new equipment that had been designed and developed for people in wheelchairs who wanted to hunt. I was really excited about trying out the new equipment and learning what a person could do using new technology to get into the outdoors. When the hunt began, I still didn't know if I'd be able to squeeze the trigger on my Parker crossbow or not, but my adventurous spirit and my competitive nature kicked in, and I did.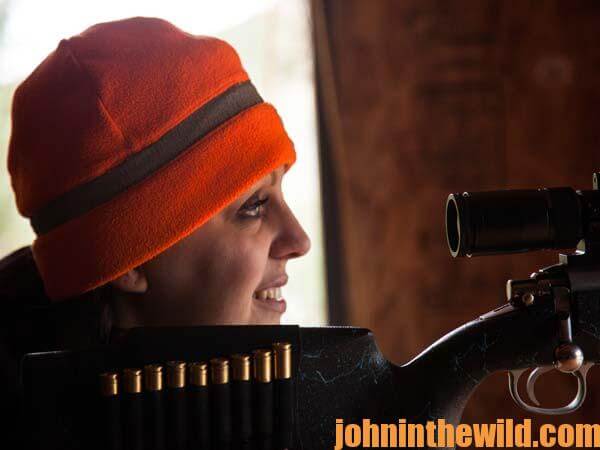 After I took my first buck mule deer, I totally fell in love with hunting. I loved being outdoors, I enjoyed the competitive nature hunting brought out in me, and I loved having the opportunity to actively pursue meat for my family. I found that hunting was much more fun than going to the grocery store to purchase meat. I also learned that wild meat is organic and inexpensive. Hunting gave me a way to provide food for my family that I never believed I'd be able to do. So, I completely fell in love with the sport. I felt very empowered by being a part of planning a hunt and being involved in the harvesting of an animal from squeezing the trigger to cooking the meat. Still today, I like to process animals as much as I like to harvest them. I really enjoy the activity of hunting and cooking wild meat. I also like every aspect of finding and taking the game, processing the meat, preparing the meat for the table and watching my family enjoy what I've been able to provide for them. My husband sometimes kids me, because I try to get every scrap of meat off every animal I harvest.
I've always enjoyed cooking. I was very fortunate to be able to design the kitchen in the house where we live now. My first priority was to have an accessible kitchen like I'd never had before. I did a lot of research. I studied and planned how to make my new kitchen as accessible as possible. I like to learn how to make tasty dinners from the meat I harvest. I test different types of seasonings for the deer and antelope sausage that I make. I enjoy showing other people various recipes they can use with wild game. For instance, I've learned that some people don't like the gamey taste that wild meat may have. Generally they haven't prepared the meat properly, or else they don't know how to use spices and seasonings to flavor the meat correctly. I enjoy every part of all the many different skills I've learned about the sport of hunting, and how to use the game I harvest to prepare delicious meals.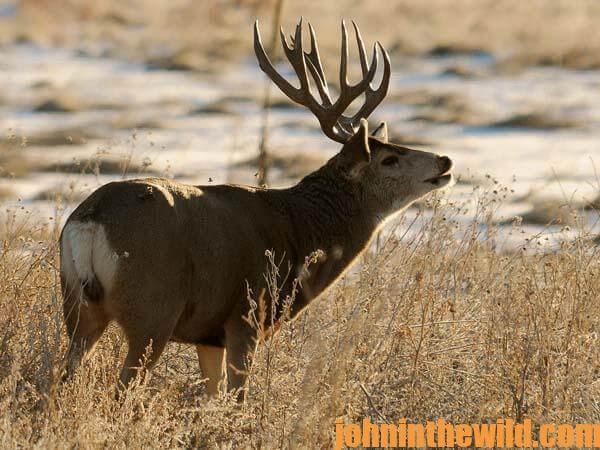 For great recipes to prepare wild game, get John E. Phillips' Kindle eBooks, "The Best Wild Game & Seafood Cookbook Ever: 350 Southern Recipes for Deer, Turkey, Fish, Seafood, Small Game and Birds" (also available in print), "The Recipes You Can't Live Without," and "Deer & Fixings: How to Cook Delicious Venison." Click here to get these books.