John's Note: To bag a very big buck this season with a short shot, learn to hunt places no one else will hunt. Look for buck signs where you only may see 20 to 50 yards. Instead of hunting sites where you can shoot to the maximum range of your slug gun, hunt spots where you'll get a short shot at a big buck.
My brother, Archie Phillips, developed a deer-hunting tactic some seasons ago that proved deadly for him.
He noticed on the Saturdays he hunted our lease that all the other hunters milled around in the swamps and woods, putting up tree stands, going in and out and stalking bucks. "I knew if I could see what they couldn't see, I could take the deer they wouldn't," Archie explains.
"From my great height in the tree, I could see not only the edge of the water but also the deer moving through the thickets," Archie reports.
Archie located a tall cypress tree out in the middle of flooded timber. A very narrow opening led from the water's edge to a briar thicket on one side of the flooded timber. Another small corridor ran along the water's edge next to a thick cane patch on the other side of the flooded timber.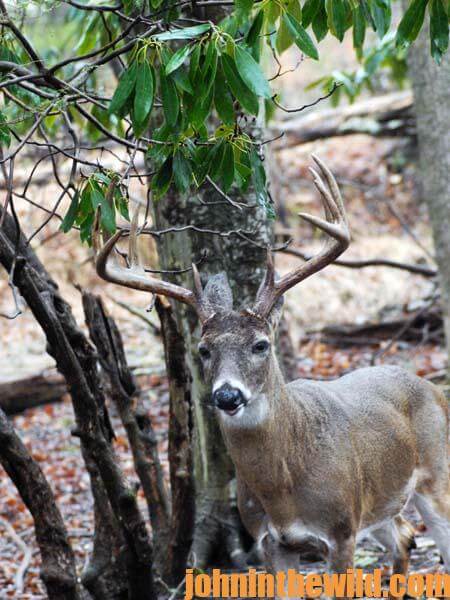 "I decided if I climbed 40- to 50-feet high in a nearby tree and got up in the limbs where no one could see me, I'd have a tremendous view of those edges along the flooded timber," Archie says.
In many places, the water ran right beside the thicket. No one could hunt this site by stalking, because the deer would spot him no matter from which direction he came.
Archie reports, "I wore waders to get out in the water and placed my tree stand up high. I learned if I went in before daylight, got up in my perch and put on my safety harness, I could see everything that went on around this flooded timber area."
On three consecutive Saturdays, Archie bagged a buck 6 points or better from this stand. "From my great height in the tree, I could see not only the edge of the water but also the deer moving through the thickets," Archie reports.
"On two different occasions, I spotted bucks as they slipped away from the hunters coming into the woods. I never had a shot of more than 50 yards. Two of the bucks I took stood less than 20-yards from me. I felt like a policeman in the back room of a convenience store watching a robbery take place. I could watch everything going on, but no one could see me. Then when the opportunity to bag a buck presented itself, I was ready."
If you hunt really high to take big bucks, always wear a safety harness like the Hunter Safety System  (www.huntersafetysystem.com) ones. I've actually stepped out of a tree stand before to test the harness to make sure if I ever must call on it in an emergency situation that it will prevent me from falling.
Attach the harness around the tree before you begin to climb.
Don't take the harness off until you stand at the bottom of the tree after you've come down from your tree stand. Hunting high not only gives you a better field of view in short-shot situations but also helps to get your human odor above the deer. Too, other hunters can't detect your stand site since the region won't have any signs of your having hunted there, because of moving through water and hunting high.
To learn more about deer hunting, you can get John E. Phillips' Kindle eBooks:
"How to Hunt and Take Big Buck Deer on Small Properties," (John's latest book),
"How to Hunt Deer Up Close: With Bows, Rifles, Muzzleloaders and Crossbows,"
"PhD Whitetails: How to Hunt and Take the Smartest Deer on Any Property,"
"How to Take Monster Bucks," and
"How to Hunt Deer Like a Pro,"
or to prepare venison, get "Deer & Fixings."
Browse & Buy All of John's Books Here 
Share this page with a friend!
About the Author
John Phillips, winner of the 2012 Homer Circle Fishing Award for outstanding fishing writer by the American Sportfishing Association (ASA) and the Professional Outdoor Media Association (POMA), the 2008 Crossbow Communicator of the year and the 2007 Legendary Communicator chosen for induction into the National Fresh Water Hall of Fame, is a freelance writer (over 6,000 magazine articles for about 100 magazines and several thousand newspaper columns published), magazine editor, photographer for print media as well as industry catalogues (over 25,000 photos published), lecturer, outdoor consultant, marketing consultant, book author and daily internet content provider with an overview of the outdoors.