Editor's Note: Chris Phillips of Novi, Michigan has been chasing gobblers for 40+ years and hunts private land in five states. Over the years, he's built a network of people who give him access to prime turkey-hunting property. He hunts about 5,000 acres in Nebraska, 12,000 in Mississippi, 10,000 in Kansas, 2,000 in Missouri and 2,000 in Michigan for a total of 31,000 acres.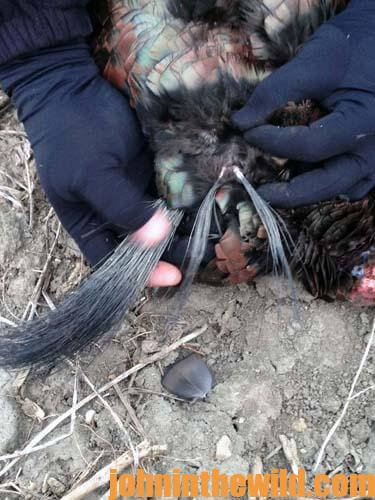 Missouri Turkeys:
Missouri's eastern turkeys are the biggest turkeys I've ever hunted. For me, they're also the most-fun turkeys to hunt. These heavyweight gobblers give very loud gobbles from the roost. These hunts are probably the most-classic turkey hunts I go on each year. You can get in close to the roost tree, set out a decoy and call, and the gobblers will come to you. The Missouri gobbler also likes strutter decoys and aggressive jake decoys, as well as hen decoys, and is very responsive to aggressive calling. When you start calling to one of these toms on the roost, if he doesn't fly down where you can see him, he'll still continue to gobble and come to your calls. Often, we can take one of these gobblers within 1 hour or 1-1/2 hours after we start calling to them.
Often, we hunt pastures and mixed hardwoods in Missouri. If we're planning to bowhunt, and we know turkeys are in a field, we'll usually try to go out the afternoon before we hunt and set-up a blind and our decoys. We won't make any noise when we get into our blinds 1/2-hour before daylight. If I'm bowhunting, I generally hunt out of a blind. Or, if rain or snow is falling, I prefer to hunt out of a blind. Friends and I have been highly successful shotgun hunting too using these run-and-gun tactics.
When I'm bowhunting in the Midwest, I'll often use a Heads Up Decoy that you can attach a real turkey fan to it. It comes with a clamp that goes on the stabilizer of my bow. When turkeys are out in the field, I attach this decoy to my bow and start walking straight to them. Usually, if there's a flock of turkeys, the gobblers will break out of the flock and come running straight at the decoy on the front of my bow. This decoy is especially effective when turkeys are hung up out in the middle of the field and won't respond to calling or to conventional decoys. Go to the Heads Up Decoy webpage http://headsupdecoy.com, and you can see videos of bowhunters shooting turkeys at point blank range using this decoy. You'll even see turkeys trying to attack the decoy on the front of the bow.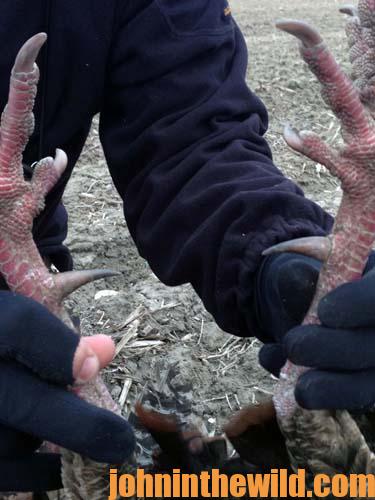 Michigan Turkeys:
When I'm hunting eastern turkeys near my home in Michigan, I can hunt the early season, the last 2 weeks of April. But since you can only take one gobbler per year in Michigan, the early-season tag is only good for those last 2 weeks in April. If you get a late-season tag, you can hunt the entire month of May. I've always liked to hunt turkeys at the beginning of the season. However, during the last 2 weeks of April, the weather will be cold, perhaps even with snow and bad weather causing the turkeys to be unresponsive to calling. So, I have to choose. Do I want to hunt for 2 weeks in late April or the entire month of May? If I choose the May tag, and the weather's warm, the turkeys may be almost finished mating. The first couple of years when I hunted in Michigan, I opted to take the last 2 weeks of April. The weather was cold, and the birds unresponsive to calling. But last year I decided to hunt the early April season again, and I harvested the biggest turkey I'd ever taken in Michigan that weighed 28 pounds, had a triple beard – a 9-1/2 inch beard, a 6-1/2 inch and a 6-inch-long beard – and had 1-1/2 inch spurs. This tom was the first multiple-bearded gobbler I ever had taken.
When I pulled the trigger, I had no indication that this turkey had more than one beard. He was with a group of birds that gobbled good from the roost. When they flew off roost into a cut corn field and started feeding, 30 birds were in flock – at least four gobblers and also some jakes. We were in a blind out in the field, and the turkeys started coming toward our blind at a 45-degree angle, off to my left. My hunting partner, who was filming the hunt, was sitting to my left. I told him, "There's no way I can draw and get off a shot with my bow." I had planned to shoot the strutter, the last gobbler in the group of three gobblers. But when the strutter stopped and refused to come in, I said, "I'm going to shoot the lead gobbler." I put my bow down and picked up my shotgun, because the gobbler was about 35-yards away and shot him.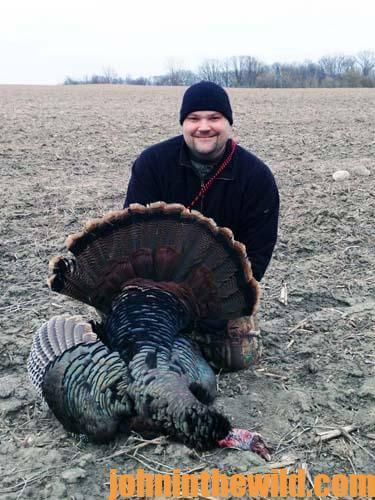 I left the blind, went to the downed gobbler and told my hunting buddy, "This is a really big gobbler – perhaps the biggest one I've ever taken." When I saw his spurs, I was really impressed, and then after rolling him over, I realized he had three beards. I said to my hunting buddy, "This is the most incredible turkey I've ever taken." That trophy just literally fell in my lap. If the strutting bird I had intended to take makes it through the winter, I plan to go back and hunt him this spring, because he looked bigger than the 28-pound gobbler I harvested.
When I'm hunting in Missouri, eastern Kansas and Michigan, I wear Mossy Oak Infinity (https://www.mossyoak.com), since those areas don't seem to green up as fast as the southern states like Mississippi. I love to hunt turkeys, I like to hunt all the subspecies of wild turkeys, and I enjoy hunting turkeys in different states. All year long I hardly can wait for turkey season to start. Now that it's here, I plan to be on the road chasing gobblers as much as I can.
To learn more about turkey hunting, check out John E. Phillips' print, Audible and Kindle turkey books at http://johninthewild.com/books/#turkey. For a free copy of John E. Phillips' "The Turkey Gobbler Getter Manual," go to http://johninthewild.com/free-books/.