John's Note: To bag a very big buck this season with a short shot, learn to hunt places no one else will hunt. Look for buck signs where you only may see 20 to 50 yards. Instead of hunting sites where you can shoot to the maximum range of your slug gun, hunt spots where you'll get a short shot at a big buck.
Some years ago on several afternoons, Dr. Robert Sheppard of Tuscaloosa, Alabama, a longtime avid deer hunter, saw a nice 8 point buck standing on the side of the creek as he drove home from Bent Creek Hunting Lodge (www.bentcreeklodge.com) – near Jachin, Alabama.
But when he'd scout for the deer, he couldn't find any signs of where the deer fed, bedded-down or travelled. The buck just appeared in the afternoons and then seemed to vanish. But Sheppard knew deer had to leave sign. They had to use trails to frequently show-up at the same spots for several days. They had to leave droppings and evidence of their feeding. Still, diligent scouting failed to reveal this buck's movement patterns. Baffled by the dilemma of the ghost buck, Sheppard talked with Larry Norton of Butler, Alabama, a longtime deer guide. "I bet I know what that buck's doing," Norton says. "More than likely he probably comes from down the creek, walks under the bridge and then goes up the creek to feed."
When a deer moves through water, you'll find no tracks you can see. But if a deer goes under a bridge, he'll get out of the water, walk on the land under the bridge and leave tracks. Norton and Sheppard investigated and found a trail even a novice deer hunter could read that revealed the buck left the water and crossed the road by going under the bridge. On the following afternoon, Sheppard sat ready in his tree stand as the buck walked under the bridge and appeared not 30 yards from his stand, offering an easy, short shot that he took.
"Many times older, smarter bucks will walk under highway and creek bridges during daylight hours to get from one woodlot to another."
Norton explains, "Even though cars pass up and down the highways and over the bridge when the deer cross under it, the noise doesn't seem to spook the animals. They've learned they can go undetected and unhunted when they cross under bridges."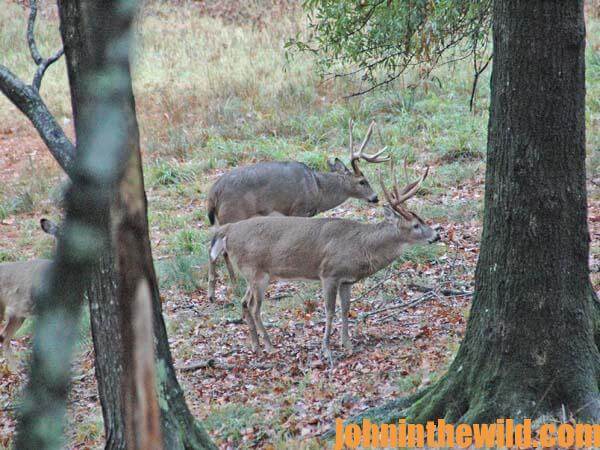 You easily can scout bridges by stopping your car on the side of the road, walking under both sides of the bridge and searching for deer trails. Once you find a trail, and you know which direction the deer has come from or note that the tracks go in both directions, all you have to do is take a stand off the right-of-way and wait on the buck. Since the deer probably will follow a path on the edge of the creek or slough, you can take a stand within 30 yards of the water and generally get a short shot at a nice buck.
"Most hunters don't like to take stands where they can hear road noise or traffic or see cars passing by.
" Norton reports, "That's what makes these short-shot hunting spots ideal for bagging trophy bucks. I've taken a stand not 75-yards from a blacktop road before and watched traffic pass by on the road. I really believe the noise helps me when I hunt. As long as a vehicle doesn't slow down and stop, I don't believe the deer notice the noise. They don't expect anyone to harass them when they go under the bridge during daylight hours."
Also the sound of the traffic will cover any movement you make in your tree stand as you ready for the shot. However, before you hunt near public roads, check with your fish and game commission or department of conservation. Learn the legal distance you must stay from the road to hunt. You also can get a short shot at a big buck where no one else hunts in a region where foresters log timber. Timber trucks make almost as much noise as freight trains. Norton has seen bucks standing still within 30 yards of a logging road as a big truck passes by them.
"Once I hunted 50 or 60 yards off a logging road and had three bucks standing under my tree stand," Norton says. "When the logging trucks went by on the road, the deer just lifted their heads, looked at the trucks and then returned to feeding. Many times hunters overlook productive feeding sites for whitetails where they can get short shots not far from their cars."
Deer hear two different types of noises in the woods – non-dangerous and dangerous.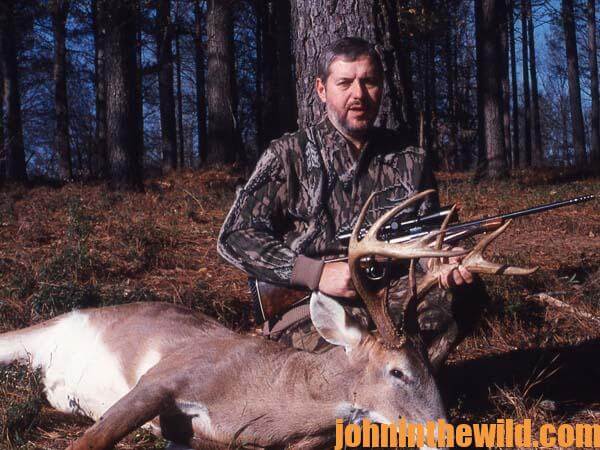 If a deer becomes accustomed to hearing a tractor, a truck, a train, an oil-well operating or any other sound in its environment and doesn't relate that sound to danger, then the sound won't affect its movements. To get a short shot at a trophy buck most other hunters never will see, look for places to hunt where noise drives away the hunters but doesn't spook the deer at all.
To learn more about deer hunting, you can get John E. Phillips' Kindle eBooks, "How to Hunt and Take Big Buck Deer on Small Properties,"  "How to Hunt Deer Up Close: With Bows, Rifles, Muzzleloaders and Crossbows," "PhD Whitetails: How to Hunt and Take the Smartest Deer on Any Property," "How to Take Monster Bucks," and "How to Hunt Deer Like a Pro," or to prepare venison, get "Deer & Fixings." Click here to get these books.
About the Author
John Phillips, winner of the 2012 Homer Circle Fishing Award for outstanding fishing writer by the American Sportfishing Association (ASA) and the Professional Outdoor Media Association (POMA), the 2008 Crossbow Communicator of the year and the 2007 Legendary Communicator chosen for induction into the National Fresh Water Hall of Fame, is a freelance writer (over 6,000 magazine articles for about 100 magazines and several thousand newspaper columns published), magazine editor, photographer for print media as well as industry catalogues (over 25,000 photos published), lecturer, outdoor consultant, marketing consultant, book author and daily internet content provider with an overview of the outdoors.