John's Note: You'll be surprised if you've never cooked wild pigs before at how tender and yummy their meat is due to their diets in the woods and swamps and the absence of fat and artificial hormones. We cut up and prepared our first wild pig more than 20+ years ago and have enjoyed eating wild pigs ever since.
Wild Pig Breakfast Biscuits
These easy-to-prepare biscuits use the wild pig you've taken, are tasty and provide the perfect breakfast to eat before an early turkey hunt or to put in your pocket to eat once you're on your stand. We make them at the lake the night before, so folks can heat them up and take with them when they have an early-morning fishing trip.
Ingredients:
8 eggs
1/4-cup milk
1 cup diced wild pig ham
1 cup shredded cheese of your choice
1/4-cup chopped scallions (optional)
1/4-cup chopped green bell pepper
1/4-cup chopped onion
Salt and pepper to taste
1 container Grand Biscuits (8-12 count)
Preparation:
Preheat oven to 350 degrees. Generously spray muffin pan with cooking spray. I also use muffin papers for ease in removing the muffins and so hunters can carry the biscuits with them. Whisk together eggs and milk. Stir in the ham, onions, green bell peppers, cheese, salt and pepper. Press a Grand biscuit into each muffin holder. Pour some of the liquid mixture into each biscuit. Bake at 350 degrees for 20 minutes. You may have to adjust the cooking time. Yield: 8 – 12 servings.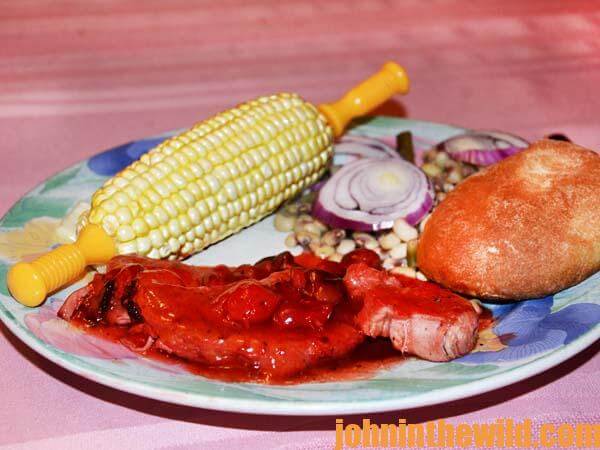 Cherry Wild Pork Chops in a Crockpot
WOW! Super simple to prepare, these wild pork chops have a sensational flavor and are very colorful. We love cooking in crockpots at our home due to very busy schedules.
Ingredients:
48 ounces (6-8) wild pork chops
1/8-teaspoon salt
Dash of pepper
1 can of light cherry pie filling
2 teaspoons lemon juice
1/2-teaspoon chicken bouillon granules
1/8-teaspoon ground mace
Preparation:
In a large skillet coated with cooking spray, brown the pork chops over medium heat on both sides. Season with salt and pepper. In a slow cooker, combine pie filling, lemon juice, bouillon and mace. Add pork chops. Cover, and cook on LOW for 3-4 hours, or until meat is no longer pink. Yield: 6 servings.
Miz Judy's Wild Pork Chops with Gravy
My cousin Judy always has been a wonderful cook. We know your family will enjoy this super-simple yet delicious recipe that yields plenty of gravy.
Ingredients:
48 ounces (6-8) wild pork chops
2 packets of Hidden Valley Ranch Dressing (dry mix)
2 cans cream of chicken soup
Preparation:
Use a 5-quart crockpot. Put on HIGH heat. Layer pork chops; sprinkle part of packet of Hidden Valley Ranch Dressing over the chops. Pour 1/2-can soup over chops; continue with layering. Cook on HIGH 4-1/2-hours. You can keep these chops on WARM for several hours after cooking. This dish makes tasty gravy too for rice or creamed potatoes. Yield: 4 – 8 servings.
Dijon Wild Pork
If someone in your family has been fortunate enough to take a wild pig, then you'll thoroughly enjoy this recipe.
Ingredients:
1 pound of pork medallions
1-1/2-teaspoons lemon-pepper seasoning
2 tablespoons butter
2 tablespoons lemon juice
1 tablespoon Worcestershire sauce
1 teaspoon Dijon mustard
1 tablespoon minced fresh parsley
Preparation:
Lightly pound each pork medallion with a meat mallet to 1-inch thickness. Sprinkle with seasoning. In a large nonstick skillet, heat butter over medium-high heat. Add pork; cook 3 to 4 minutes on each side, or until a thermometer reads 145 degrees. Remove from pan; keep warm. Add lemon juice, Worcestershire sauce and mustard to skillet; cook 3 to 4 minutes, stirring to loosen browned bits from pan. Serve with pork; sprinkle with parsley. Yield: 4 servings.
To see other tasty wild pig recipes besides these, you can get John E. and Denise Phillips' cookbook available in print and on Kindle: The Best Wild Game and Seafood Cookbook Ever.
Next: Cook Freshwater and Saltwater Fish for Delicious Meals