Editor's Note: Fifty-two year-old Shannon Parsons and his dad, 85-year-old Mike Parsons, own property in the Crazy Mountains of Montana near the town of White Sulphur Springs. The Parsons have been hunting elk and mule deer since 1978, and they have developed a very-successful method of finding and taking elk for both rifle hunters and bowhunters in their guiding business of Crow Creek Outfitters. Shannon's son, Mike is 23-years-old and will be the third generation of Parsons in the elk-guiding business. One of the reasons the Parsons have been so successful is because they pass down all the knowledge about elk hunting from one generation to the next.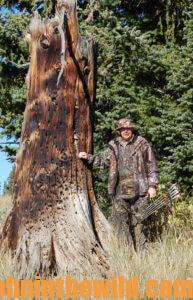 Another big advantage that the Parsons have is they've hunted the same ranch (private land) for over 30 years and 100,000 acres of national forest for over 40 years. Hunting approximately 135,000 acres means they don't put heavy hunting pressure on any area. These elk are much-less spooky than the elk on public lands that receive extreme elk-hunting pressure. Besides knowing where to find the elk, and when they're most likely to show up, all the guides at Crow Creek Outfitters offer are very proficient in calling elk.
Elk have very-keen eyesight. Since they can detect even the slightest movement, I always tell my bowhunters that when they set-up to take an elk, to sit absolutely as still as possible, and not turn your head or move at all. The only motion that you can make without spooking the elk is to move your eyes. When you see the elk herd, move behind a tree or a bush, make your draw, and wait for him to step out before you take the shot. When I've been close enough to see both my archer and the bull at the same time, generally the hunter will move around way too much to not spook the bull.
Another mistake I've seen hunters make is when I point to a spot where I want them to set-up, they'll get so deep into the cover that when the elk comes-in, they can't take the shot. I'll often tell them before I leave them, "You see those trees in front of you? If the elk herd goes behind any one of those trees, draw your bow. Wait, but don't shoot until the elk comes in closer, and then take the shot."
The biggest mistake hunters make is coming to elk camp not in shape to elk hunt. The cabin where our elk hunters stay is at about 5,800 feet of elevation. The highest we hunt is at about 8,500 feet. So, hunters really need to do some walking or hiking to get their muscles accustomed to long walks before they come. Usually within a day of so they'll get used to the altitude.
To learn more about hunting elk successfully, check out John E. Phillips' book, "Elk: Keys to 25
Hunters' Success," available in Kindle, print and Audible versions at https://amzn.to/2IDszQk. You may have to copy and paste this click into your browser. (When you click on this book, notice on the left where Amazon allows you to read 10% of the book for free).