John's Note: Adapting to various situations while hunting tough toms and being flexible will pay-off in your harvesting more turkeys. Chris Kirby, the president of Quaker Boy Calls and a World Champion turkey caller, recognizes the versatility you must employ to be successful.
I also saw Chris Kirby's versatility in action a couple of years ago when Kirby and I hunted the legendary Ford Ranch (www.fordranchhunting.com) near Brady, Texas.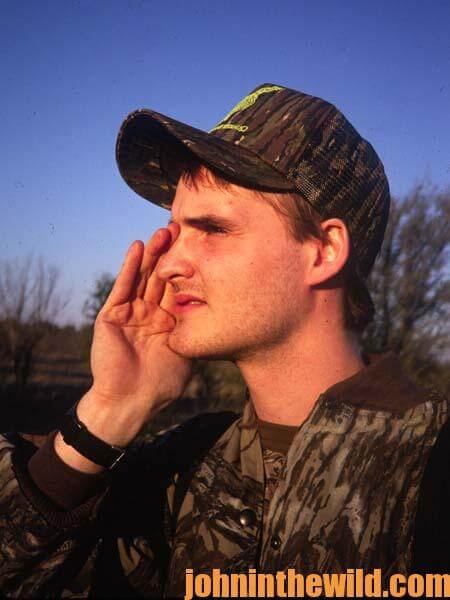 We took a stand in some little scrub oaks after we heard a turkey gobble. As Kirby cut and cackled on a diaphragm, the tom triple-gobbled. With the bird closing in quickly on us, I moved into a shooting position to face the tom, realizing he might appear at any minute. Then with my thumb at the ready on the safety and my finger on the trigger of my gun, from out of nowhere a herd of 100 goats appeared, walking to the quick step, between us and the gobbler. We couldn't hear ourselves talk or think above the insistent and constant bleating of the goats and the loud sound their hooves made going across the rocks. Because I felt sure the goats had spooked the turkey and blown our hunt, I started to get up. But Kirby whispered, "Sit back down, John. We still have a chance to take that turkey. Since that turkey lives here in this pasture, he sees these goats every day. Although he knows that those goats should have run off that hen he's been hearing, I'm going to make him think another hen has heard him gobbling and come into this spot looking for him."
Kirby pulled out his Quaker Boy box call and gave clucks and yelps.
The tom responded. Then Kirby moved the lid on the box call to the next notch and picked up the pace of his calling, adding excitement to his call and making it somewhat louder. This time we did hear the turkey gobble at a distance. Next Kirby called excitedly like a hen that had moved to this spot because she had a date and felt the gobbler had stood her up, since she didn't find the ole boy there waiting on her. Kirby moved the lid of the box call to a different notch, changing the sound of the call once more. He gave soft clucks and yelps like a hen feeding in the area when he had the call in one position. Then he moved to another slot in the lid of the box call to sound like a demanding hen. Kirby said, "I want to sound like two hens that have come to the place where the turkey's been gobbling and are waiting on him to show up."
As Kirby called more excitedly each time the gobbler answered, the gobbler moved at a trot toward our stand. At 70 yards, we could see the bird coming on the run. With his heavy breast bouncing and his long beard swinging briskly from side to side, the mature tom never slowed down until I took him at 20 yards. "Because I knew that the gobbler had probably had goats spook his hens before, I didn't think he'd run out of the county when the goats came through," Kirby emphasized. "In the natural order of things when a hen hears a turkey gobble, she'll go to him. When a hen shows up at a spot where she's heard a turkey gobble from, she won't know what's happened to make that turkey hush up. All she knows is that she's gotten to the place where he's been calling from and now he's not there. So, if you alter your voice to sound like another hen that's come into the region and not been spooked by the goats, then the gobbler has no problem coming to this place where the goats have been to meet the new hen.
"When I called, I actually talked like two new hens. Often if a gobbler won't respond when you change voices and sound like a different hen. But by making him think there's more than one hen close by, you can get him excited enough to force him to come into the area to at least take a look. One of the advantages to using the Quaker Boy box call is that you can use this same call to sound like 10-different hens. I don't believe that gobbler would have come in if I'd used the same call that I'd called to him with originally."
When you've blown a hunt for whatever reason, if you'll remain on your stand site for 10 or 15 minutes and be versatile enough to use a different type of call to sound like one or more new hens that have moved into the area, many times you'll call back the gobbler you've spooked or an entirely new gobbler.
To learn more about turkey hunting from the masters, get these Kindle eBooks by John E. Phillips, including: "The Turkey Hunter's Bible (available as an eBook or in paperback)," "PhD Gobblers: How to Hunt the Smartest Turkeys in the World," "Turkey Hunting Tactics" and "Outdoor Life's Complete Turkey Hunting." Click here to get these books.