Editor's Note: Shawn Fulton has been guiding for elk for 12 years and currently guides and outfits for Spotted Bear Ranch (http://www.spottedbear.com/) in northwest Montana, just south of Glacier National Park.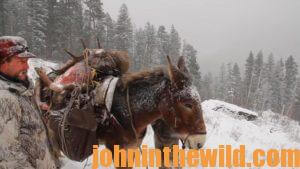 During the early elk season, we'll take wall tents and pack-in a wood stove to provide heat in the tent. We'll also take a wall tent with a full kitchen set-up to prepare the food for the hunters and use a propane cook stove. Even on the late-season hunts, we may hunt out of wall tents because those wood stoves we put in the tents will keep the tents warm inside. But at Spotted Bear Ranch in the late season, we'll usually put our hunters in the cabins we use for backcountry fishing in the spring and summer. 
I'm often asked, "What are a hunter's chances of getting a shot at an elk on your hunt?" That depends on whether the hunters are hunting during bow season, and we have good weather. If we have cool weather, rather than hot weather during early bow season, the hunter's chances will be better than 25%. During our late-season hunts, if heavy snow is in the mountains, and the elk come down to the bottoms of the mountains, the hunter's chances are better than 25%. The condition of the hunter when he arrives for camp, also plays a major role in hunter success. We never know what the weather will be like, or how much hunting pressure the elk have had either from other hunters or predators. 
Some hunters try to hunt in the backcountry, but hiking there poses a problem, if you're carrying 40 pounds of camping and hunting gear to set up a spike camp in the backcountry. Too, if you're successful and take an elk, you'll have to carry that same 40 pounds of gear out of the backcountry to your vehicle, and then return and carry the meat and antlers from your elk those same miles, at least twice. That's why we prefer to ride horses and take pack animals with us. Then when we go into the backcountry, we're not worn out once we reach spike camp. Also, our hunters aren't worn out packing their meat and their trophies out, because we let the pack animals – the horses or mules – take the elk out. Our spike camps are already set-up, so we don't have to take any of that in or out with us when we have hunter with us.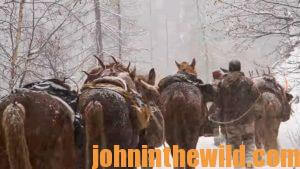 Another problem, if you hike in, especially during bow season is the weather may be 70 – 80 degrees, which means you have to field dress your elk, get his hide off and carry the meat out before it spoils. At night, after a 70 – 80 degree day, the temperature may drop down to 30–40 degrees. During the late season, you may have snow to contend with, and that's where the pack animals help out too. We'll tie them up with our horses when we start glassing or stalking the animal we want to take. Then we can get the animal field dressed, quartered and back to camp quickly – a real benefit for our hunters. 
In the late season, we usually have someone back in camp who's caring for the pack animals. We'll use radios to call back to camp and ask the packer to bring the pack animals to the location where the elk's down. If we take an elk late in the afternoon, we may go ahead and field dress the animal, quarter him, put the meat in game bags and tie the bags high in a tree. We'll return to camp and then come back the next morning with pack animals to get the meat and the trophy out. The temperatures are so cold then, the meat won't spoil.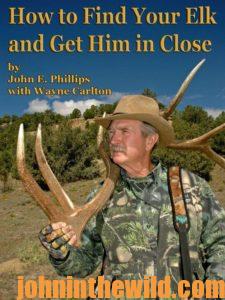 To learn more about elk hunting, check out John E. Phillips' book, "How to Find Your Elk and Get Him in Close," available in Kindle, print and Audible versions at http://amzn.to/17ENNqK.  You may have to copy and paste this click into your browser. (When you click on this book, notice on the left where Amazon allows you to read 10% of the book for free).