Editor's Note: David Owens from Acworth, Georgia, was the 2018 National Wild Turkey Federation (NWTF) Grand National Senior Open Division turkey-calling champion. In 2017, he completed an almost unbelievable feat by taking the U.S. Super Slam of wild turkeys, taking 49 gobblers in the 49 states that home wild turkeys with 90 percent of those birds harvested on public lands. Owens started hunting turkeys when he was 13 and has been hunting them for 20+ years.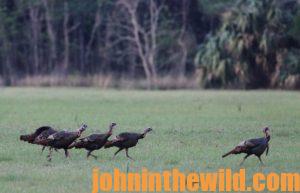 Thick vegetation is another big challenge for hunting Osceolas in south Florida. When an Osceola gobbler hits the ground, we often have to get much closer to him to be able to hear him than you do when you're hunting other races of turkeys in other states. I've found that misjudging distance when you hear an Osceola turkey gobble often happens. The Osceola may sound like he's 200-yards away, when in reality, he only may be 100 yards away. When calling to these turkeys, always remember that less calling is better. Not only is less calling better, but the most-important aspect for success in hunting the Osceola is picking a spot to call from to which the turkey will come. One of the advantages you have is that because the vegetation is usually so thick, you often can get really close to these birds before you start calling to them.
On public lands, the Osceola gobbler is probably hunted harder by more people than any other gobbler anywhere, because south Florida's Osceola season is the first turkey season to open. Hunters come from all over the nation to try and take one of these birds. Besides the out-of-staters, quite a few local turkey hunters will be hunting on public lands in south Florida.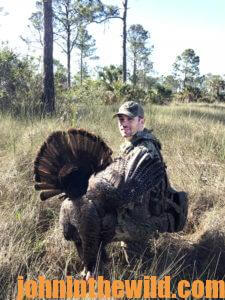 I've found that the Osceola gobbler is much more nervous than any other race of wild turkeys. Not only do they have hunter pressure, but they live in thick cover with big cats that can sneak up on them and attack in that thick vegetation. When that turkey opens his mouth and starts to gobble, he knows that something out there wants to eat him. From Florida we come back up and start hunting eastern turkeys, and 99 percent of the land that we hunt in the Southeast is public-hunting lands.
To learn more about turkey hunting, check out John E. Phillips's latest Audible book, "PhD Gobblers: How to Hunt the Smartest Turkeys in the World, Revised Edition" at https://www.amazon.com/PhD-Gobblers-Smartest-Turkeys-World-ebook/dp/B083V83RLG, and available in Kindle, print and Audible. You may have to cut and paste this link into your browser. (When you click on this book, notice on the left where Amazon says you can read 10% of this book for free and hear 10% for free). To learn about other turkey books by John E. Phillips, go to www.amazon.com/author/johnephillips.
Tomorrow: Hunting Public Lands for Turkeys All Across the Nation