John's Note: Bringing your buddy along when hunting turkey gobblers will sometimes produce far better results than going one-on-one against the feathered fox. Even though turkey hunting is basically an individual sport, there are several reasons why two people should try hunting turkeys together. Foremost is the fellowship that comes from sharing the experience of calling, watching and bagging a turkey with a friend. Also, a turkey hunter can lengthen his season by taking a novice hunting. Making tactical decisions, calling and showing a newcomer when to shoot sharpens your own skills and allows you to hunt, even if you can't shoot after filling your season's limit. Often there are tactical reasons for two on a turkey. Smart old gobblers that have been shot at in the past may be call- and-man-shy. These birds can be outsmarted when two hunters combine their skills and knowledge.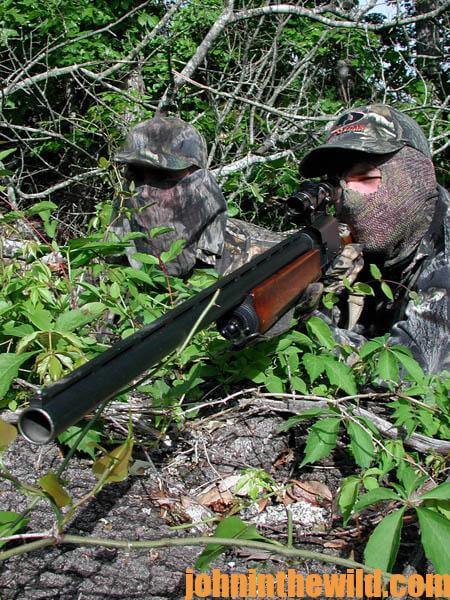 One of the most-difficult hunts for an experienced turkey sportsman is taking a novice into the woods. Ben Curry has found, however, that guiding new turkey hunters gives him more opportunities to study the habits of the wily Eastern wild turkey. "As I'm introducing these newcomers to the sport, I learn new things about turkeys on each hunt, and become more conscious of the details I already know about stalking the wild turkey."
To increase your enjoyment of two on turkeys and the chances of a novice taking a bird, the hunt must be explained and each step of the experience should be carefully calculated.
"I share my knowledge with the man I'm guiding, so that we can both do our jobs," Curry says. "I explain that once we get out of the truck we won't talk, smoke or eat. The hunter will follow me, and I will try to locate a turkey. By listening, owling or using a crow call, we'll try to get a bird to gobble. If it's dark when we hear him, then the next morning we'll get within 75-100 yards of him before setting-up. If the turkey is already on the ground, or it's late in the morning when he gobbles, we'll usually set-up right where I find a big tree in a fairly-open area. Once we hear the turkey and get ready to set-up. I allow my hunter to load his gun."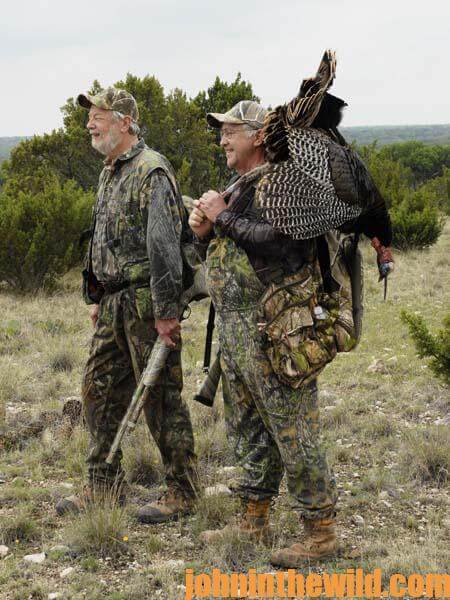 Curry, like most seasoned turkey guides, prefers to have his hunters sit in his lap. "The hunter sits in a crouched position with one knee up. Then he props his gun on his knee and leans back against my chest. This position is almost like sitting in a lounge chair, and a hunter can sit motionless like this for a couple of hours."
This position also puts the hunter's ear only a few inches away from Curry's mouth, so that if instructions are needed, only a whisper will be required. "Often new turkey hunters won't see the turkey. Maybe the gobbler only will stick his head out from behind a tree and the hunter won't notice it. By sitting this close I can say, 'Right,' and the hunter can slowly turn his head to the right. When his head is pointed in the direction of the turkey, I say, 'Stop.' Now he is looking right at the turkey and can easily see him."
One of the biggest reasons sportsmen unfamiliar with turkey hunting fail to take their birds is from shooting at out-of-range birds. Curry tells his hunters, "When I tap you on the shoulder or poke you in the ribs – that means, 'Shoot the turkey. He's within range.'"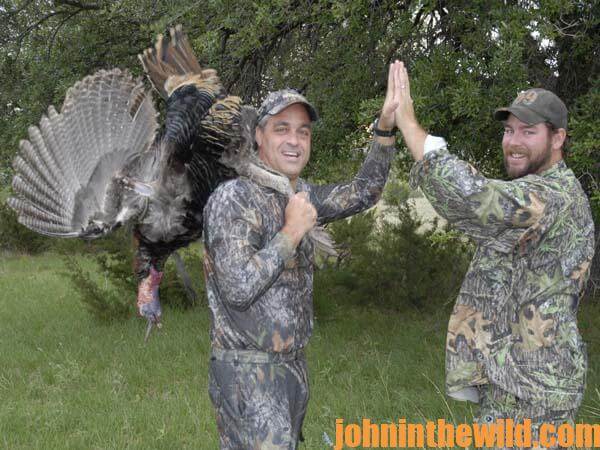 To get John's book, "The Turkey Gobbler Getter Manual," for free, go to www.johninthewild.com/free-books to download.
To learn more about turkey hunting from the masters, get these Kindle eBooks and print books by John E. Phillips, including: "The Turkey Hunter's Bible (available as an eBook or in paperback)," "PhD Gobblers: How to Hunt the Smartest Turkeys in the World," "Turkey Hunting Tactics," (also available in an audio book from  http://www.audible.com/pd/Self-Development/Turkey-Hunting-Tactics), "How to Hunt Turkeys with World Champion Preston Pittman," "The 10 Sins of Turkey Hunting with Preston Pittman" and "Outdoor Life's Complete Turkey Hunting." Also www.barnesandnoble.com sells John's eBooks.