Editor's Note: Harry Daisey of Seaford, Delaware, leases 166 acres in Delaware, owns 450 acres in Maryland, but that land only homes about 5-6 wooded acres, and owns 16 acres in Virginia. Where he hunts in Delaware, he only has the two tracts of land behind his house – one 6 acres and the other 15 acres.
"Most of my deer hunting is in small woodlots that butt-up against agricultural fields. My 6-acre tract is a part of a 400-acre farm, with most of the 400 acres in crop lands. The 150 acres I lease in Delaware backs-up to a big swamp where I'd seen some very-big bucks. We had planted green fields and orchard grass and really improved the property for wildlife. For allowing me to hunt this property, I trimmed the edges of the farmer's fields on the 15-acre property to enable him to plant more rows of soybeans. The soybeans planted right up against the woods didn't compete with the small trees and brush for the nutrients in the ground. By my trimming the tree limbs hanging out over his field, they no longer shaded the field, and he got better soybean production.
The 6-acre and the 15-acre little spots don't get any hunting pressure from anyone but me. Deer traveling from one woodlot to another funnel through these small woodlots behind my house all year long, but especially when hunting pressure builds up on the big wood lots. The other advantage I have by hunting these two small spots behind the house is that I can manage my bucks and only harvest one mature buck there each season.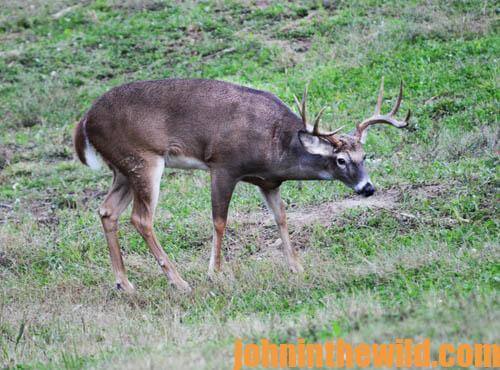 Seeing a Big 11-Pointer and Using Trail Cameras:
I was walking my dogs in my backyard in 2012 when they jumped a bunch of does with one huge 11-point buck that had antlers out past his ears. About a half hour later my dogs jumped another deer in nearly the same place. I decided to put trail cameras out in the woods at the back of the house where the deer had run out of his neighbor's property with its pine thicket onto the next neighbor's land. I eventually leased both properties for hunting – a total of 21 acres – assuming that the bucks and the does were bedding in the 15 acres of pines and feeding in a 6-acre strip of hardwoods adjacent to the pines. I concentrated my trail-camera surveys on this 6- acres that contained hardwood timber of mainly oaks but also sweet gums and holly.
I observed the deer's movement patterns with my trail cameras and discovered the deer weren't bedding in the pines as I'd assumed earlier but actually were bedded-down in the hardwoods. Before deer season arrived, I had trail-camera pictures of a 9-pointer and an 11-point buck bedding with the does in the 6 acres. I removed my trail cameras about 6-8 weeks before blackpowder season arrived, because I was afraid the flash of the cameras would spook the older age-class bucks.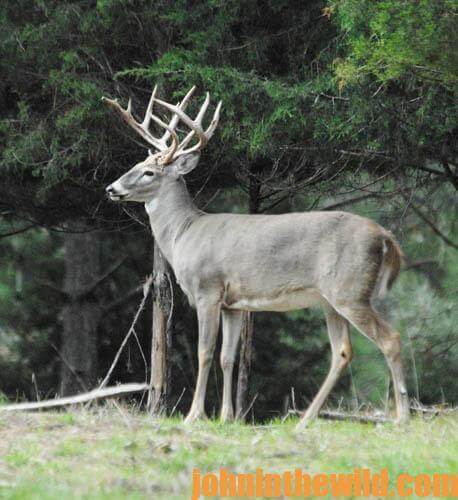 Muzzleloading 21 Acres:
When the October muzzleloader season arrived in Delaware, I decided to hunt the 15 acres of pines one of his neighbors owned that I had leased. I asked my neighbor to come pick me up in his car after dark, so that the vehicle would spook the deer holding in the pines yet keep them from seeing me as I climbed down from the tree stand where I'd been hunting. Before my neighbor picked me up from the 15 acres of pines, I'd watched nine does filter out of the hardwoods in the 6 acres and come in to feed near my stand. Once my neighbor dropped me back at my truck after dark, I then remembered I'd left my coat at the foot of my tree stand. I drove back to my stand and retrieved my coat, and while turning my truck around to leave the stand site, I saw in the beams of my headlights three different sets of deer eyes, looking at me from the 6 acres.
A few days later, I decided to hunt the 6-acre patch and carried a climbing tree stand into it. While adjusting my climbing tree stand, I spotted a big doe bedded-down with her head up and realized I'd have to shoot her to keep her from spooking other deer in the area. I shot and then took a second shot. Looking at my watch, I realized I only had about an hour of shooting time left and didn't have time to walk to another stand before dark. I left the doe where she lay, got into my climbing tree stand, went up the tree and watched as more does came into the area and milled around the downed doe.
Next, I heard a sound and spotted a nice 8-pointer that would score about 140. The buck fed right up to the tree where I was sitting, continually glancing back over his shoulder to the holly thicket from where he'd come. Next I barely heard another deer moving in the holly thicket. Suddenly I spotted a big buck standing behind a tree with only his head and neck visible on one side of the tree and his hindquarters visible on the other side.
Once the huge buck moved around the tree, presenting me with a broadside shot, I squeezed the trigger on my Knight inline muzzleloader. The buck bolted and ran about 40 yards, falling about 20 yards from the downed doe. Then I called several friends who were hunting another piece of property I'd leased about a mile away from my home to ask them to come and help me get both deer out of the woods. This 11-point backyard buck grossed 189-3/8 on the Buckmasters Scoring System (https://buckmasters.com/resources/btr/scorer).
I'm convinced that more big bucks like the 11 pointer I took on October 11, 2012, are living in that 6 acres of hardwoods. I'm continuing to lease all 21 acres of land and check my trail cameras in hopes of finding another big buck that uses this small piece of land as a bedding site and a daytime sanctuary.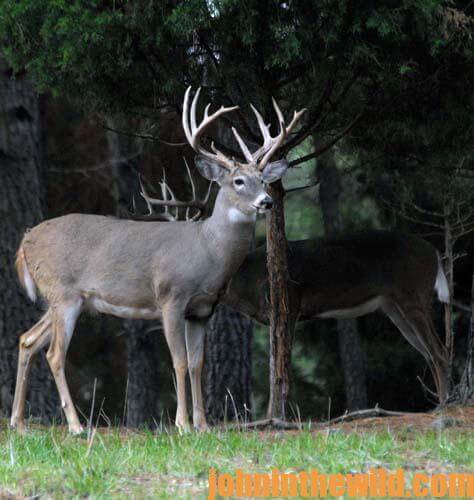 Understanding Why Farmers Need Hunters Due to Deer Destroying Their Crops:
Daisey knows numbers of farmers, and like many of us realizes that one of the major problems that farmers have is deer eating their crops. "I had some insurance business with one farmer who knew I loved to hunt whitetails." Daisey recalls. "One day when I was visiting with him, he told me he had a major deer problem because of overpopulation. The deer were eating his crops. The hunters who had leased the property weren't shooting enough does to reduce the size of the herd. I helped him get enrolled in our state's Deer Damage Assistance Program. The landowners participating in this program get an unlimited number of deer tags. Hunters on their lands can use shotguns during the muzzleloader season to take off the surplus antlerless deer. Now I go to his property early in the deer season each year and harvest as many does as I can for this farmer. Then I take the does to a processor who processes the does to feed the hungry.
"That farmer friend sent me to see another farmer who was also having crop damage due to overpopulation of deer. When I arrived at the farm, I saw it was only 10 acres, with 2-5 acres next to some woods. While I was looking at the property, I spotted four bucks out in the farmer's field, probably bigger than the backyard buck I took that grossed 180. An enormous woodlot was right behind this cornfield, so many of the deer living in the big woods were coming out into this farmer's 10-acre soybean field and wiping out his crop. Once I started removing the does from his 10-acre parcel, he told me about a little 3-acre plot that contained 2 acres of soybeans and 1 acre of woods he had inside the state park where no deer hunting was permitted. He'd let the 2 acres go fallow, because the park deer were eating up his soybeans.
"I had another place I had leased that was in a swamp where I hunted for bucks, but our deer herd on the swamp property got decimated by CWD. I asked the farmer on whose crop lands I was taking the does from if he knew of a place I might hunt. He smiled and said, 'I sure do.' He went in and plowed-up that fallow field in the center of the state park and planted those 2 acres in soybeans. He told me, 'Now you've got a good place to hunt bucks and to remove does.' That state park had boat docks, campgrounds, hiking trails and a tremendous amount of deer that never had been hunted. Last year I harvested does off that 2-acre soybean field. The butcher who processes the does I harvest there to be processed for the food bank told me that he'd been by that field and seen several large bucks out in the soybeans. I'm anxious to hunt this little honey hole this year."
To learn more about hunting deer with John E. Phillips' Amazon Kindle eBooks, print books and Audible books (the latest Audible is "How to Hunt Deer Like a Pro") and Nook books, click here at  http://johninthewild.com/books/#deer. You can type in the name of the book and download it to your Kindle, and/or download a Kindle app for your iPad, SmartPhone or computer. For a free download on how to make jerky from venison to provide a protein-rich snack, choose "How to Prepare Venison Jerky: The Ultimate Snack Food" at johninthewild.com/free-books.
Tomorrow: Bowhunting 30 Acres Next to State Lands Ernie Calandrelli