John's Note: 2014 is Steve McCadams' 40th year of guiding crappie fishermen on Kentucky Lake. He also fished crappie tournaments for 10 years, and at one time he was part owner of Crappie USA. "I guess you could call me a crappie farmer, because I put out a lot of crappie cover and harvest a lot of crappie," McCadams says. Except when he's guiding or hunting ducks, McCadams guides crappie fishermen and catches crappie every day of the year. The secret for finding and catching crappie is to know where the crappie live and build homes for crappie. "I guide for crappie 9-10 months out of the year on Kentucky Lake, and we've never struck out," McCadams reports. He only may catch 1-10 crappie, when he's fishing an hour or two on the lake, because of high winds, snow, thunder or lightning. With two clients in the boat, McCadams averages keeping 40-45 crappie per day. On Kentucky Lake where he primarily fishes, anglers only can keep crappie 10-inches long or longer. However, on an average day, his clients may catch 100 crappie and release the undersized ones.
When I first talked about putting out fish attractors I said that I try to have fish attractors in water depths that will allow my clients and me to fish in deep, mid-range and shallow water.
I also said my primary consideration in deciding where to sink fish attractors was the strength of the wind, and that I sink brush shelters and stake beds, so that regardless of how high the wind gets or which direction it's blowing from, I have brush shelters or stake beds somewhere on Kentucky Lake that my party can fish.
One of the advantages we have on Kentucky Lake is we usually have good water color all year long. If there's a creek, a bay or a stream that muddies-up before I go fishing, I usually move out to the main lake where there's often a current. The water is generally the clearest on the main lake. I may have to run 2 or 3 miles down the lake to find clear water. Unlike many other lakes, Kentucky Lake rarely if ever will be muddy all over the entire lake. Remember, I have clients coming from all over the nation to fish with me here on Kentucky Lake. So, when they show-up, they expect to catch crappie, whether the lake is clear or muddy. That's why I have brush shelters put out and have identified natural cover and drop-offs. Then regardless of the water conditions, we can find and catch crappie. In 40 years of fishing, I've guided anglers from about every state.
Another question I'm asked frequently is, "What do you do when a rainstorm moves in, and your area has 3 solid days of rain?
Where will you fish when you have a pouring-down rain?"
I have several places I can fish, but none of them are out of the rain. I tell all the people who book a trip with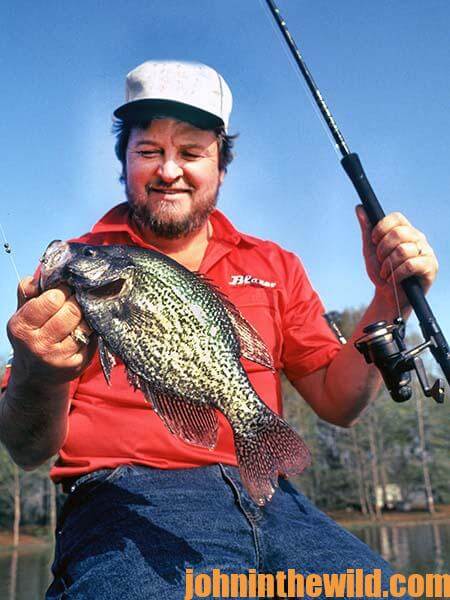 me, "Bring ample clothing. Prepare for the worst weather you can think of, and pray it doesn't happen while you're here." As much experience as I have fishing on Kentucky Lake, I still haven't figured out a way to control the weather. I always tell my clients to bring rain gear and warm clothing. You always can take off the clothing you don't need. But if you don't have the right clothing, you can't put it on, if you need it. It's very rare for us not to fish because of weather conditions. If we have lightning or a 30 mph gale, of course, I won't go fishing, or if we're out on the lake, we'll come in quickly.
My philosophy for crappie fishing year-round is to bring an overcoat, a rain suit, and suntan lotion, because you never know which one of these items you'll need. I know that some guides put out stake beds under bridges or around duck blinds to be able to pull under the bridge or into the duck blind for their clients to fish in rainy or bad weather. But I never build brush shelters in those types of places.
At shows that I attend and talk about crappie fishing, one question that will come up is, "Do you do any night fishing?" My answer is: "No, we usually can catch our crappie in the daytime. We don't have to fish at night."
Another advantage we have here on Kentucky Lake is that our water always seems to have a little bit of stain in it, which filters the light and allows us to catch crappie, even when the lake's fairly clear.
I know that some lakes across the country are crystal clear. Crappie fishermen have a definite advantage when they fish at night on those lakes, because the crappie holding in that clear water seem to be fairly spooky. In those lakes, catching crappie during warm weather and hot weather under a clear sky and a bright sun often can be difficult for them. That's why they fish at night.
These clear lake anglers often will use lights or lanterns to help pull the crappie from their deep-water haunts higher in the water column at night, making the crappie easier to catch. But so far on Kentucky Lake, we've always been able to catch our crappie during daylight hours. I'm not saying that we can't catch crappie at night here on Kentucky Lake, however, we usually catch enough crappie during the day that we haven't had to rely on night crappie fishing to put a good mess of crappie in the boat. Because we have our crappie holding on brush, I believe that an individual can anchor down over our better brush shelters without lights and do real well fishing at night. But we don't have customers who want to fish that way. Most of our clients like to fish each with a single pole, be able to watch his or her line and enjoy fishing in the daytime.
To learn more about fishing with Steve McCadams and fishing Kentucky Lake you can go to his website www.stevemccadams.com, or call 731-642-0360.
To learn much more about crappie fishing, get John E. Phillips' Kindle eBooks and some print books, "Crappie: How to Catch Them Fall & Winter," "Crappie: How to Catch Them Spring and Summer," "Catch Cold Water Crappie Now," and "Reelfoot Lake: How to Fish for Crappie, Bass, Bluegills and Catfish & Hunt for Ducks." Click here to get these books.
Share this page with a friend!
About the Author
John Phillips, winner of the 2012 Homer Circle Fishing Award for outstanding fishing writer by the American Sportfishing Association (ASA) and the Professional Outdoor Media Association (POMA), the 2008 Crossbow Communicator of the year and the 2007 Legendary Communicator chosen for induction into the National Fresh Water Hall of Fame, is a freelance writer (over 6,000 magazine articles for about 100 magazines and several thousand newspaper columns published), magazine editor, photographer for print media as well as industry catalogues (over 25,000 photos published), lecturer, outdoor consultant, marketing consultant, book author and daily internet content provider with an overview of the outdoors.