Editor's Note: Fifty-six-year old Daniel Thompson from New Edinburg, Arkansas, has hunted turkeys for 30+ years and has hunted at Bent Creek Lodge (www.bentcreeklodge.com) in Jachin, Alabama, for 15 years. We wanted to know why he continues to go to a hunting lodge to hunt turkeys in the spring. Here's what Thompson has learned.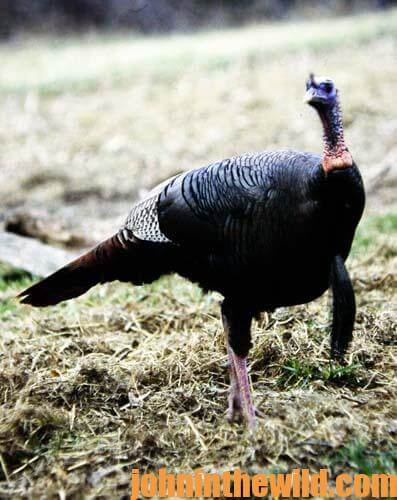 * Don't Move, and Be Patient – The morning before this interview I was hunting at Bent Creek with David Garner, a Mossy Oak Pro (www.mossyoak.com), and we were calling to a gobbler that was coming to us. However, then, he went silent. We waited and waited. Finally, the turkey came up behind us. Although we couldn't see him, we could hear him drumming. I don't believe there's anything more exciting than knowing a turkey is behind you, that he's close enough for you to hear him drum, but you can't do anything about it. However, once again, the turkey went silent, and I thought he had left us. I told David, "I think we should move to another calling position. I want to try to fire the turkey back up, make him gobble and get him to come to us." But Garner said, "No. Let's sit still. I think the gobbler is still close."
We sat there for 45 minutes, and Garner never touched a turkey call. He didn't make any sound at all, which really surprised me. If I'd been hunting by myself and decided to wait on the turkey, I would have at least given some soft clucks and purrs, but Garner was totally quiet. We didn't see or hear anything. Then suddenly, out of nowhere, the turkey appeared about 50 yards out in front of me. As he started walking in, I got ready to make the shot. We let the turkey come in to about 20 yards before I took the shot. When the turkey quit drumming, 99 times out of 100, I would have made the mistake of getting up and moving. However, I learned from Garner that sitting still, being patient and quiet and not calling – even when you thought the gobbler was gone – often would pay-off in a turkey dinner that you would have missed if you moved.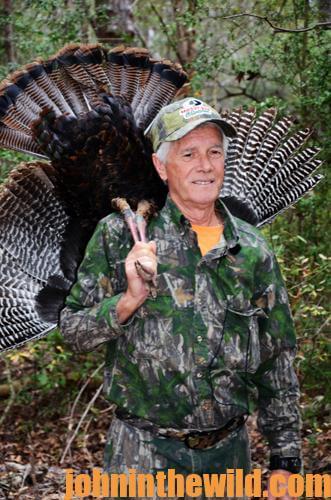 Later I asked David, "Why did you think that the gobbler hadn't left us?" "Well, I hadn't heard any hens scratching in the leaves, and I didn't hear any hens calling to the gobbler," Garner said. "So, I didn't believe that gobbler had any girlfriends. We had to be the only hen that had talked to that gobbler that day. When he came in from behind us, the longbeard knew he couldn't see us. Instead of committing and walking out in front of us, he circled us and came in from a different direction, hoping to see the hen. That was when you were able to take the shot."
Having hunted at Bent Creek with several other guides, I've learned that oftentimes remaining on a stand another 45 minutes to an hour after the turkey quits gobbling may produce a bird that getting up and moving will spook. I feel that every time I hunt with a guide I'm going to college and taking a new course in turkey hunting, because I learn something new each time I hunt with a guide. I've also learned that all guides have different philosophies of turkey hunting and various approaches to the way they hunt turkeys. I feel like these guides are my instructors in the college of turkey hunting.
* Bring Your Children to Turkey Hunt with Guides – I wanted my son Jeremy to hunt turkeys with someone besides me, so for the last 15 years I took him with me to Bent Creek Lodge. I had discovered that sons often didn't think that their dads knew anything. Consequently they would pay more attention and would be more eager to learn the sport of turkey hunting, if they hunted with someone they perceived as being smarter than their dads. After the first time Jeremy hunted with one of the guides at Bent Creek, he was almost in tears. He couldn't believe everything he had learned – things that I didn't know how to teach him. Since Jeremy and I first hunted at Bent Creek together, coming here and learning from the guides is like waiting on Christmas morning. We think about and talk about hunting here all year long.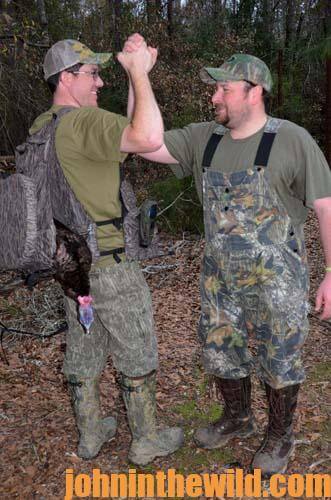 To learn more about turkey hunting, check out John E. Phillips' print, Audible, Kindle and Nook turkey books at http://johninthewild.com/books/#turkey and at www.barnesandnoble.com. You also can download a free Kindle app that enables you to read the book on your iPad, computer or SmartPhone. You can learn more about calling turkeys by going to johninthewild.com/audio-files/ for audio turkey tapes to purchase of Lovett Williams, Rob Keck and Chris Kirby, available for download to your SmartPhone, tablet or computer. For a free copy of John E. Phillips' "The Turkey Gobbler Getter Manual," go to http://johninthewild.com/free-books/ to download.
Tomorrow: Gary West Goes to College on Turkeys