Editor's Note: Jacob Wheeler of Harrison, Tennessee, is probably one of the most-unusual yet successful tournament bass fishermen I've ever met. Arriving 10-years ago on the professional bass-fishing circuits at the age of 20, he's earned more than $2.5 million in tournament winnings – not counting the income he's also received from his sponsors. He's currently ranked No. 1 world-wide on BassFan (http://www.bassfan.com/). Wheeler is the first tournament bass fisherman I've ever met who runs five different fish finders from three different companies on his boat. Wheeler's wife is Alicia, and his 1-year old daughter is Olivia. To learn more, check out his Facebook page at https://www.facebook.com/wheelerfishing/.
Electronics:
I fish with three of the best electronic companies on the market – Garmin (https://www.garmin.com), Humminbird (https://www.humminbird.com/), and Lowrance
(https://www.lowrance.com/). In total I have five electronics mounted on my boat: two Lowrance HDS-12 Live Fish Finders, two Humminbird 12 Chirp Fish Finders, and one Garmin 10-inch Fish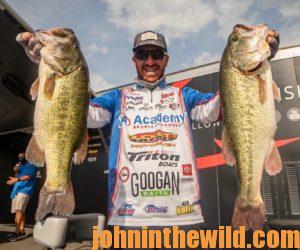 Finder. I turned down sponsorships from all three companies, since I'd rather use all three of the best fish finders instead of one of the best. I came to this conclusion because I gained experience with each of these brands throughout different times in my fishing career. Each company has their strengths, so I use specific features on every unit. For example, I like Lowrance's down scan and mapping, Humminbird's side scan and Garmin's Panoptix LiveScope.  Lowrance helps me see my waypoints better, Humminbird has good LakeMaster maps, and Garmin is extremely good for looking ahead of the boat. I also believe that I can cover water faster with five fish finders on my boat. Of course, learning all of the features on each of the fish finders takes a lot of time, but I've learned that I can increase my chances of winning tournaments this way.
To see me demonstrate how and why I use three different companies' fish finders, you can watch my video on YouTube at https://www.youtube.com/watch?v=VWDpzvMxajM.
Aluminum Boat:
I even rigged my aluminum boat with the same type of set-up that I had on my tournament boat. People often ask me, "Why do you have an aluminum boat?" The answer is, when I use my aluminum boat, I'm in an incognito mode, and no one really knows who I am on the lake, which allows me to enjoy fishing like I used to before I became a pro bass fisherman.
New Technique: The Tokyo Rig: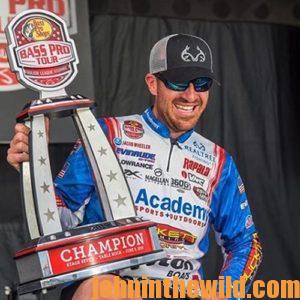 The newest technique that I've tried to learn this year is the very unique Tokyo Rig. Actually fishermen have yet to learn what all this technique can do to help them catch bass. The Tokyo Rig is basically a wire connected to a swivel, that's connected to a welded ring, that's connected to a hook. By keeping the weight away from the hook, the bait is given a little-more action. I guess the best way to describe the Tokyo Rig is it's like a mini-dropshot. You can use various lures on this rig, but my favorite one is the Googan Baits Blue Baby Bandito Bug
(https://googansquad.com/products/bandito-bug-4). I like this one because it can look like a bluegill, a crawdad and many other baits that bass eat. I also like this bait on this rig because I can flip it, punch through grass with it, drag it on a Carolina rig or use it as a trailer.
Personally, I believe that this technique works best on hard bottom structure or in areas where there's about a foot of grass on the bottom because then I can snap the rig out of the grass and can keep the bait up off the bottom better. I fish this rig with a 7' 6" Duckett Fishing Inshore Series Fast Action Casting Rod (https://www.duckettfishing.com/jacob-wheeler-series) on 17 pound Sufix Advance Fluorocarbon Fishing line.
Here is a video link on how this technique Works: https://www.youtube.com/watch?v=Nbzep15gQPM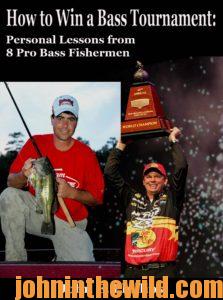 To learn more about catching bass, check out John E. Phillips' book, "How to Win a Bass Tournament: Personal Lessons from 8 Pro Bass Fishermen" at http://amz n.to/Wkbyxk, and available in Kindle and print versions.
Tomorrow: Jacob Wheeler Explains What Makes Him So Successful