Editor's Note: At the end of the 2015 Kansas deer season, Barnette and his five friends saw the Double Drop buck on a camera's card for 5 consecutive days, aged the buck at 3 years and figured he'd rough score about 202 inches.
"Double Drop appeared on my trail camera a day after deer season closed in Kansas in 2015," Jamie Barnette of West Monroe, Louisiana, says. "He had two drop tines – one coming off each side of his antlers. I found Double Drop again in April, but then he vanished like a ghost."
Barnette didn't know for certain if Double Drop was the biggest buck he ever had seen in his life or the biggest ghost-like buck ever.
"A group of five friends and I have been hunting the same Kansas farm for 8 years," Barnette explains. "Although we've hunted all over the United States for big bucks, we've decided that Kansas offers the best opportunity to take a big buck with a bow. We also found and picked up one side of Double Drop's shed antlers, totally convincing us that his rack would score over 200 inches. Then on July 10, 2016, a hunting buddy of mine, Peyton Farr, and I went to our Kansas camp to do chores. To reach the spot where we had trail-camera pictures of Double Drop, we had to go through a pasture with bedding cows. Suddenly the cows jumped up, and so did Double Drop. Peyton and I got a good look at him in the velvet, while he was running toward us at about 75 yards."
Although Barnette and his friends continued to check their trail cameras, they didn't get another picture of Double Drop and assumed they'd spooked him off the 4,000-contiguous acres they hunted. When Barnette returned to camp in August and checked the trail cameras, there was no sign of Double Drop. Barnette then put out 10-additional cameras out around the area where he'd last spotted Double Drop. Because Barnette's sister, Alisha, and her husband, Scott Langley, were planning to go to the property in September, 2016, he sent them a map showing where he'd placed the trail cameras. He asked them to pull the cards from the trail cameras and send them to him. "When I received the cards from the cameras, I sat down and looked through every card, but I had no pictures of Double Drop," Barnette mentions. "However, I discovered I only had nine cards but knew I'd put-out 10 cameras."
On October 1, 2016, Barnette returned to camp during the Kansas bow season. Barnette's group usually didn't hunt until late October or early November. "When I mentioned to my sister that I only got nine trail camera cards from her, Alisha pointed to a spot on the map where the 10th camera should have been, but said she couldn't find it," Barnette recalls.
Immediately, Barnette got on his 4-wheeler and drove to the spot where he'd put the trail camera, located it, pulled the card and returned to camp. He spotted Double Drop on those pictures.
"Double Drop had walked in front of that 10th camera every day for 3-4 weeks, and I learned the route he took from a giant cornfield to where he bedded," Barnette says. "I had put that 10th camera on a bluff bank overlooking the Missouri River that had one saddle in that ridge where Double Drop crossed every day."
Barnette had his wife and family with him at the camp. Before he left camp, he put a tree stand up, trimmed some limbs close to the spot where Double Drop was crossing the ridge and took his family home. He immediately turned around and drove back to Kansas. Barnette knew he had to have a south wind to hunt from the tree stand where he expected to see Double Drop, so he couldn't hunt the first 2 days. "I was sitting at camp, going crazy, because I wanted to get in that tree stand to take Double Drop," Barnette remembers. "But if I tried to hunt Double Drop with a bad wind and spooked him, I knew I never might see him on this property again." While at camp, Barnette studied his topo and aerial photo maps to determine the best route to take to reach his stand without Double Drop seeing or hearing him. He decided to make a 3/4-mile hike through the woods.
On October 14, 2016, the wind changed and gave Barnette a south wind. However, Barnette failed to see Double Drop. The next morning on October 15, Barnette checked the weather, saw he still had a south wind and left camp at 11:00 am. Barnette pulled the card out of that 10th trail camera, climbed into his tree stand and looked at the pictures, using his cell phone's card reader. Barnette saw Double Drop had come in to his hunting site after Barnette had left his stand the previous night. As the sun faded on October 15, does moved through the ridge's saddle and slowly walked to the nearby cornfield. At 7:15 pm, a doe came in and started feeding on acorns. Barnette still had enough light to shoot. He drew his bow and looked through his peep sight to make sure he could see his sight pin.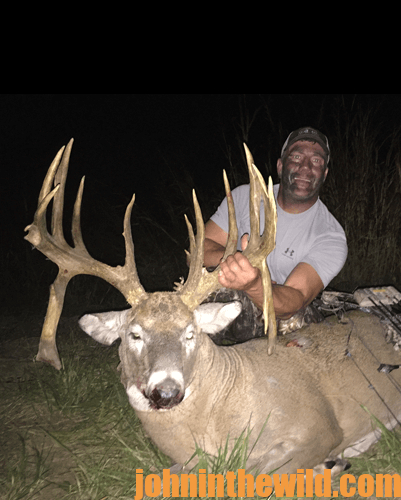 "Just as I let my bow down, I heard a deer walking very fast toward the saddle," Barnette recalls. "Once Double Drop was within bow range, I whistled and grunted to stop him, but he kept walking. I aimed a little ahead of the point of his front shoulder and released the arrow. When my Rage broadhead hit its mark, Double Drop turned and started back the way he'd come but didn't go far. Then I saw him drop – less than 50 yards from my stand. When we weighed the buck, he tipped the scales at 285 pounds."
Jake Barnette's Double Drop buck with his irregular rack was taken with a bow on October 15, 2016, in Doniphan County, Kansas, and scored 230-3/8 points.
To learn more about hunting deer with John E. Phillips' Amazon Kindle eBooks, print books and Audible books and Nook books, click here at http://johninthewild.com/books/#deer. You can type in the name of the book and download it to your Kindle, and/or download a Kindle app for your iPad, SmartPhone or computer. For a free download on how to make jerky from venison to provide a protein-rich snack, choose "How to Prepare Venison Jerky: The Ultimate Snack Food" at johninthewild.com/free-books.
Tomorrow: Fabiola Gerken Takes a 195 7/8 Ohio Buck Deer