John's Note: Jay Yelas from Corvallis, Oregon, has been a professional tournament fisherman since 1989 when he began his fishing career on the B.A.S.S. circuit. Yelas has won: the Bassmaster Classic in 2002 on Lay Lake in Alabama; the prestigious B.A.S.S. Angler-of-the-Year title in 2002; the Angler-of-the-Year title twice on the FLW tournament circuit; and in 2003, an ESPY Award presented by ESPN to the top outdoor athlete of the year. Today Yelas is still actively fishing the FLW tournament circuit and is a member of Punisher Lures' www.punisherlures.com Pro Staff. And, as Yelas explains, "I've got lots of examples of how to catch good bass on bad days."
Every bass fisherman has had or will have a day on the water when some of his or her equipment breaks down. 
This problem always seems to happen at the very-worst time. A tournament bass fisherman probably spends more time with his trolling motor than he does with his wife. The trolling motor is an absolutely essential tool of any bass fisherman, but most specifically, a tournament bass fisherman. To solve this problem, I once carried a spare trolling motor in my boat when I was practicing fishing for a bass tournament. But now that I run Minn Kota trolling motors www.minnkotamotors.com, I don't worry about breakdowns.
Once in the middle of a day when I was in a tournament, my trolling motor broke down, and I didn't have a spare. I was quite a long ways away from the boat ramp and the service crews who could fix my motor. This time was before we had Power-Poles. I thought back to the days when I first learned to bass fish out of a small aluminum boat, and trolling motors hadn't been invented. All we had was a big a 6 horsepower outboard motor. In those days, the only way we could bass fish was to drift along the bank pushed by the wind. When we reached the end of the place we wanted to fish, we'd crank up the 6 HP motor and go back to the same bank we just had fished down and let the wind push us down the same bank again where we had caught bass.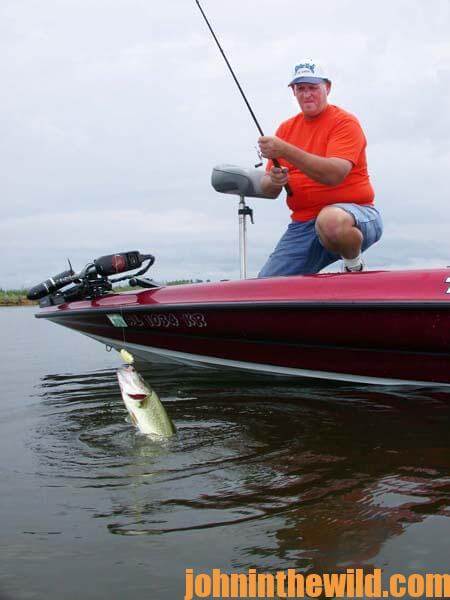 You can't fish for down a bank in a hard wind, but with a light wind, the boat will drift enough with the wind for you to fish. On this day, the wind was probably blowing 5-7 mph, so to slow-down the speed of the boat, I trimmed my motor all the way down in the water. I was still moving so fast that I couldn't fish a plastic worm, but I could fish with lipless crankbaits. I was drifting across an underwater weed bed and had a pretty good day. I caught one bass that weighed about 5 pounds, and a few other bass that still kept me in contention.
Today we have Power-Poles www.power-pole.com and Minn Kota Talons that will hold your boat in position and allow you to fish an area. Then you can raise up the Talons, drift further, put your Talons or Power-Poles down in the bottom and fish that place. The trolling motors are so much better now than they were in days past that today we rarely or never have a breakdown without trolling motors. Since that time I've learned that when you're fishing in weed beds, not using your trolling motor but letting the wind push you across the weed beds is often much more productive to catch bass than having the trolling motor propeller chop up weeds in the area where you're fishing and spook the bass.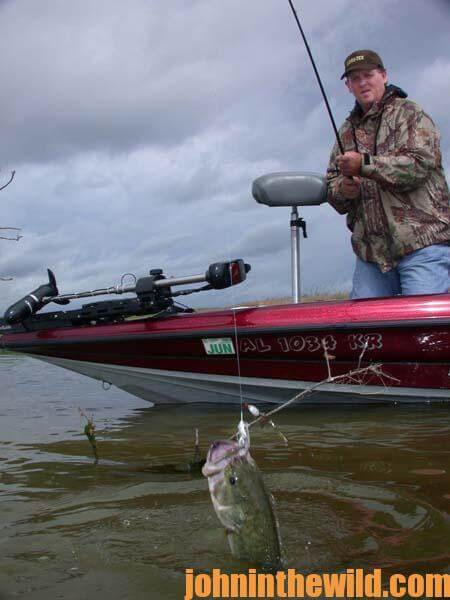 I once had a motor break-down on Lake Okeechobee in Florida, which is a big lake with a lot of grass, underwater grass and frequently wind. I drifted with the wind and then used the Talons on the boat to push down on the mud to hold us in one spot while we fished an area. Then we pulled the Talons up, let the wind push us across the submerged grass, put the Talons in again, fan cast the area, pulled the Talons up and drifted to a new place. If you run your trolling motor through the grass instead of drifting with the wind, you'll sound like an elephant moving through the jungle. You won't surprise the bass.
Many times you can salvage a bad day of bass fishing when your trolling motor or your outboard motor breaks down by using wind power to move your boat down the bank or across underwater grass flats. This tactic is easier when you're fishing shallow-water lakes than when you're fishing deep-water lakes like Dale Hollow in Tennessee or Smith Lake in Alabama. In a shallow-water lake like Lake Okeechobee where the bass are often scattered out in the weed beds, wind drifting can make a bad day of bass fishing turn into a good day of bass fishing.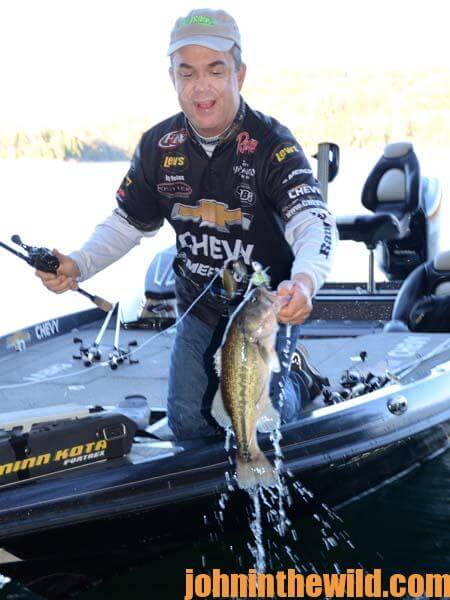 For more information about Jay Yelas, check out www.jayyelas.net.
To learn more about bass fishing, get John E. Phillips' Kindle eBooks and some print books, "How to Bass Fish Like a Pro," "How to Win a Bass Tournament," "Catch the Most and Biggest Bass in Any Lake: 18 Pro Fishermen's Best Tactics, "Hot Weather Bass Tactics" and "How to Become A Tournament Bass Fisherman," Click here to get these books.
Share this page with a friend!
About the Author
John Phillips, winner of the 2012 Homer Circle Fishing Award for outstanding fishing writer by the American Sportfishing Association (ASA) and the Professional Outdoor Media Association (POMA), the 2008 Crossbow Communicator of the year and the 2007 Legendary Communicator chosen for induction into the National Fresh Water Hall of Fame, is a freelance writer (over 6,000 magazine articles for about 100 magazines and several thousand newspaper columns published), magazine editor, photographer for print media as well as industry catalogues (over 25,000 photos published), lecturer, outdoor consultant, marketing consultant, book author and daily internet content provider with an overview of the outdoors. Click here for more information and a list of all the books available from John E. Phillips.